Illinois Boat Repair
Boat service, maintenance and repair in IL.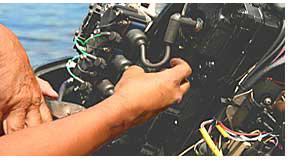 Select the ideal boat repair service to care for your dream boat. Many qualified boat repair specialists are located throughout Illinois. We list IL boat repair centers by their proximity to major cities including Peoria, Rockford, Arlington Heights, Bloomington, Joilet, Belleville, Granite City, Champaign, Decatur, Marion, Cambridge, Rock Island, Springfield, Aurora, Chicago, Alton, Carbondale, Quincy, Charleston and Effingham.
Marinas in Illinois
Marinas often provide boat repair services as well as boat storage and boat launching. These services often vary with the season so it is important to contact marinas directly to define the level of boat repair services offered. Some of the major marinas in Illinois include Apple Canyon Lake Marina, Bald Knob Marina, Hidden Cove Marina, Pistakee Lake Marina, Kinkaid Village Marina, Lake Springfield Marina, Golconda Marina and Lake of Egypt Marina.
Illinois boat repair map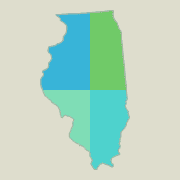 Illinois Resources
Peoria
Jims Marine Service
1200 NE Bond St
Peoria, IL 61603
309 673-1433
Custom Design Upholstery
3123 North Prospect Road
Peoria, IL 61603
309 682-5548
Rock Island
Teds Boatarama Inc
102 31st Ave
Rock Island, IL 61201
309 788-1175
Mississippi River Boat Works
101 6th Ave
Rock Island, IL 61201
309 794-0477
D & L Canvas & Upholstery
4322 23rd Avenue
Rock Island, IL 61201
309 786-6762
Norris Marine Repair & Restoration
1925 1st Street
Rock Island, IL 61201
309 786-5899
Rockford
Charles St Upholstery
6751 Charles St
Rockford, IL 61108
815 399-6715
Daily's Auto Upholstery
915 East State Street
Rockford, IL 61104
815 968-9657
Springfield
Boat Dock Ltd Inc
4600 Rising Moon Rd
Springfield, IL 62711
217 793-7300
The Boat Dock
3111 Cockrell Lane
Springfield, IL 62711
217 793-7300
Arlington Heights
Boat US Marine Center
63 West Rand Road
Arlington Heights, IL 60004
847 398-0606
Chicago
Sailboats Inc
1560 N Sandburg Ter, Ste 4318
Chicago, IL 60610
312 861-1757
Doris Upholstery & Plastic
5153 W Fullerton Ave
Chicago, IL 60639
773 342-9848
Bristol Sail Boats
13535 South Forest Avenue
Chicago, IL 60827
773 468-3776
Sailboats Inc
1560 North Sandburg Terrace Suite 4318
Chicago, IL 60610
312 861-1757
Alton
Dan's Upholstery
1317 Milton Road
Alton, IL 62002
618 462-8590
American Boat Co
701 West Broadway
Alton, IL 62002
618 462-6622
Belleville
Haege's Upholstery
2417 East Main Street
Belleville, IL 62221
618 277-2010
Mariah Transportation Services Limited
1 Rebel Parkway
Belleville, IL 62226
618 234-8789
Weissborn Boat And Lawn Equipment
18 Mascoutah Ave
Belleville, IL 62220
618 233-7447
Champaign
Bob Rundus Sailboats
36 E Green St
Champaign, IL 61820
217 359-3000
Decatur
Marine Service Center
2886 South Mount Zion Road
Decatur, IL 62521
217 864-9236
Marion
Apc Sales Marine Service
300 E Union St
Marion, IL 62959
618 997-2211
While some repair centers specialize in specific types of boats or motors, most can offer basic services on virtually all types of boats. If you have complex repair or diagnostic requirements, you may need to locate a dealer offering those specific services. Some of these centers specialize only in the brand of boats and motors they offer for sale, while other facilities may offer maintenance and service to a wide variety of popular boat and motor brands. Repair to hulls, trailers and boat interiors are often offered by service providers which are not brand specific.
Cities are listed in the boat dealer and fishing boat dealer listings, by region of the state for your convenience.
Boat repair services in Illinois are performed by a wide range of specialists. Hull and structure repairs are handled by experts in fiberglass, aluminum and other boat materials.
Boat motor repair, service and maintenance is provided by trained mechanical technicians, many of whom are certified by boat motor manufacturers. Some specialize in inboard motors and outdrives while others specialize in outboard motors. Others offer repair services for both.
Repair for all types of boats.
Illinois boat repair services are offered for sailboats, pleasure boats, family boats, yachts, pontoon boats, fishing boats, bass boats, speedboats, inflatables, jon boats, cruisers, cuddy cabin boats, canoes, car toppers, ski & wake board boats, deck boats, aluminum boats, electric boats, jet skis, personal watercraft and fish-and-ski combos. Contact local repair centers regarding specific repair services you may require.
Boat repair in other states.