Illinois Boat Storage
Dry dock, marinas and indoor boat storage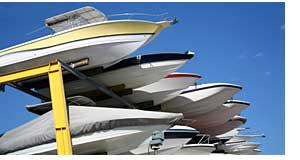 Storing your boat in a safe area can relieve a lot of stress for most boat owners. Covered storage offers additional protection from the sun and ultra-violet rays which can deteriorate boat finishes and canvas tops plus attack seats, woodwork and carpet. In this Illinois section of the site, we list boat storage facilities by location relative to major cities, lakes and area attractions for your convenience.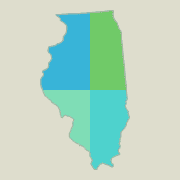 Illinois Resources
Peoria
S & S Storage
519 Northeast Perry Avenue
Peoria, IL 61603
309 674-0860
Rainbow Cove Marina
1111 Sunset Drive
East Peoria, IL 61611
309 698-0216
Pleasant Valley Storage
1426 North Country Lane
Peoria, IL 61604
309 671-0136
Rock Island
Teds Boatarama Inc
102 31st Ave
Rock Island, IL 61201
309 788-1175
Mississippi River Boat Works
101 6th Ave
Rock Island, IL 61201
309 794-0477
Rockford
Valley Self-Storage
7511 Vandiver Road
Rockford, IL 61112
815 332-4400
Rever's Marina
220 North Water Street
Rockford, IL 61107
815 962-3341
Rockford Marina & Watersports
201 Hill Street
Rockford, IL 61107
815 962-2930
Springfield
Boat Dock Ltd Inc
4600 Rising Moon Rd
Springfield, IL 62711
217 793-7300
The Boat Dock
3111 Cockrell Lane
Springfield, IL 62711
217 793-7300
Arlington Heights
Boat US Marine Center
63 West Rand Road
Arlington Heights, IL 60004
847 398-0606
Chicago
Sunset Bay Marina
13620 S Hoxie Ave
Chicago, IL 60633
773 646-9900
Chicago Yacht Yard Inc
2550 S Ashland Ave
Chicago, IL 60608
312 666-6670
Sailboats Inc
1560 N Sandburg Ter, Ste 4318
Chicago, IL 60610
312 861-1757
A-AAAKey Mini Storage
5921 S. Western Avenue
Chicago, IL 60646
773 776-8989
Crowley's Yacht Yard Inc
3434 East 95th Street
Chicago, IL 60617
773 221-9990
Skippers Marina
13421 South Vernon Avenue
Chicago, IL 60827
708 841-1300
Alton
American Boat Co
701 West Broadway
Alton, IL 62002
618 462-6622
Belleville
Weissborn Boat And Lawn Equipment
18 Mascoutah Ave
Belleville, IL 62220
618 233-7447
Granite City
B & L Boat Covers
657 Ashland Avenue
Granite City, IL 62040
618 797-0585
Champaign
Bob Rundus Sailboats
36 E Green St
Champaign, IL 61820
217 359-3000
Charleston
Simply Self Storage
17939 Harrison Street Road
Charleston, IL 61920
217 348-8600
Myerscough U-Store-It
Lincoln & Route 130
Charleston, IL 61920
217 348-8588
Effingham
Lake Sara Marina Inc
500 N Keller Dr
Effingham, IL 62401
217 342-6344
Belleville
Weissborn Boat And Lawn Equipment
18 Mascoutah Ave
Belleville, IL 62220
618 233-7447
Some of the major cities we list, which are listed by region of the state, include Rock Island, Rockford, Cambridge, Peoria, Aurora, Bloomington, Springfield, Arlington Heights, Chicago, Joilet, Carbondale, Granite City, Alton, Belleville, Charleston, Decatur, Quincy, Effingham, Marion and Champaign.
Many marinas offer boat storage and other services for launching and extracting your boat. Many of these marinas in Illinois also offer boat repair services. A partial listing of marinas in IL includes Apple Canyon Lake Marina, Bald Knob Marina, Secachwine Lake, Pistakee Lake Marina, Kinkaid Village Marina, Lake Springfield Marina, Golconda Marina and Lake of Egypt Marina.
Consider weather and security implications when choosing local storage options. Extreme weather can damage fabrics and boat finishes over time. The need for security is a question one should consider as well. Covered and indoor boat storage is a good solution but may have height limitations which could eliminate some sailboats. Some Illinois indoor storage units may be too small for some pontoon boats, cruisers, cuddy cabin boats and other longer boats. Contact local storage facilities to confirm size limitations.
Boat storage options in Illinois are varied. Click here for boat storage options and step-by-step tips and instrictions.
For those who do not own a boat, and prefer to avoid the costs of ownership, rental boats can be a cost effective option.
Locate boat storage facilities in other states.