Indiana Boat Storage
Dry dock, marinas and indoor boat storage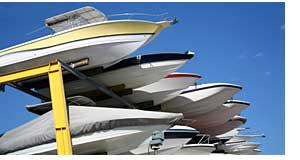 Storing your boat in a safe area can relieve a lot of stress for most boat owners. Covered storage offers additional protection from the sun and ultra-violet rays which can deteriorate boat finishes and canvas tops plus attack seats, woodwork and carpet. In this Indiana section of the site, we list boat storage facilities by location relative to major cities, lakes and area attractions for your convenience.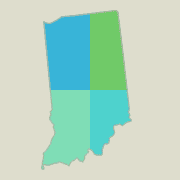 IN Resources
Carmel
John Kirk Boats
12345 Old Meridian Street
Carmel, IN 46032
317 844-5475
Elkhart
Simonton Lake Marina
51305 State Road 19
Elkhart, IN 46514
574 264-2874
North End Self Storage
2426 Cassopolis Street
Elkhart, IN 46514
574 264-0618
E Z Loader Boat Trailer Inc Midwest DIV
125 West Belvedere Road
Elkhart, IN 46514
574 266-0092
Fort Wayne
Fort Wayne Boating Center
2223 Goshen Rd
Fort Wayne, IN 46808
260 422-8468
Hot Boat Charlies
2624 Goshen Rd
Fort Wayne, IN 46808
260 471-0722
Muncie
Dry Dock Marina at Prairie Creek
6700 South County Road 300 West
Muncie, IN 47302
765 286-4976
Bloomington
Fourwinds Resort Marina
9301 S Fairfax Rd
Bloomington, IN 47401
812 824-2628
Boathaven
1400 East Monroe Dam Road
Bloomington, IN 47401
812 824-8221
Evansville
Boats & Toys
5950 East Morgan Avenue
Evansville, IN 47715
812 474-9020
Indianapolis
Indianapolis Boat Co Inc
6937 E 42nd St
Indianapolis, IN 46226
317 549-9600
Sailboats Inc
5049 Robison Rd
Indianapolis, IN 46268
317 872-7845
Indy Boat Salvage
3130 Madison Ave
Indianapolis, IN 46227
317 786-4088
Boatland
6225 E 38th St
Indianapolis, IN 46226
317 545-2203
Just Add Water Boats Inc
234 S Franklin Rd
Indianapolis, IN 46219
317 352-1656
Denny's Marina Inc
5550 Kopetsky Drive
Indianapolis, IN 46217
317 786-9562
Brookville
Garr Hill Bait Storage & Marine
8035 Pea Ridge Rd
Brookville, IN 47012
765 647-3178
Madison
Pauls Mobile Marina Service
5151 N Turkey Branch Rd
Madison, IN 47250
812 839-3093
The Boat Works
335 Clifty Dr
Madison, IN 47250
812 273-5566
Eagle Hollow Marina
2761 E.S.R. 56
Madison, IN 47250
812 273-2685
Evansville
Boats & Toys
5950 East Morgan Avenue
Evansville, IN 47715
812 474-9020
Some of the major cities we list, which are listed by region of the state, include Kokomo, Lafayette, Carmel, Gary, Decatur, Elkhart, South Bend, Anderson, Fort Wayne, Muncie, Indianapolis, Paoli, Bloomington, Evansville, Clarksville, Columbus, Terre Haute, Madison, Richmond and Brookville.
Many marinas offer boat storage and other services for launching and extracting your boat. Many of these marinas in Indiana also offer boat repair services. A partial listing of marinas in IN includes Culver's Portside Marina, Eagle Creek Park & Marina, Lake Michigan, Mississinewa Reservoir Marina, Cagles Mill Lake Marina, Fourwinds Resort & Marina, Blue Ribbon Marina and Kent's Harbor Marina.
Consider weather and security implications when choosing local storage options. Extreme weather can damage fabrics and boat finishes over time. The need for security is a question one should consider as well. Covered and indoor boat storage is a good solution but may have height limitations which could eliminate some sailboats. Some Indiana indoor storage units may be too small for some pontoon boats, cruisers, cuddy cabin boats and other longer boats. Contact local storage facilities to confirm size limitations.
Boat storage options in Indiana are varied. Click here for boat storage options and step-by-step tips and instrictions.
Boating insurance. Contact your Indiana boat insurance agent to make sure the policy is current and will cover the boat while it is in storage.
For those who do not own a boat, and prefer to avoid the costs of ownership, rental boats can be a cost effective option.
Locate boat storage facilities in other states.