Virginia Boat Storage
Dry dock, marinas and indoor boat storage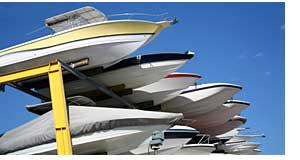 In Virginia, boat storage options are abundant, catering to the needs of boat owners across the state. Major cities like Richmond, Virginia Beach, and Norfolk offer various indoor and outdoor boat storage facilities. Indoor storage provides protection from the elements, keeping boats shielded from harsh weather conditions, UV rays, and potential damage. Outdoor storage is a more economical option and is suitable for boat owners who require easy access to their vessels.
Marinas along the Chesapeake Bay and other water bodies are popular choices for boat storage in Virginia. These marinas offer both wet slips and dry storage options. Wet slips provide convenient access to the water, allowing boaters to launch and retrieve their boats with ease. Dry storage, on the other hand, keeps boats on trailers or racks, protecting them from exposure to water while offering a secure location to store when not in use.
Boat covers play a vital role in protecting boats during storage. They safeguard against dust, debris, and moisture, helping to maintain the boat's condition and appearance. Whether storing boats indoors or outdoors, using a high-quality boat cover is essential to ensure long-term preservation.
Security is a top priority for boat owners, and many storage facilities in Virginia offer secure options to safeguard vessels. Gated facilities with restricted access, surveillance cameras, and on-site staff provide peace of mind for boat owners, knowing that their valuable investments are well-protected.
Virginia's boat storage facilities, located in major cities and marinas, offer a range of options to suit the preferences and needs of boat owners. From indoor and outdoor storage to the use of boat covers and top-notch security measures, these facilities ensure that boats are well-preserved and ready for memorable adventures on the water.
Storing your boat in a safe area can relieve a lot of stress for most boat owners. Covered storage offers additional protection from the sun and ultra-violet rays which can deteriorate boat finishes and canvas tops plus attack seats, woodwork and carpet. In this Virginia section of the site, we list boat storage facilities by location relative to major cities, lakes and area attractions for your convenience.
Virginia Resources
Manassas
Atlantic Self Storage
7240 New Market Ct
Manassas, VA 20109
703 490-5700
Chesapeake
Ski Boats Unlimited
143 Tilden Av
Chesapeake, VA 23320
757 547-2337
Newport News
Davis Boat Works Inc
34 Jefferson Ave
Newport News, VA 23607
757 247-0101
Deep Creek Landing Marina
200 Old Marina Lane
Newport News, VA 23602
757 877-9555
James River Marina
665 Deep Creek Road
Newport News, VA 23606
757 930-1909
Atlantic Boat Works
523 Edwards Ct.
Newport News, VA 23608
757 875-9705
Petersburg
Appomattox Small Boat Harbor
1604 Fine Street
Petersburg, VA 23803
804 733-5770
Richmond
Dukes Dock Inc
8015 Buford Ct
Richmond, VA 23235
804 330-0216
Bruces Boat Supplies And Service
8045 Jefferson Davis Hwy
Richmond, VA 23237
804 743-8200
Kingsland Reach Marina
9680 Osborne Tpk
Richmond, VA 23231
804 795-1213
Some of the major cities we list, which are listed by region of the state, include Lexington, Lynchburg, Buena Vista, Covington, Dale City, M, Front Royal, Staunton, Charlottesville, Manassas, Reston, Danville, Martinsville, Abingdon, Blacksburg, Newport News, Petersburg, Roanoke, Richmond, Virginia Beach and Chesapeake.
Many marinas offer boat storage and other services for launching and extracting your boat. Many of these marinas in Virginia also offer boat repair services. A partial listing of marinas in VA includes Bridgewater Marina, Mitchell's Point Marina, Lynchburg Reservoir, Stepps Harbor View Marina, Painter Creek Marina, Tri County Marina, Smithfield Marina and Taylor's Landing Marina.
Consider weather and security implications when choosing local storage options. Extreme weather can damage fabrics and boat finishes over time. The need for security is a question one should consider as well. Covered and indoor boat storage is a good solution but may have height limitations which could eliminate some sailboats. Some Virginia indoor storage units may be too small for some pontoon boats, cruisers, cuddy cabin boats and other longer boats. Contact local storage facilities to confirm size limitations.
Boat storage options in Virginia are varied. Click here for boat storage options and step-by-step tips and instrictions.
Boating insurance. Contact your Virginia boat insurance agent to make sure the policy is current and will cover the boat while it is in storage.
For those who do not own a boat, and prefer to avoid the costs of ownership, rental boats can be a cost effective option.
Locate boat storage facilities in other states.