Idaho Boat Storage
Dry dock, marinas and indoor boat storage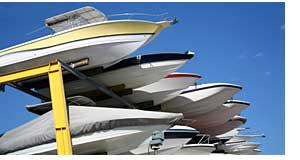 Storing your boat in a safe area can relieve a lot of stress for most boat owners. Covered storage offers additional protection from the sun and ultra-violet rays which can deteriorate boat finishes and canvas tops plus attack seats, woodwork and carpet. In this Idaho section of the site, we list boat storage facilities by location relative to major cities, lakes and area attractions for your convenience.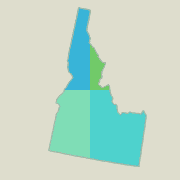 Idaho Resources
Coeur D Alene
Resort Boat Shop
115 S 2nd St
Coeur D Alene, ID 83814
208 666-9021
Coeur D'Alene Auto & Boat
2775 North Howard Street
Coeur D Alene, ID 83815
208 765-4615
Hayden
Northwest Boat Center Inc
250 W Miles Ave
Hayden, ID 83835
208 762-8777
Tige Precision Ski Boats
250 W Miles Ave
Hayden, ID 83835
208 762-7570
Lewiston
Riverview Marina Inc
711 Snake River Ave
Lewiston, ID 83501
208 746-1412
Bentz Boats LLC
155 Southport Ave
Lewiston, ID 83501
208 746-7035
Custom Weld Boats Inc
711 Snake River Ave
Lewiston, ID 83501
208 750-1313
Sandpoint
Alpine Boat And Ski Shop
213 Church St
Sandpoint, ID 83864
208 263-5157
Artisan-2 Upholstery Boat Trim
1241 Michigan Street
Sandpoint, ID 83864
208 263-4207
Pend Oreille House Boat Rental
533 South Olive Avenue
Sandpoint, ID 83864
208 263-2675
Boise
Republic Storage Broadway Ii
3501 Lindsay Ave
Boise, ID 83705
208 338-6800
Quality Sales & Boat Covers
4948 West Chinden Boulevard
Boise, ID 83714
208 377-0775
Nampa
Minors RV Marina
1412 N Franklin Blvd
Nampa, ID 83687
208 461-5394
Alpine Self Storage
9245 Highway 45
Nampa, ID 83686
208 442-2971
Freedom Boat And Rv Sales
2424 Caldwell Blvd
Nampa, ID 83651
208 461-8512
Nixon's Marina Inc
1715 Garrity Boulevard
Nampa, ID 83687
208 461-3311
Jim's Auto & Boat Upholstery
1605 West Karcher Road
Nampa, ID 83651
208 466-7233
Twin Falls
Century Boat Land
299 Addison Ave W
Twin Falls, ID 83301
208 733-5070
Idaho Falls
Anchor Boat Works
803 E Iona Rd
Idaho Falls, ID 83401
208 522-8097
Boat Shop
2296 E Iona Rd
Idaho Falls, ID 83401
208 523-6680
Hyde Drift Boats
1520 Pancheri Dr
Idaho Falls, ID 83402
208 529-4343
Precision Boats
2199 N Woodruff Ave
Idaho Falls, ID 83401
208 529-0520
Some of the major cities we list, which are listed by region of the state, include Hayden, Lewiston, Bonners Ferry, Coeur D Alene, Gibbonsville, Lowell, Sandpoint, Elk City, North Fork, Powell Junction, Mountain Home, Nampa, Boise, Meridian, Downey, Idaho Falls, Twin Falls, Montpelier, Pocatello and Ashton.
Many marinas offer boat storage and other services for launching and extracting your boat. Many of these marinas in Idaho also offer boat repair services. A partial listing of marinas in ID includes 11th Street Marina, Conkling Marina & Resort, Lake Pend Oreille, Mile High Marina, Sports Marina, Bear Lake State Park Marina and Cedar Bay Marina.
Consider weather and security implications when choosing local storage options. Extreme weather can damage fabrics and boat finishes over time. The need for security is a question one should consider as well. Covered and indoor boat storage is a good solution but may have height limitations which could eliminate some sailboats. Some Idaho indoor storage units may be too small for some pontoon boats, cruisers, cuddy cabin boats and other longer boats. Contact local storage facilities to confirm size limitations.
Boat storage options in Idaho are varied. Click here for boat storage options and step-by-step tips and instrictions.
For those who do not own a boat, and prefer to avoid the costs of ownership, rental boats can be a cost effective option.
Locate boat storage facilities in other states.