Minnesota Boat Storage
Dry dock, marinas and indoor boat storage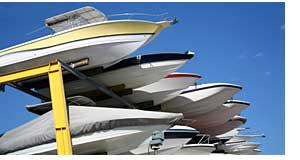 Storing your boat in a safe area can relieve a lot of stress for most boat owners. Covered storage offers additional protection from the sun and ultra-violet rays which can deteriorate boat finishes and canvas tops plus attack seats, woodwork and carpet. In this Minnesota section of the site, we list boat storage facilities by location relative to major cities, lakes and area attractions for your convenience.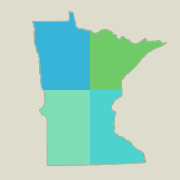 Minnesota Resources
Park Rapids
Charlies Boats And Marine
1401 1st St E
Park Rapids, MN 56470
218 732-3451
Dorset Storage Center-Docks & Lifts
20582 County 7
Park Rapids, MN 56470
218 732-5108
Charlie's Boats & Marine
Highway 34 East
Park Rapids, MN 56470
218 732-3451
Walker
Hiawatha Beach Resort & Houseboats
10904 Steamboat Loop Northwest
Walker, MN 56484
218 547-1510
Duluth
North Point Boat Repair
5725 Bergquist Rd
Duluth, MN 55804
218 525-6800
Lakehead Boat Basin Inc Service Center
940 Minnesota Ave
Duluth, MN 55802
218 722-4366
Virginia
Cjs Body Boat Works
6980 Highway 169
Virginia, MN 55792
218 741-1981
Fairmont
Boat House Sports & Tackle
445 Lake Avenue
Fairmont, MN 56031
507 235-6931
Fergus Falls
Boatcovers Com
1605 N 1st Ave
Fergus Falls, MN 56537
218 998-3045
Mankato
Classic Boat Connection
75 Navaho Ave, Ste 5
Mankato, MN 56001
507 344-8030
Rochester
S Marina King
40 Shorewood Ln Ne
Rochester, MN 55906
507 367-4585
Schoenmann Boat Works
5708 Highway 63 N
Rochester, MN 55906
507 281-0110
Fergus Falls
Boatcovers Com
1605 N 1st Ave
Fergus Falls, MN 56537
218 998-3045
Some of the major cities we list, which are listed by region of the state, include Roseau, Thief River Falls, Buena Vista, Park Rapids, Duluth, Grand Marais, Walker, Cloquet, Hibbing, Virginia, Glenwood, St Cloud, Fairmont, Fergus Falls, Minneapolis, Rochester, Worthington, St Cloud, St Paul and Mankato.
Many marinas offer boat storage and other services for launching and extracting your boat. Many of these marinas in Minnesota also offer boat repair services. A partial listing of marinas in MN includes Sailstar Marina, Shores of Leech Lake Campground & Marina, Lower Red Lake, Handberts Recreation & Marina, J & K Marina, Starbuck Marina, Bayport Marina and Hub's Landing and Marina.
Consider weather and security implications when choosing local storage options. Extreme weather can damage fabrics and boat finishes over time. The need for security is a question one should consider as well. Covered and indoor boat storage is a good solution but may have height limitations which could eliminate some sailboats. Some Minnesota indoor storage units may be too small for some pontoon boats, cruisers, cuddy cabin boats and other longer boats. Contact local storage facilities to confirm size limitations.
Boat storage options in Minnesota are varied. Click here for boat storage options and step-by-step tips and instrictions.
Boating insurance. Contact your insurance agent to make sure the policy is current and will cover the boat while it is in storage.
For those who do not own a boat, and prefer to avoid the costs of ownership, rental boats can be a cost effective option.
Locate boat storage facilities in other states.