Colorado Boat Storage
Dry dock, marinas and indoor boat storage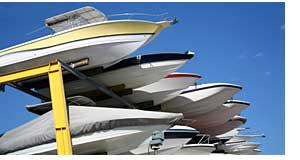 Storing your boat in a safe area can relieve a lot of stress for most boat owners. Covered storage offers additional protection from the sun and ultra-violet rays which can deteriorate boat finishes and canvas tops plus attack seats, woodwork and carpet. In this Colorado section of the site, we list boat storage facilities by location relative to major cities, lakes and area attractions for your convenience.
CO Resources
Denver
Calibre Boat Repair
2600 W 62nd Ave
Denver, CO 80221
303 424-7440
Colorado Springs
Woodmen View Rv Boat Storage
8725 Vollmer Rd
Colorado Springs, CO 80908
719 660-3102
AL West Boat Shop
5190 North Nevada Avenue
Colorado Springs, CO 80918
719 599-8977
Pueblo
Rocky Mountain Boat Co
290 S Mcculloch Blvd
Pueblo, CO 81007
719 547-3100
Wake To Wake Boat CO
368 South McCulloch Boulevard
Pueblo, CO 81007
719 647-9444
Colorado Boats & Yachts
2624 Ivywood Lane
Pueblo, CO 81004
719 566-3301
Some of the major cities we list, which are listed by region of the state, include Grand Junction, Kremmling, Boulder, Breckenridge, Denver, Hudson, Leadville, Brighton, Littleton, Sterling, Montrose, Pagosa Springs, Cortez, Durango, Colorado Springs, La Junta, Silverton, Pueblo, Salida and Colorado City.
Many marinas offer boat storage and other services for launching and extracting your boat. Many of these marinas in Colorado also offer boat repair services. A partial listing of marinas in CO includes Beacon Landing Marina, Carter Lake Marina, Shadow Mountain Reservoir, Inlet Bay Marina, 11 Mile Marina, Elk Creek Marina, Horse Creek Marina and Pueblo Reservoir Northshore Marina.
Consider weather and security implications when choosing local storage options. Extreme weather can damage fabrics and boat finishes over time. The need for security is a question one should consider as well. Covered and indoor boat storage is a good solution but may have height limitations which could eliminate some sailboats. Some Colorado indoor storage units may be too small for some pontoon boats, cruisers, cuddy cabin boats and other longer boats. Contact local storage facilities to confirm size limitations.
Boat storage options in Colorado are varied. Click here for boat storage options and step-by-step tips and instrictions.
Boating insurance. Contact a Colorado boat insurance agent to make sure your policy is current and will cover the boat while it is in storage.
For those who do not own a boat, and prefer to avoid the costs of ownership, rental boats can be a cost effective option.
Locate boat storage facilities in other states.