Colorado Boats
Boat dealers and boats for sale in CO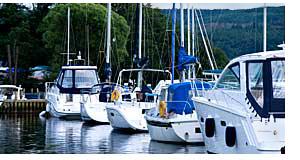 With all the boating opportunities in Colorado, it's no wonder there is so many boat dealers throughout the state offering a wide variety of boats for sale. If you like to sightsee, cruise, fish or water ski, there are dealers with your dream boat for sale. To locate a dealer near you, first select a quadrant of the state. Then find a boat dealer listed by proximity to cities, waterways, campgrounds and attractions in CO.
Locate boats for sale throughout CO
For further information about boat registration in Colorado, contact the Colorado State Parks-Registration Unit - Boat Licenses located at 13787 S Highway 85, Littleton, CO 80125. The phone number is 303 791-1920.
CO Resources
Grand Junction
Grand Valley Powersports Inc
2865 North Avenue
Grand Junction, CO 81501
970 263-4600
Funshares RV Sales & Leasing
2583 Highway 6 And 50
Grand Junction, CO 81501
970 241-2702
Grand Junction
Grand Valley Powersports Inc
2865 North Avenue
Grand Junction, CO 81501
970 263-4600
Funshares RV Sales & Leasing
2583 Highway 6 And 50
Grand Junction, CO 81501
970 241-2702
Denver
Colorado Powersports Inc
2050 W 104th Ave
Denver, CO 80234
303 427-9000
Calibre Boat Repair
2600 W 62nd Ave
Denver, CO 80221
303 424-7440
AAA Inflatables Equipment & Repair
3264 Larimer Street
Denver, CO 80205
303 296-2444
Colorado Springs
Woodmen View Rv Boat Storage
8725 Vollmer Rd
Colorado Springs, CO 80908
719 660-3102
AL West Boat Shop
5190 North Nevada Avenue
Colorado Springs, CO 80918
719 599-8977
Pueblo
Rocky Mountain Boat Co
290 S Mcculloch Blvd
Pueblo, CO 81007
719 547-3100
Outboard Marine & Ski Service Inc - Sales & Service
36 North Dynamics Drive
Pueblo, CO 81007
719 547-4600
Wake To Wake Boat CO
368 South McCulloch Boulevard
Pueblo, CO 81007
719 647-9444
Colorado Boats & Yachts
2624 Ivywood Lane
Pueblo, CO 81004
719 566-3301
Salida
Inflatable Restoration & Repair
3244 East USHighway 50
Salida, CO 81201
719 539-9751
Riverboat Works
10217 County Road 163
Salida, CO 81201
719 539-9323
Some of the major cities we have listed for your convenience include Sterling, Salida, Montrose, Kremmling, Silverton, Brighton, Colorado Springs, Hudson, Littleton, Boulder, Cortez, Durango, Grand Junction, Pagosa Springs, Leadville, Colorado City, Denver, La Junta, Pueblo and Breckenridge.
New & Used Boats
Colorado boat dealers are familiar with boating requirements in CO. They can easily assist you in selecting the right boat for your intended use, as well as make suggestions for boating safety and ways to keep operating costs to a minimum.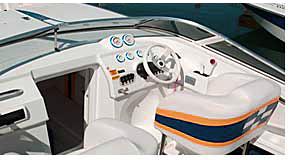 Most of these boat dealers offer new and used boats in many styles and configurations. You can find fishing boats, deck boats, pontoon boats, bow riders and party boats. Some boat dealers may also offer bay and offshore boats for larger bodies of water and coastal use.
Places to boat in Colorado
Once you acquire the ideal boat, we'll help you find places to boat in Colorado. Lakes are listed by quadrant within the state for convenience. The list of major lakes includes Chatfield Reservoir, Horsetooth Lake, Carter Lake, Grand Lake, Riverside Reservoir, Antero Reservoir, Lake Granby, Shadow Mountain Reservoir, Horse Creek Reservoir, John Martin Reservoir, Williams Fork Reservoir, Bonny Reservoir, Jackson Lake, Blue Mesa Reservoir, Eleven Mile Reservoir, Neenoshe Reservoir, Spinney Mountain Reservoir, Adobe Creek Reservoir, Lake Meredith and Navajo Reservoir.
Find boats for sale in Colorado
Rivers too can be a fun place to go boating and are listed by quadrant also. Some of the major rivers we've identified include Rio Grande, San Miguel River, Colorado River, Purgatoire River, Platt River, Arikaree River, Arkansas River and Yampa River.
Boat companies and manufacturers in Colorado
Throughout CO you may find manufacturers of boats, trailers or boat accessories including Colorado Boat Company and High Desert Dories.
Boat types commonly used on CO waters.
If you are looking for a specific type boat, we may have information for you. Some of the boat types we cover include sailboats, pleasure boats, family boats, pontoon boats, cruisers, fishing boats, bass boats, speedboats, inflatables, jon boats, cuddy cabin boats, canoes, car toppers, ski & wake board boats, deck boats, aluminum boats, electric boats, jet skis, personal watercraft and fish-and-ski combos.
We'll help you find the boat, waterways and resources to make owning or renting a boat in Colorado an absolute pleasure.
Boats in Other States