New York Boats
Boat dealers and boats for sale in NY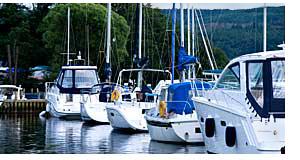 New York's boating scene is vibrant and diverse, offering a wide selection of boats for sale to cater to various interests and preferences. Whether you're looking for a fishing boat to explore the state's abundant lakes or a family boat for leisurely cruises, there is a boat to suit every need.
New York is blessed with numerous major lakes that serve as a haven for boating enthusiasts. Lake Ontario and Lake Erie, two of the Great Lakes, provide endless opportunities for sailing, fishing, and water sports. The Finger Lakes, including Cayuga Lake and Seneca Lake, offer serene beauty and ample space for boaters to enjoy a peaceful day on the water.
Boat types available in New York range from fishing boats designed for avid anglers to family boats perfect for fun-filled days with loved ones. Fishing boats, such as bass boats and walleye boats, are equipped with specialized features to enhance the fishing experience. Family boats, on the other hand, prioritize comfort and space, making them ideal for picnics and recreational activities on the water.
Pontoon boats have also become increasingly popular in New York, known for their stability and capacity to accommodate large groups. These boats are excellent for hosting parties or simply enjoying a relaxing day on the lake with friends and family. Powerboats, equipped with powerful engines, are perfect for thrill-seekers and water sports enthusiasts who enjoy activities like water skiing and tubing.
Among the boat types available, aluminum boats stand out for their durability, versatility, and affordability. They are well-suited for navigating various water conditions, making them a popular choice for both fishing and recreational boating.
New York offers numerous boat rental options. Many marinas and boat rental companies provide a range of boats for rent, allowing individuals to enjoy a day on the water without the long-term commitment of boat ownership. Whether it's fishing, leisure cruising, or water sports, boat rental services make it easy for everyone to enjoy the beauty of New York's waterways.
With all the boating opportunities in New York, it's no wonder there is so many boat dealers throughout the state offering a wide variety of boats for sale. If you like to sightsee, cruise, fish or water ski, there are dealers with your dream boat for sale. To locate a dealer near you, first select a quadrant of the state. Then find a boat dealer listed by proximity to cities, waterways, campgrounds and attractions in NY.
Locate boats for sale throughout NY
For further information about boat registration in New York, contact the New York State Department of Motor Vehicles - Boat Licenses located at 6 Empire State Plaza, Albany, NY 12228. The phone number is 212 645-5550.
New & Used Boats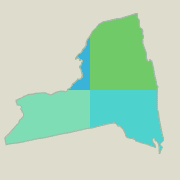 New York Resources
Buffalo
C Me Sales
1850 Hertel Ave
Buffalo, NY 14216
716 837-4148
Seven Seas Sailing Center
225 Summer St
Buffalo, NY 14222
716 824-1505
G L F Boat Storage
327 Ganson St
Buffalo, NY 14203
716 856-8450
Allen Sail CO
655 Fuhrmann Boulevard
Buffalo, NY 14203
716 842-0113
Navy Point Yacht Sales
200 Fuhrmann Blvd
Buffalo, NY 14203
716 853-7245
Windward Marine Yacht Sales
1111 Fuhrmann Boulevard
Buffalo, NY 14203
716 823-7769
Rochester
Shumway Yacht Sales
70 Pattonwood Dr
Rochester, NY 14617
585 342-1040
South Shore Yacht Sales OFC
1415 Clinton Avenue North
Rochester, NY 14621
585 266-4550
Bayside Boat&Tackle
1350 Empire Boulevard
Rochester, NY 14609
585 224-8289
Voyager Boat Sales Inc
Stutson Street East
Rochester, NY 14603
585 342-5150
Syracuse
Shore Sails
7268 Caswell Avenue
Syracuse, NY 13212
315 458-1090
Fabricraft
7268 Caswell Avenue
Syracuse, NY 13212
315 458-3991
Syracuse Yacht Sales Inc
4600 West Genesee Street
Syracuse, NY 13219
315 446-2731
Albany
Beckley's Boats
2022 Central Avenue
Albany, NY 12205
518 456-7170
New York
Golden Key Yacht Sales
228 East 56th Street
New York, NY 10022
212 644-1980
Boats Direct Com
14 Wall Street
New York, NY 10005
212 587-0160
Saratoga Springs
Point Breeze Marina & Boat Sales
1459 Route 9P
Saratoga Springs, NY 12866
518 587-3397
Boat Mart
549 Union Avenue
Saratoga Springs, NY 12866
518 584-2628
Schenectady
Schenectady Canoe Sales
502 Summit Ave
Schenectady, NY 12307
518 370-0367
Boat House Canoes And Kayaks
2855 Aqueduct Rd
Schenectady, NY 12309
518 393-5711
Boat & Dock Marine Equipment
461 Alden Road 34
Schenectady, NY 12345
905 415-2770
Utica
Utica Boat
Sea Ray Boulevard & Comme
Utica, NY 13501
315 736-5520
Some of the major cities we have listed for your convenience include Potsdam, Utica, Buffalo, Oswego, Syracuse, Glens Falls, New York, Massena, Plattsburg, Fort Drum, Auburn, Binghamton, Ogdensburg, Rochester, Watertown, Albany, Malone, Saratoga Springs, Schenectady and Fultom.
New York boat dealers are familiar with boating requirements in NY. They can easily assist you in selecting the right boat for your intended use, as well as make suggestions for boating safety and ways to keep operating costs to a minimum.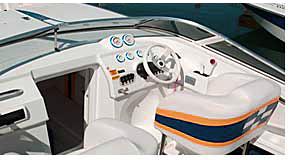 Most of these boat dealers offer new and used boats in many styles and configurations. You can find fishing boats, deck boats, pontoon boats, bow riders and party boats. Some boat dealers may also offer bay and offshore boats for larger bodies of water and coastal use.
Places to boat in New York
Once you acquire the ideal boat, we'll help you find places to boat in New York. Lakes are listed by quadrant within the state for convenience. The list of major lakes includes Great Sacandaga Lake, Indian Lake, Black Lake, Crystal Lake, Lake George, Canandaigua Lake, Lake Ontario, Oneida Lake, Ashokan Reservoir, Cannonsville Reservoir, Salmon River Reservoir, Cranberry Lake, Lake Champlain, Cayuga Lake, Chautauqua Lake, Seneca Lake, Owasco Lake, Allegheny Reservoir, Pepacton Reservoir and Keuka Lake.
Rivers too can be a fun place to go boating and are listed by quadrant also. Some of the major rivers we've identified include Chemung River, Tonowanda Creek, Black River, Schoharie Creek, St Regis River, Hudson River, Chenango River and St Lawrence River.
Boat companies and manufacturers in New York
Throughout NY you may find manufacturers of boats, trailers or boat accessories including Adirondack Guideboats and Hustler Powerboats.
Boat types commonly used on NY waters.
If you are looking for a specific type boat, we may have information for you. Some of the boat types we cover include sailboats, pleasure boats, family boats, pontoon boats, cruisers, fishing boats, bass boats, speedboats, inflatables, jon boats, cuddy cabin boats, canoes, car toppers, ski & wake board boats, deck boats, aluminum boats, electric boats, jet skis, personal watercraft and fish-and-ski combos.
We'll help you find the boat, waterways and resources to make owning or renting a boat in New York an absolute pleasure.
Boats in Other States