South Dakota Boats
Boat dealers and boats for sale in SD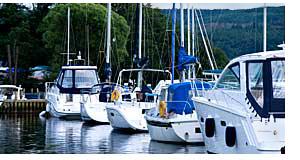 South Dakota's lakes and rivers provide a picturesque setting for boating enthusiasts. There is a diverse range of boats available for sale in the state, catering to different boating preferences. Fishing boats are among the most sought-after types of boats in South Dakota, as the state is renowned for its excellent fishing opportunities. These boats are designed with features to enhance the fishing experience, such as fishing rod holders, live wells, and ample storage for fishing gear.
Aluminum boats are a popular choice for many boaters in South Dakota. These boats are lightweight, durable, and well-suited for navigating shallow waters and tight spaces. They are also relatively easy to maintain, making them a practical option for those who enjoy frequent boating trips.
For those who don't own their own boat but still wish to enjoy a day on the water, rental boats are available in South Dakota. These rental services offer a variety of boat types, including fishing boats, pontoon boats, and speedboats, among others. Renting a boat is an excellent way to experience the state's beautiful lakes and rivers without the commitment of boat ownership.
Whether you're an avid angler looking for the perfect fishing boat or a boating enthusiast seeking a leisurely day on the water, South Dakota's boating options have something to offer for everyone. From fishing boats to aluminum boats and convenient boat rental services, there are plenty of ways to enjoy the great outdoors and explore the natural beauty that South Dakota has to offer.
With all the boating opportunities in South Dakota, it's no wonder there is so many boat dealers throughout the state offering a wide variety of boats for sale. If you like to sightsee, cruise, fish or water ski, there are dealers with your dream boat for sale. To locate a dealer near you, first select a quadrant of the state. Then find a boat dealer listed by proximity to cities, waterways, campgrounds and attractions in SD.
Locate boats for sale throughout SD
For further information about boat registration in South Dakota, contact the South Dakota Department of Revenue & Regulation - Boat Licenses located at 445 East Capitol Avenue, Pierre, SD 57501. The phone number is 605-773-3311.
New & Used Boats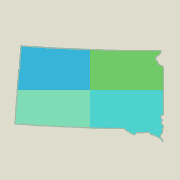 Some of the major cities we have listed for your convenience include Webster, Sioux Falls, Hot Springs, North Eagle Butte, Rapid City, Aberdeen, Chamberlain, Sisseton, Watertown, Belle Fourche, Custer, Fort Pierre, Mobridge, Mission, Spearfish, Brookings , Gettysburg, Huron, Mitchell and Buffalo.
South Dakota boat dealers are familiar with boating requirements in SD. They can easily assist you in selecting the right boat for your intended use, as well as make suggestions for boating safety and ways to keep operating costs to a minimum.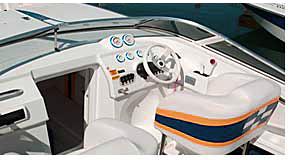 Most of these boat dealers offer new and used boats in many styles and configurations. You can find fishing boats, deck boats, pontoon boats, bow riders and party boats. Some boat dealers may also offer bay and offshore boats for larger bodies of water and coastal use.
Places to boat in South Dakota
Once you acquire the ideal boat, we'll help you find places to boat in South Dakota. Lakes are listed by quadrant within the state for convenience. The list of major lakes includes Lake Kampeska, Lake Thompson, Belle Fourche Reservoir, Lake Gardner, Waubay Lake, Alkali Lake , Lake Oahe, Shadehill Reservoir, Lake Francis Case, Lake Poinsett, Spring Lake, Big Stone Lake, Lake Traverse, Angostura Reservoir, Lacreek Lake, Lewis And Clark Lake, Oglala Lake, Lake Albert, Lake Sharpe and Limestone Butte Reservoir.
Rivers too can be a fun place to go boating and are listed by quadrant also. Some of the major rivers we've identified include Spring Creek, White River, Cherry River, Vermillion River, Snake Creek, Elm River, Keye Paha River and Grand River.
Find boats for sale in South Dakota
Northwest SD Boats For Sale
Northeast SD Boats For Sale
Southwest SD Boats For Sale
Southeast SD Boats For Sale
Boat companies and manufacturers in South Dakota
Throughout SD you may find manufacturers of boats, trailers or boat accessories including Baidarka Boats and Dakota Props.
Boat types commonly used on SD waters.
If you are looking for a specific type boat, we may have information for you. Some of the boat types we cover include sailboats, pleasure boats, family boats, pontoon boats, cruisers, fishing boats, bass boats, speedboats, inflatables, jon boats, cuddy cabin boats, canoes, car toppers, ski & wake board boats, deck boats, aluminum boats, electric boats, jet skis, personal watercraft and fish-and-ski combos.
We'll help you find the boat, waterways and resources to make owning or renting a boat in South Dakota an absolute pleasure.
Boats in Other States