Map For Boating In South Dakota
There are many places to go boating in Alabama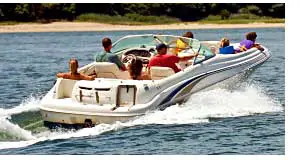 Boating opportunities abound in South Dakota. There are lakes and rivers for large craft and smaller streams and ponds for smaller vessels. Some allow power boats, others only allow electric motors, each providing a unique experience. Fishing and other watersports are available at most boating lakes throughout the state - depending on time of year and state-defined seasons.
Use the map below to locate lakes and rivers nearby major cities including Belle Fourche, Buffalo, Mobridge, North Eagle Butte, Spearfish, Aberdeen, Gettysburg, Sisseton, Watertown, Webster, Custer, Fort Pierre, Hot Springs, Mission, Rapid City, Brookings , Chamberlain, Huron, Mitchell and Sioux Falls.
Use the navigation and zoom arrows to locate your area of interest in South Dakota. Once you locate a specific area or city, zoom in closer and make note of bodies of water nearby. The scale on the map allows you to determine the length and width of the waterway and define its potential usability for boating with your particular watercraft. Always check with local water authorities for current lake levels.
Lakes and rivers in South Dakota
Some of the lakes in South Dakota include Belle Fourche Reservoir, Lake Gardner, Lake Oahe, Shadehill Reservoir, Spring Lake, Big Stone Lake, Lake Kampeska, Lake Thompson, Lake Traverse, Waubay Lake, Alkali Lake , Angostura Reservoir, Lacreek Lake, Limestone Butte Reservoir, Oglala Lake, Lake Albert, Lake Francis Case, Lake Poinsett, Lake Sharpe and Lewis And Clark Lake.
Navigable rivers include Cherry River, Grand River, Elm River, Snake Creek, Spring Creek, White River, Keye Paha River and Vermillion River.
Maps for boating in other states.