Map For Boating In Washington DC
There are many places to go boating in DC
Boating opportunities abound in Washington DC. There are lakes and rivers for large craft and smaller streams and ponds for smaller vessels. Some allow power boats, others only allow electric motors, each providing a unique experience. Fishing and other watersports are available at most boating lakes throughout the state - depending on time of year and state-defined seasons.
Boating opportunities available in Washington DC include the Potomac River and bays.
The Potomac River runs the western border of the district, top to bottom. Tributaries run through the southeast corner of the district.
Rock Creek flows from MD into the far-upper corner of the district, running south to where it intersects with the Potpmac River.
Use the navigation and zoom arrows to locate your area of interest in Washington DC. Once you locate a specific area or city, zoom in closer and make note of bodies of water nearby. The scale on the map allows you to determine the length and width of the waterway and define its potential usability for boating with your particular watercraft. Always check with local water authorities for current lake levels.
Lakes and rivers in Washington DC
Navigable rivers include the Potomac River.
Maps for boating in other states.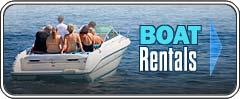 DC Boats & Boating