Map For Boating In New Mexico
There are many places to go boating in New Mexico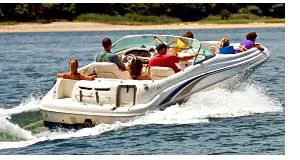 Boating opportunities abound in New Mexico. There are lakes and rivers for large craft and smaller streams and ponds for smaller vessels. Some allow power boats, others only allow electric motors, each providing a unique experience. Fishing and other watersports are available at most boating lakes throughout the state - depending on time of year and state-defined seasons.
The state of New Mexico has abundant boating opportunities. Here are some of the major lakes and impoundments.
Abiquiu Reservoir is a 5,200-acre lake, 2 miles north of Canones.
Brantley Lake is a 4,000-acre lake 15 miles south of Artesia.
Caballo Lake is a 11,400-acre lake, at Caballo.
Conchas Lake is a 9,600-acre lake, 20 miles northwest of Tucumcari.
Eagle Nest Lake is a 2,400-acre lake, at Eagle Nest.
El Vado Lake is a 3,200-acre lake, 8 miles southwest of Tierra Amarilla.
Elephant Butte Reservoir is a 36,000-acre lake, at Truth or Consequences.
Heron Lake is a 5,900-acre lake , at Tierra Amarilla.
Navajo Lake is a 15,000-acre lake, 15 miles northeast of Bloomfield.
Red Bluff Reservoir is an 11,000-acre lake, 15 miles south of Malaga.
Santa Rosa Lake is a 3,800-acre lake, at Santa Rosa.
Sumner Lake is a 4,500-acre lake, 15 miles northwest of Fort Sumner.
Ute Lake is a 8,200-acre lake, at Logan.
Use the map below to locate lakes and rivers nearby major cities including Albuquerque, Farmington, Gallup, Grants, Los Lunas, Cimarron, Espanola, Las Vegas, Los Alamos, Santa Fe, Deming, Las Cruces, Magdalena, Silver City, Truth Or Consequences, Alamogordo, Artesia, Carlsbad, Carrizozo and Roswell.
Use the navigation and zoom arrows to locate your area of interest in New Mexico. Once you locate a specific area or city, zoom in closer and make note of bodies of water nearby. The scale on the map allows you to determine the length and width of the waterway and define its potential usability for boating with your particular watercraft. Always check with local water authorities for current lake levels.
Lakes and rivers in New Mexico
Some of the lakes in New Mexico include Abiquiu Reservoir, Bluewater Lake, Cutter Reservoir, Morgan Lake, Navajo Lake, El Vado Lake, Heron Lake, Santa Rosa Lake, Sumner Lake, Ute Lake, Acomita Lake , Caballo Lake, Elephant Butte Reservoir, Paguate Reservoir, Togeye Lake, Brantley Lake, Conchas Lake, Eagle Nest Lake, Lake McMillan and Red Bluff Reservoir.
Navigable rivers include Rio San Jose, San Juan River, Corrizo Creek, Ute Creek, Gila River, Rio Grande, Pecos River and Rio Penasco.
Maps for boating in other states.