Map For Boating In West Virginia
There are many places to go boating in West Virginia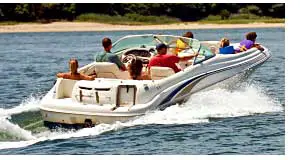 Boating opportunities abound in West Virginia. There are lakes and rivers for large craft and smaller streams and ponds for smaller vessels. Some allow power boats, others only allow electric motors, each providing a unique experience. Fishing and other watersports are available at most boating lakes throughout the state - depending on time of year and state-defined seasons.
Beech Fork Lake is a 720-acre lake in west-central WV.
Bluestone Lake is a 2,000 acre lake in south WV.
Burnsville Lake is a 1,900-acre lake in central West Virginia.
Cheat Lake is a 1,770-acre lake in the northeast part of the state.
East Lynn Lake is a 1,000-acre lake in the west-central part of the state.
Jennings Randolph Lake is a 950-acre lake in northeast WV.
Moncove Lake is a 144-acre lake in eastern WV.
Mount Storm Lake is a 1,200-acre lake in the northeast part of the state.
O'Brien Lake is a 217-acre lake in western WV.
Stonewall Jackson Lake is a 2,600-acre lake in the central part of the state.
Summersville Lake is a 2,700-acre lake in the central part of the state.
Tygart Lake is a 1,700-acre lake in the northeast part of the state.
Use the map below to locate lakes and rivers nearby major cities including Elizabeth, Gassaway, Moundsville, Parkersburg, Wheeling, Clarksburg, Fairmont, Fort Ashby, Martinsburg, Morgantown, Beckley, Charleston, Huntington, Madison, Teays Valley, Lewisburg, Marlinton, Richwood, Ronceverte and Summersville.
Use the navigation and zoom arrows to locate your area of interest in West Virginia. Once you locate a specific area or city, zoom in closer and make note of bodies of water nearby. The scale on the map allows you to determine the length and width of the waterway and define its potential usability for boating with your particular watercraft. Always check with local water authorities for current lake levels.
Lakes and rivers in West Virginia
Some of the lakes in West Virginia include Browns Run Impoundment, Buffalo Creek Reservoir, Lake Floyd, Salem Auxiliary Lake, Tomlinson Run Lake, Cheat Lake, Mt Storm Lake, Sleepy Creek Lake, Stonewall Jackson Lake, Tygart Lake, Beech Fork Lake, East Lynn Lake, Flat Top Lake, Laurel Lake, Stephens Lake, Buffalo Lake, Camp Caesar Lake, Lake Sherwood, Summerville Lake and Sutton Lake.
Navigable rivers include Little Kanawha River, Middle Island Creek, Cheat River, Cacapon River, Big Sandy River, Elk River, Gauley River and Greenbrier River.
Maps for boating in other states.