Boat storage
How and Where to Store Your Boat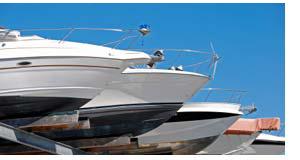 Whether you already own a boat or are in the process of purchasing one, boat storage is one of the most important aspects to consider. Since a boat is one of your biggest investments besides property, it is wise to protect your investment by storing your boat in a safe location, depending on your budget and the size of your boat. Indoor storage provides the most protection and security for the boat. If you choose to store it outside, as sturdy cover is advisable to protect the boat and its contents from weather.
Options For Storing A Boat
Wet Boat Storage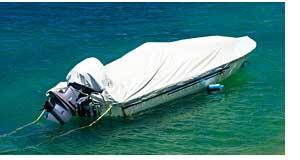 If you wish to keep your boat stored on the water you have two basic choices. Moored storage is attained by tying boats to buoys and allowing them to float within a defined area around the buoy. Access to the moored boat is via a dinghy. The other option is to park the boat in an assigned boat slip which allows easy access and options for power, water and other conveniences.
Outdoor Boat Yard Storage
These fenced areas offer some security, however you boat is subjected to weather and sun rays. A good option here is to use a boat cover to protect your investment from the elements. Boat covers for storage are quite inexpensive compared to custom boat covers designed to be used while the boat is being transported from one location to another.
Covered Boat Storage
These storage facilities are much like the boat yard storage areas. They are typically fenced for security. Additionally they have a covered roof or awning over the area to protect your boat from the elements. In any outdoor area it is a good idea to cover your boat with a secure boat cover which will provide additional security, protection from the elements and also deter animals from taking up residence in your boat.
Indoor Boat Storage
Storing your boat indoors offers the ideal security and protection from the elements. Indoor storage facilities with individual, lockable stalls offer the ultimate protection, allowing you to feel comfortable stowing your boating accessories as well. A standard collection of boating accessories may include life jackets, water skis, wake boards, ropes, anchors, fishing gear, ice chests, water toys, and a host of boat supplies like oil and tools.
Quick Links
Fishing Boats For Sale
Bass Boats
Ski Boats For Sale
New & Used Jon Boats
New & Used Jet Skis
Canoes
Boating storage tips and instructions
The are many benefits to storing your boat properly. Following recommended boat storage procedures will pay big dividends over time.
Short-term storage
When storing your boat for short periods of time between trips to the lake, it is recommended that you frequently check these items:
Batteries. Make sure batteries are in good condition and fully charged for the next use. Clean cable connections when they become corroded.
Fuel, oil and other fluids. Check that all fluid levels are within recommended guidelines.
Bilge. Inspect the bilge for signs of oil or gas leaks and drain excess water. Check that the bilge drain plug is securely in place. Test the bilge pumps to make certain they are working properly.
Motor. Follow manufacturers guidelines for maintenance, tune-ups and fluid replacement.
Steering. Check steering cables for wear. Grease cables as recommended by the manufacturer.
Trailer Wheel Bearings. Grease wheel bearings at intervals recommended by the trailer manufacturer.
Electrical. Inspect boat and trailer lighting, testing each item for loose wire connections and failed light bulbs.
Long-term Storage
For long-term storage over winter months, there are important steps to ensuring your boat and motor survive the cold. The extra time it takes to perform these procedures is minimal compared to dealing with the consequences of not doing so. These are some of the items you should do in addition to those listed above:
Fuel Stabilizer. Add fuel stabilizer to a full tank of gas and run the engine. This will help reduce condensation from forming in the fuel tank, carburetors and fuel lines.
Fogging Oil. With the motor running, fog the motor by spraying fogging oil directly into the carburetors or the EFI system. Removal of the air box may be necessary to access the carburetor intakes. Many motors are equipped with fogging ports. This oil puts a coating on the carburetors and motor components to prevent corrosion. Always refer to your owners manual for specific instructions for your particular motor.
Lower Unit. Drain the lower unit and replace per manufacturers specifications.
Propeller. Remove the prop, check for fishing line and inspect seals.
Lubricate Action Areas. Lubricate all grease zerks, shift linkage and throttle linkages. Review your owners manual for lubrication details.
Water Systems. Remove all water from the engine, bilge, pumps and lines to avoid freezing.
Electric Motors and Fish finders. In areas where freezing may occur, remove these items from the boat and store in a warm, dry area.
Find storage for boats of all types.
One of the least expensive ways to store your small boat is on a trailer. By using a trailer, you can park your boat by your house and simply cover the boat to protect it from the elements. With a trailer as your boat storage method, you have the convenience of possible indoor storage in your garage, barn, or building as well as ease of travel to multiple bodies of water. Simply hook the trailer to your RV, or pickup and off you go.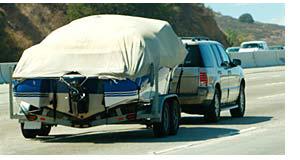 Boat storage at a rack facility is another option for small boats. Most of the rack facilities store the boats in a covered shed or other indoor enclosure on a cradle, which is much like a trailer. Prior to the day you plan to go boating, you contact the rack facility and the employees will remove your boat and have it ready for you. When you are finished with your boat for the day, the rack facility employees will return your boat to the proper storage location. These rack facilities keep your boat away from the water, reducing the maintenance costs of anti-fouling.
Boat storage options for larger boats or for owners of smaller boats who do not want the hassle of transporting their boat to and from the water or utilizing a rack facility may opt to rent or buy a slip at a marina. A slip at the marina offers more convenience than trailers or racks because you will not have to transport your boat to the water or call ahead to schedule a pickup, however, marina boat storage is more expensive.
Boat storage locations.
Choose from the many options for indoor or outdoor boat storage including other RV and watercraft storage, listed by state then by regions within the state.
Boar storage and mooring in all states.

Boats & Boating
Mooring, docking and secure boat storage.