Pennsylvania Boat Storage
Dry dock, marinas and indoor boat storage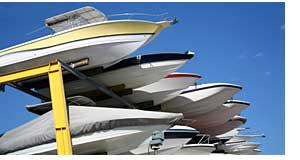 Storing your boat in a safe area can relieve a lot of stress for most boat owners. Covered storage offers additional protection from the sun and ultra-violet rays which can deteriorate boat finishes and canvas tops plus attack seats, woodwork and carpet. In this Pennsylvania section of the site, we list boat storage facilities by location relative to major cities, lakes and area attractions for your convenience.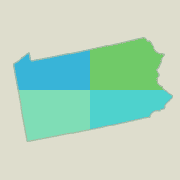 PA Resources
Erie
Lund Boat Works Inc
12 E Dobbins Lndg
Erie, PA 16507
814 455-1782
Bay Harbor Marina Service
726 West Bayfront Parkway
Erie, PA 16507
814 459-7144
Pittsburgh
Harmar Marina Boat Sales Service
2526 Wenzel Dr
Pittsburgh, PA 15238
412 828-9684
Allegheny Marina Inc
1 62nd Street
Pittsburgh, PA 15201
412 782-3113
Pittsburgh Boat Show
2250 Roswell Drive
Pittsburgh, PA 15205
412 921-8200
Allentown
Wakeboard & Skiboats of PA
6420 Chapmans Rd # A
Allentown, PA 18106
610 398-8552
Peters Marine Service Inc - Boat Sales
1402 Union Boulevard
Allentown, PA 18109
610 433-1606
Wakeboard & Ski Boats of Pennsylvania
5803 Snowy Orchid Ln
Allentown, PA 18104
484 223-1067
Philadelphia
Riverside Marina
Norman Avenue
Philadelphia, PA 19102
215 637-0122
Philadelphia Boat
8900 State Road
Philadelphia, PA 19136
215 332-5117
Boaters World
12123 Knights Road
Philadelphia, PA 19102
215 637-3735
Reading
Reading Boat Works Inc
1084 Cedar Hill Drive
Reading, PA 19605
610 926-4739
Some of the major cities we list, which are listed by region of the state, include Kane, Lock Haven, Bradford, Erie, Hazleton, Scranton, St Marys, Bloomsburg, Wilkes-Barre, Williamsport, McKeesport, Penn Hills, Altoona, Johnstown, Harrisburg, Philadelphia, Pittsburgh, Reading, York and Allentown.
Many marinas offer boat storage and other services for launching and extracting your boat. Many of these marinas in Pennsylvania also offer boat repair services. A partial listing of marinas in PA includes Espyville Marina and Boat Delivery, Kinzua Wolf Run Marina, Shenango River Lake, Lakeside Marina, Aspinwall Marina, Engle's Holiday Harbor, Morrow's Marina and Philadelphia Marine Center.
Consider weather and security implications when choosing local storage options. Extreme weather can damage fabrics and boat finishes over time. The need for security is a question one should consider as well. Covered and indoor boat storage is a good solution but may have height limitations which could eliminate some sailboats. Some Pennsylvania indoor storage units may be too small for some pontoon boats, cruisers, cuddy cabin boats and other longer boats. Contact local storage facilities to confirm size limitations.
Boat storage options in Pennsylvania are varied. Click here for boat storage options and step-by-step tips and instrictions.
For those who do not own a boat, and prefer to avoid the costs of ownership, rental boats can be a cost effective option.
Locate boat storage facilities in other states.