Iowa Boat Storage
Dry dock, marinas and indoor boat storage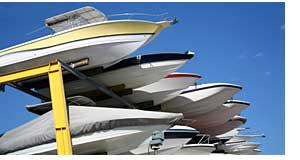 Storing your boat in a safe area can relieve a lot of stress for most boat owners. Covered storage offers additional protection from the sun and ultra-violet rays which can deteriorate boat finishes and canvas tops plus attack seats, woodwork and carpet. In this Iowa section of the site, we list boat storage facilities by location relative to major cities, lakes and area attractions for your convenience.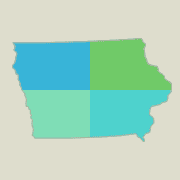 Iowa Resources
Dubuque
Marina Massey
9526 Massey Marina Ln
Dubuque, IA 52003
563 556-3416
Hawkeye Boat Sales
1108 Iowa St
Dubuque, IA 52001
563 557-0313
Arrowhead Marina
22500 Golf Lake Road
Dubuque, IA 52001
563 552-2303
C R Boats Inc
2711 Rhomberg Avenue
Dubuque, IA 52001
563 583-1183
Waterloo
Waterloo Boats
403 Franklin St
Waterloo, IA 50703
319 235-6158
Countryside Boat Shop
1328 S Elk Run Rd
Waterloo, IA 50703
319 233-0708
Custom Boat Covers by Wersinger-Dunkerton
516 Martin Road
Waterloo, IA 50701
319 234-5416
West Des Moines
Crescent Ridge Mini Storage
714 42nd St
West Des Moines, IA 50265
515 224-4313
Davenport
Davenport Boat And Marine Ltd
1414 S Stark St
Davenport, IA 52802
563 326-2431
Iowa City
Coralville Lake Marina
2860 Prairie Du Chien Road
Iowa City, IA 52240
319 351-8343
Some of the major cities we list, which are listed by region of the state, include Lamar, Sioux City, Boone, Fort Dodge, Deborah, Dubuque, Spencer, Cedar Falls, Mason City, Waterloo, Hamburg, Indianola, Bedford, Des Moines, Davenport, Iowa City, West Des Moines, Mt Pleasant, Oskaloosa and Cedar Rapids.
Many marinas offer boat storage and other services for launching and extracting your boat. Many of these marinas in Iowa also offer boat repair services. A partial listing of marinas in IA includes Oak Hill Marina, Parks Marina, Tuttle Lake, South Fork Campground Marina, Lake Icaria Marina, Saylorville Lake Marina, Bluff Harbor Marina and Lake Rathbun Marina.
Consider weather and security implications when choosing local storage options. Extreme weather can damage fabrics and boat finishes over time. The need for security is a question one should consider as well. Covered and indoor boat storage is a good solution but may have height limitations which could eliminate some sailboats. Some Iowa indoor storage units may be too small for some pontoon boats, cruisers, cuddy cabin boats and other longer boats. Contact local storage facilities to confirm size limitations.
Boat storage options in Iowa are varied. Click here for boat storage options and step-by-step tips and instrictions.
For those who do not own a boat, and prefer to avoid the costs of ownership, rental boats can be a cost effective option.
Locate boat storage facilities in other states.