Tennessee Boat Storage
Dry dock, marinas and indoor boat storage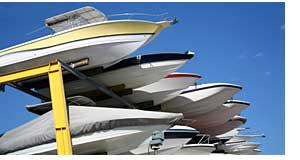 Storing your boat in a safe area can relieve a lot of stress for most boat owners. Covered storage offers additional protection from the sun and ultra-violet rays which can deteriorate boat finishes and canvas tops plus attack seats, woodwork and carpet. In this Tennessee section of the site, we list boat storage facilities by location relative to major cities, lakes and area attractions for your convenience.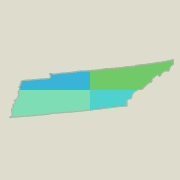 Tennessee Resources
Clarksville
Clarksville Boat Motor
1395 Ashland City Rd, Ste B
Clarksville, TN 37040
931 647-9609
Mid South Boat Sales
575 Alfred Thun Rd
Clarksville, TN 37040
931 648-6354
HARB Victor J Boat Sales & Service
375 Highway 149
Clarksville, TN 37040
931 647-1608
Nashville
Nashville Boat Club
3361 Bell Rd
Nashville, TN 37214
615 232-9100
Boat Mart
118 Space Park S
Nashville, TN 37211
615 834-2461
Tracker Boats
323 Opry Mills Drive
Nashville, TN 37214
615 514-5180
Union City
Kentenn Boat Works
3616 Ken Tenn Hwy
Union City, TN 38261
731 885-1818
Cookeville
Rick's Boats
3412 Burgess Falls Road
Cookeville, TN 38506
931 432-6223
Tennessee Boat Brokers
4600 Ditty Road
Cookeville, TN 38501
931 432-1457
Johnson City
Sonnys Marina Boat Sales
109 One St
Johnson City, TN 37615
423 282-9440
Kingsport
Mastercraft Boats of Kingsport
859 East Stone Drive
Kingsport, TN 37660
423 224-2135
Knoxville
Knoxville Boat Sales Inc
508 Omni Ln
Knoxville, TN 37932
865 671-7848
Bullet Boats Inc
8910 Valgro Rd
Knoxville, TN 37920
865 577-7055
Brunswick Boat Group
800 S Gay St, Ste 1700
Knoxville, TN 37929
865 522-6307
Sea Ray Boats
800 S Gay St, Ste 1700
Knoxville, TN 37929
865 637-3607
Fox Road Marina
1100 Fox Road
Knoxville, TN 37922
865 966-9422
The Marinas
1100 Fox Road
Knoxville, TN 37922
865 966-7444
Memphis
Travis Boating Center
6737 Summer Ave
Memphis, TN 38134
901 388-7268
Boat Center
1920 Watson St
Memphis, TN 38111
901 744-4444
Bass Annie Cosmetic Boat Repairs
3789 Sewanee Road
Memphis, TN 38109
901 785-7409
Dynotech Auto & Boat Sales
5516 Old USHighway 78
Memphis, TN 38118
901 365-3460
Economy Boat Store
398 West Illinois Avenue
Memphis, TN 38106
901 947-2815
Economy Boat Store
484 Jack Carley Causeway
Memphis, TN 38113
901 942-2464
Maryville
Boat Mate Trailers Inc
1713 Henry G Lane St
Maryville, TN 37801
865 273-1100
Bennett Don Jr Boat Repairing
517 Pink Dogwood Lane
Maryville, TN 37803
865 982-9589
Sevierville
Mountain Cove Marina LLC
1590 Dyke Road
Sevierville, TN 37876
865 453-3506
Some of the major cities we list, which are listed by region of the state, include Martin, Nashville, Clarksville, Dyersburg, Cookeville, Johnson City, Union City, Clinton, Kingsport, Knoxville, Jackson, Lawrenceburg, Covington, Germantown, Fayetteville, Maryville, Memphis, Sevierville, Tullahoma and Athens.
Many marinas offer boat storage and other services for launching and extracting your boat. Many of these marinas in Tennessee also offer boat repair services. A partial listing of marinas in TN includes Buchanan Resort & Marina, Mansard Island Resort & Marina, Old Hickory Lake, Swann's Marina, Fish Springs Marina, Mallard Cove Marina, Harbor Lights Marina and Island Cove Marina.
Consider weather and security implications when choosing local storage options. Extreme weather can damage fabrics and boat finishes over time. The need for security is a question one should consider as well. Covered and indoor boat storage is a good solution but may have height limitations which could eliminate some sailboats. Some Tennessee indoor storage units may be too small for some pontoon boats, cruisers, cuddy cabin boats and other longer boats. Contact local storage facilities to confirm size limitations.
Boat storage options in Tennessee are varied. Click here for boat storage options and step-by-step tips and instrictions.
Boating insurance. Contact your Tennessee boat insurance agent to make sure the policy is current and will cover the boat while it is in storage.
For those who do not own a boat, and prefer to avoid the costs of ownership, rental boats can be a cost effective option.
Locate boat storage facilities in other states.