West Virginia Boating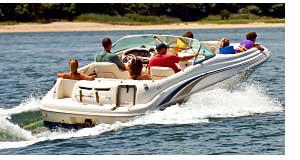 Plenty of fun places to go boating in West Virginia. Whether it's a family outing or just the guys going fishing or skiing, boating is fun for all. And there is boating in all corners of of the state. Whether you live in the northwest, northeast, southwest or southeast part of the state, chances there are plenty of opportunities to go boating nearby.
Boating in WV
For further information about boating in Wisconsin, contact the Wisconsin Department of Natural Resources - Boating Licenses located at 101 S. Webster Street, Madison, Wisconsin 53707. The phone number is 608 266-2621.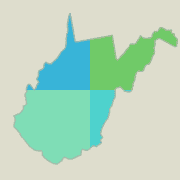 WV Resources
Clarksburg
Pleasure Boat Marine Inc
929 W Pike St
Clarksburg, WV 26301
304 623-0499
Fairmont
Wood's Boat House
1920 Fairmont Avenue
Fairmont, WV 26554
304 363-2651
Charleston
Trojan Landing Marine Inc
1414 Maccorkle Ave Sw
Charleston, WV 25303
304 744-8300
Charleston Marine Inc
1601 Bowne Ave
Charleston, WV 25303
304 744-3324
Dave Morris Marine Inc
7801 McCorkle Avenue Southeast
Charleston, WV 25301
304 925-0076
Huntington
Justin's Fishing Hunting & Marine
4231 Hughes Branch Road
Huntington, WV 25701
304 736-4276
This website focuses on all aspects of boating including new and used boats for sale, boat rentals, repairs, accessories, storage and more.
For convenience, resources are listed first by area of the West Virginia, then by proximity to cities, waterways, parks, campgrounds and other relative attractions in WV. Cities listed in this section include Elizabeth, Gassaway, Moundsville, Parkersburg, Wheeling, Clarksburg, Fairmont, Fort Ashby, Martinsburg, Morgantown, Beckley, Charleston, Huntington, Madison, Teays Valley, Lewisburg, Marlinton, Richwood, Ronceverte and Summersville.
Resources are also identified nearby campgrounds including Cacapon Resort State Park, Cedar Creek State Park, Tomlinson Run State Park, Audra State Park, Blackwater Falls State Park, Tygard Lake State Park, Beech Fork State Park, Pinnacle Rock State Park, Yatesville Lake Park, Bluestone State Park, Moncove Lake State Park and Watoga State Park.
Rivers & Lakes For Boating in WV
West Virginia lakes with boating opportunities are listed within quadrants of West Virginia include Browns Run Impoundment, Buffalo Creek Reservoir, Lake Floyd, Salem Auxiliary Lake, Tomlinson Run Lake, Cheat Lake, Mt Storm Lake, Sleepy Creek Lake, Stonewall Jackson Lake, Tygart Lake, Beech Fork Lake, East Lynn Lake, Flat Top Lake, Laurel Lake, Stephens Lake, Buffalo Lake, Camp Caesar Lake, Lake Sherwood, Summerville Lake and Sutton Lake. Many of these lakes offer multiple boat launching facilities at various locations around the lake.
West Virginia also affords some boating or canoeing on rivers like Little Kanawha River, Middle Island Creek, Cheat River, Cacapon River, Big Sandy River, Elk River, Gauley River and Greenbrier River.
WV boating equipment and gear.
Throughout West Virginia you can find boat dealers, outdoor centers, sporting good stores, bait and tackle stores, RV centers and discount stores offering a wide variety of boating equipment, accessories and supplies.
Go boating in West Virginia
Gather up the family along with some snacks and refreshing beverages and go enjoy the thrill of fresh air in your face and the sun on your back. When boating you can see parts of West Virginia accessible only by water. Often you'll see birds and wildlife not normally seen in city areas. Plus, sunrises and sunsets always seem more majestic when you are in the great outdoors.
Boating opportunities in other states.