Arizona Boating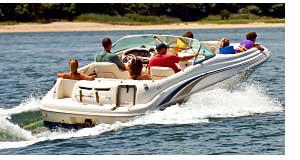 Arizona's vast and diverse landscape is a haven for boating enthusiasts, offering a multitude of lakes and reservoirs to explore. Each water body has its own unique charm and recreational opportunities, attracting boaters from all over the state and beyond. Some of the most popular boating destinations in Arizona include Lake Powell, Lake Havasu, Lake Pleasant, and Saguaro Lake. These lakes boast stunning scenery, ample space for water activities, and pleasant weather, making them ideal for various boating adventures.
Boaters in Arizona have a wide range of boat types to choose from, catering to different interests and activities on the water. Fishing boats are a common sight, as fishing is a beloved pastime in the state, with species like bass, catfish, and trout drawing anglers to the water's edge. Pontoon boats, known for their stability and spacious decks, are perfect for leisurely cruises and gatherings with family and friends. Speedboats and wakeboard boats are popular among thrill-seekers who enjoy water sports like wakeboarding and water skiing, while sailboats offer a serene and eco-friendly way to navigate the lakes.
For those who don't own a boat, Arizona's boat rental services provide a convenient and accessible option to experience the joy of boating. Rental companies offer a variety of boats, allowing individuals to select the perfect vessel for their desired water adventure. Whether it's a peaceful day of fishing, a scenic cruise along the lake's shores, or an action-packed water sports session, boat rental services ensure that everyone can enjoy the pleasures of boating without the commitment of boat ownership.
Boating in Arizona also presents the opportunity to explore hidden coves, sandy beaches, and serene islands that can only be reached by water. Adventurous boaters can venture out to find secluded spots and connect with nature in a unique and tranquil way. Moreover, many lakeside parks and camping grounds make it easy for boaters to extend their stay, allowing them to immerse themselves fully in the beauty of Arizona's natural surroundings.
Arizona's boating scene offers a delightful mix of adventure, leisure, and natural beauty. With an abundance of lakes to explore, a diverse array of boat types to choose from, and convenient boat rental services, boating enthusiasts of all ages and experience levels can make the most of their time on the water. From thrilling water sports to peaceful fishing excursions, boating in Arizona is an experience that leaves lasting memories and a deep appreciation for the state's stunning aquatic landscapes.
Plenty of fun places to go boating in Arizona. Whether it's a family outing or just the guys going fishing or skiing, boating is fun for all. And there is boating in all corners of of the state. Whether you live in the state, chances there are plenty of opportunities to go boating nearby.
Boating in AZ
For further information about boating in Arizona, contact the Arizona Game and Fish Department - Boating Licenses located at 5000 W. Carefree Highway, Phoenix, AZ 85086. The phone number is 602 942-3000.
This website focuses on all aspects of boating including new and used boats for sale, boat rentals, financing, repairs, accessories, storage and more.
For convenience, resources are listed first by area of the Arizona, then by proximity to cities, waterways, parks, campgrounds and other relative attractions in AZ. Cities listed in this section include Bullhead City, Kingman, Lake Havasu City, Prescott, Tusayan, Flagstaff, Holbrook, Page, Sedona, Show Low, Gila Bend, Parker, Phoenix, Wickenburg, Yuma, Casa Grande, Globe, Mesa, Safford and Tucson.
Resources are also identified nearby campgrounds including Glen Canyon Campground, Slide Rock State Park, Verde River Greenway State Natural Area, Fool Hollow Lake Recreation Area, Lyman Lake State Park, Page Lake Powell Campground, Alamo Lake State Park, River Island State Park, Yuma Lakes Camping Resort, Patagonia Lake State Park, Roper Lake State Park and Windy Hill Campgrounds.
Rivers & Lakes For Boating in AZ
Arizona lakes with boating opportunities are listed within quadrants of Arizona include Alamo Lake, Lake Havasu, Lake Mead, Lake Mohave, Willow Creek Reservoir, Bartlett Lake, Big Lake, Lake Powell, Lyman Lake, Woods Canyon Lake, Imperial Reservoir, Lake Pleasant, Martinez Lake, Mittry Lake, Painted Rock Reservoir, Apache Lake, Canyon Lake, Lake Roosevelt, Saguaro Lake and San Carlos Lake. Many of these lakes offer multiple boat launching facilities at various locations around the lake.
Boating opportunities in Arizona
AZ boating equipment and gear.
Throughout Arizona you can find boat dealers, outdoor centers, sporting good stores, bait and tackle stores, RV centers and discount stores offering a wide variety of boating equipment, accessories and supplies.
Enjoy the outdoors in Arizona
Gather up the family along with some snacks and refreshing beverages and go enjoy the thrill of fresh air in your face and the sun on your back. When boating you can see parts of Arizona accessible only by water. Often you'll see birds and wildlife not normally seen in city areas. When you are off the lake, enjoy playing pickleball at courts in cities across Arizona. Plus, sunrises and sunsets always seem more majestic when you are in the great outdoors.
Locate boating gear, equipment and accessories at boat dealers, sporting good stores and RV centers throughout Arizona by location within or nearby cities in northern and eastern Arizona.
Northeast Resources
Flagstaff
Monte Vista Marine Inc
3122 E Route 66
Flagstaff, AZ 86004
928 526-5600
Marine Maintenance And Repair
505 N Grant St
Flagstaff, AZ 86004
928 774-4468
Partner Boat Co
4800 Saddle Ave
Flagstaff, AZ 86004
928 526-0101
Page
Tonys Dri Doc Marine
Po Box 897
Page, AZ 86040
928 645-2732
Triple L Marine
Po Box 3270
Page, AZ 86040
928 645-2669
Skipperliner Yachts
Po Box 3056
Page, AZ 86040
928 645-2444
Lake Powell Houseboat
Po Box 308
Page, AZ 86040
928 645-3060
Outdoor Sports
861 Vista Avenue
Page, AZ 86040
928 645-8141
Skipperliner Yachts
18 10 Avenue
Page, AZ 86040
928 645-2444
Northwest Resources
Bullhead City
Mohave Sports Center
1030 Highway 95
Bullhead City, AZ 86429
928 754-3801
R V Marine
2535 Miracle Mile
Bullhead City, AZ 86442
928 763-2322
Desert River Kayaks
1034 Highway 95
Bullhead City, AZ 86429
928 754-5320
Bullhead Marine & RV Inc
1017 Highway 95
Bullhead City, AZ 86429
928 754-3977
Holiday RV & Marine
2535 South Miracle Mile
Bullhead City, AZ 86442
928 763-2322
Bull Head City Watercraft Rentals
1631 Highway 95
Bullhead City, AZ 86442
931 684-6437
Kingman
Kingman Marine
3545 Sunshine Dr
Kingman, AZ 86409
928 757-2212
Lake Havasu City
Gaines Marine Inc
1435 Countryshire Ave, Ste 102
Lake Havasu City, AZ 86403
928 453-9229
Savage Marine Inc
1575 Industrial Blvd
Lake Havasu City, AZ 86403
928 680-6202
J C Marine
3131 Maricopa Ave, Ste B
Lake Havasu City, AZ 86406
928 505-5252
Havasu Avenue Marine
82 Lake Havasu Ave N
Lake Havasu City, AZ 86403
928 855-4494
Skips Prop Shop
1516 Countryshire Ave
Lake Havasu City, AZ 86403
928 855-0887
Arizona Watersports
655 Kiowa Ave
Lake Havasu City, AZ 86403
928 453-5558
Southeast Resources
Mesa
Century Marine
3302 E Main St
Mesa, AZ 85213
480 835-9134
Darner Marine
120 N Power Rd
Mesa, AZ 85205
480 832-6002
Arizona Water Sports
1320 W Broadway Rd
Mesa, AZ 85202
480 844-5180
Phillips Marine
3737 N 54th St
Mesa, AZ 85215
480 396-3455
Loyds Marine
6720 E Main St
Mesa, AZ 85205
480 832-0722
Martin Marine
715 W Broadway Rd
Mesa, AZ 85210
480 898-1800
Tucson
Eddies Inboard Marine Eqp
6074 E Pima St
Tucson, AZ 85712
520 298-9322
Blue Water Tackle And Marine Inc
Po Box 5826
Tucson, AZ 85703
520 292-6814
Porters Marine Service
3381 E Milber St
Tucson, AZ 85714
520 294-8533
Ridenow Powersports On Ina
4375 W Ina Rd
Tucson, AZ 85741
520 579-3939
CSA Cycles Skis & Atv's
5225 East 22nd Street
Tucson, AZ 85711
520 747-8339
Arizona Inflatables & Paddlesports
16202 North Oracle Road
Tucson, AZ 85739
520 818-1245
Southwest Resources
Parker
Eddies Marine Services
417 S California Ave
Parker, AZ 85344
928 669-2219
Bad Attitude Boats
816 S Joshua Ave
Parker, AZ 85344
928 669-8870
Andersons Boat And Rv S
1617 S Kofa Ave
Parker, AZ 85344
928 669-8352
Kemper Boat Rv And Mini Storage
6990 Riverside Dr
Parker, AZ 85344
928 667-2730
Marine Upholstery
1000 West 7th Street
Parker, AZ 85344
928 669-2250
Holiday Harbor Watercraft Rentals
37148 Buckskin Cir Suite 2
Parker, AZ 85344
928 667-2629
Phoenix
West Marine Inc
4239 W Bell Rd
Phoenix, AZ 85053
602 564-6680
Jett Performance Marine
2120 E Monona Dr
Phoenix, AZ 85024
602 923-6407
Corporate Auto Marine
4013 E University Dr
Phoenix, AZ 85034
602 437-4313
Desert Sport Center
2929 W Thomas Rd
Phoenix, AZ 85017
602 269-2571
Jet Ski Unlimited
22405 N 19th Ave
Phoenix, AZ 85027
623 581-1620
Wakeboard and Ski Marine L L C
1919 West North Lane
Phoenix, AZ 85021
602 997-9929
Yuma
Liberty Motor Sports
1999 S Arizona Ave
Yuma, AZ 85364
928 783-5163
Davidson Marine Supply
2175 E 16th St
Yuma, AZ 85365
928 344-2498
River Marine Sales
3231 S Joanie Ave
Yuma, AZ 85365
928 783-6502
Sportsmens Boat Storage
1645 S Engler Ave
Yuma, AZ 85365
928 783-6722
Wild West Motorsports
2500 East 16th Street
Yuma, AZ 85365
928 783-8282
Yuma Marine Inc
2471 South Virginia Drive
Yuma, AZ 85364
928 344-2498
Boating opportunities in other states.