Oklahoma Boating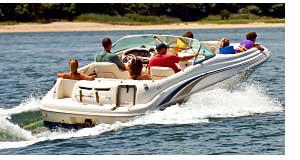 Plenty of fun places to go boating in Oklahoma. Whether it's a family outing or just the guys going fishing or skiing, boating is fun for all. And there is boating in all corners of of the state. Whether you live in the northwest, northeast, southwest or southeast part of the state, chances there are plenty of opportunities to go boating nearby.
Boating in OK
For further information about boating in Oklahoma, contact the Oklahoma Boat and Motor Registrations 2501 North Lincoln Boulevard - Boating Licenses located at Oklahoma City, OK 73194. The phone number is 405 521-3160.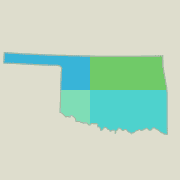 OK Resources
Enid
Zaloudek's Marine
1802 North Van Buren Street
Enid, OK 73703
580 237-1557
Woodward
Competition Sports
803 Main St
Woodward, OK 73801
580 256-3091
Broken Arrow
Jimmy Houston Marine
1501 E Kenosha St
Broken Arrow, OK 74012
918 251-2656
M And W Power Sports
2150 W Concord St
Broken Arrow, OK 74012
918 251-2553
Edmond
Wilson Watersports
6130 Industrial Blvd
Edmond, OK 73034
405 330-0526
A & C Boatworks
2920 East Waterloo Road
Edmond, OK 73034
405 715-1988
Muskogee
Marine Sales
2400 N 32nd St
Muskogee, OK 74401
918 686-7600
Motor Sports of Muskogee
Chandler Road Exit Mus
Muskogee, OK 74401
918 687-1343
Owasso
Morton Marine
8939 North Garnett Road
Owasso, OK 74055
918 272-1809
Tulsa
Bayer Marine Inc
4424 S Mingo Rd
Tulsa, OK 74146
918 664-4424
Nichols Marine
6556 E 21st St
Tulsa, OK 74129
918 838-2500
Daves Marine Parts
10724 E 11Th St, Ste E
Tulsa, OK 74128
918 437-2225
West Marine Inc
4315 S Sheridan Rd
Tulsa, OK 74145
918 665-2101
Tulsa Boat Sales
12303 E 11Th St
Tulsa, OK 74128
918 438-1881
Honda of Tulsa Sports Center
21st & Yale
Tulsa, OK 74103
918 744-5551
Lawton
Land & Water Rv & Boat Storage
711 NW Buffalo Dr
Lawton, OK 73505
580 536-2800
J W Boat Repair
203 Se F Ave
Lawton, OK 73501
580 248-0889
Yamaha Power Sports
4443 Northwest Cache Road
Lawton, OK 73505
580 355-1355
Mangum
Kyles Marine
516 N Louis Tittle Ave
Mangum, OK 73554
580 782-2956
Moore
Boats N Moore
2430 N Janeway Ave
Moore, OK 73160
405 799-9933
Youngs Camper Boat Storage Inc
3004 SW 111Th St
Moore, OK 73170
405 378-7373
Muskogee
Marine Sales
2400 N 32nd St
Muskogee, OK 74401
918 686-7600
Motor Sports of Muskogee
Chandler Road Exit Mus
Muskogee, OK 74401
918 687-1343
Norman
Norris Marine
2680 N Interstate Dr
Norman, OK 73072
405 364-5280
Nichols Marine
1700 Ann Branden Blvd
Norman, OK 73071
405 360-4111
Calypso Cove Marine
Lake Thunderbird
Norman, OK 73026
405 360-9846
Christian's Marine
3750 Classen Boulevard
Norman, OK 73071
405 329-6669
Oklahoma City
J M Marine LLC
Po Box 106
Oklahoma City, OK 73101
405 354-4200
H And H Marine Inc
6408 NW 10Th St
Oklahoma City, OK 73127
405 495-3231
L C K Marine Inc
3120 SW 59th St
Oklahoma City, OK 73119
405 681-2676
West Marine Inc
2727 NW Expressway
Oklahoma City, OK 73112
405 848-2634
Davids Sports Center
6301 NW 10Th St
Oklahoma City, OK 73127
405 789-2628
Oklahoma Boat Sport & Tackle Show
10901 Southeast 42nd Street
Oklahoma City, OK 73150
405 733-3474
This website focuses on all aspects of boating including new and used boats for sale, boat rentals, repairs, accessories, storage and more.
For convenience, resources are listed first by area of the Oklahoma, then by proximity to cities, waterways, parks, campgrounds and other relative attractions in OK. Cities listed in this section include Alva, Enid, Fairview, Guymon, Woodward, Broken Arrow, Edmond, Muskogee, Owasso, Tulsa, Elk City, Lawton, Mangum, Snyder, Weatherford, McAlester, Moore, Muskogee, Norman and Oklahoma City.
Resources are also identified nearby campgrounds including Black Mesa State Park, Foss State Park, Great Salt Plains State Park, Honey Creek State Park, Keystone State Park, Okmulgee State Park, Fort Cobb State Park, Great Plains State Park, Moneka Park Campground, Lake Eufaula State Park, Lake Texoma State Park and McGee Creek State Park.
Rivers & Lakes For Boating in OK
Oklahoma lakes with boating opportunities are listed within quadrants of Oklahoma include Canton Lake, Fort Supply Reservoir, Great Salt Plains Lake, Lake Lloyd Vincent, Optima Lake, Fort Gibson Reservoir, Grand Lake of the Cherokees, Kaw Lake, Keystone Lake, Lake Hudson, Foss Reservoir, Lake Ellsworth, Lake Frederick, Tom Steed Reservoir, Waurika Lake, Broken Bow Reservoir, Hugo Lake, Lake Eufaula, Lake Texoma and Robert S Kerr Reservoir. Many of these lakes offer multiple boat launching facilities at various locations around the lake. Campgrounds are available for motorhome and boat parking nearby most of these waterways.
Oklahoma also affords some boating or canoeing on rivers like Beaver River, Wolf Creek, Bird Creek, Black Bear Creek, Canadian River, Red River, Kiamichi River and Little River.
OK boating equipment and gear.
Throughout Oklahoma you can find boat dealers, outdoor centers, sporting good stores, bait and tackle stores, RV centers and discount stores offering a wide variety of boating equipment, accessories and supplies.
Go boating in Oklahoma
Gather up the family along with some snacks and refreshing beverages and go enjoy the thrill of fresh air in your face and the sun on your back. When boating you can see parts of Oklahoma accessible only by water. Often you'll see birds and wildlife not normally seen in city areas. Plus, sunrises and sunsets always seem more majestic when you are in the great outdoors.
Boating opportunities in other states.