Oklahoma Boats
Boat dealers and boats for sale in OK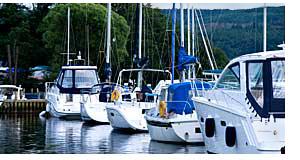 With all the boating opportunities in Oklahoma, it's no wonder there is so many boat dealers throughout the state offering a wide variety of boats for sale. If you like to sightsee, cruise, fish or water ski, there are dealers with your dream boat for sale. To locate a dealer near you, first select a quadrant of the state. Then find a boat dealer listed by proximity to cities, waterways, campgrounds and attractions in OK.
Locate boats for sale throughout OK
For further information about boat registration in Oklahoma, contact the OK Boat Licenses Dividion located at 2501 North Lincoln Boulevard, Oklahoma City, OK 73194. The phone number is 405 521-3160.
New & Used Boats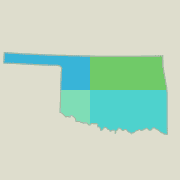 OK Resources
Edmond
A & C Boatworks
2920 East Waterloo Road
Edmond, OK 73034
405 715-1988
Muskogee
Marine Sales
2400 N 32nd St
Muskogee, OK 74401
918 686-7600
Tulsa
Tulsa Boat Sales
12303 E 11Th St
Tulsa, OK 74128
918 438-1881
Shoreline Boat Rv Repair
12526 E 52nd St
Tulsa, OK 74146
918 249-0049
Kerr Sail Makers
11429 East 20th Street
Tulsa, OK 74128
918 437-0544
Boat Brokers Voyager Pontoon Outlet
12204 East Admiral Place
Tulsa, OK 74116
918 712-9285
Boat Outlet
7509 East 11th Street
Tulsa, OK 74112
918 834-6710
Elk City
Brooks Sales Inc
2222 W 3rd St
Elk City, OK 73644
580 243-2484
Lawton
Land & Water Rv & Boat Storage
711 NW Buffalo Dr
Lawton, OK 73505
580 536-2800
J W Boat Repair
203 Se F Ave
Lawton, OK 73501
580 248-0889
Bill's Upholstery & Used Cars
6204 Northwest Oak Avenue
Lawton, OK 73505
580 536-9077
Moore
Boats N Moore
2430 N Janeway Ave
Moore, OK 73160
405 799-9933
Youngs Camper Boat Storage Inc
3004 SW 111Th St
Moore, OK 73170
405 378-7373
Muskogee
Marine Sales
2400 N 32nd St
Muskogee, OK 74401
918 686-7600
Oklahoma City
York Marine Sales
6821 NW 10Th St
Oklahoma City, OK 73127
405 789-6139
E R Boats Motors
3236 E I 240 Service Rd
Oklahoma City, OK 73135
405 619-7805
Buster Boats
135 NE 38th Ter
Oklahoma City, OK 73105
405 524-5269
Kens Boat Sales
2305 SW 29th St
Oklahoma City, OK 73119
405 631-2357
Internet Boat Sales
6101 NW 50Th St
Oklahoma City, OK 73122
405 789-0288
Direct Carpet Sales
4029 Northwest 10th Street
Oklahoma City, OK 73107
405 942-4105
Some of the major cities we have listed for your convenience include Tulsa, Oklahoma City, Mangum, Guymon, Weatherford, Broken Arrow, Moore, Muskogee, Owasso, Alva, Elk City, Lawton, Fairview, Snyder, Woodward, McAlester, Edmond, Muskogee, Norman and Enid.
Oklahoma boat dealers are familiar with boating requirements in OK. They can easily assist you in selecting the right boat for your intended use, as well as make suggestions for boating safety and ways to keep operating costs to a minimum.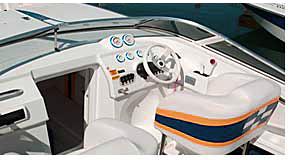 Most of these boat dealers offer new and used boats in many styles and configurations. You can find fishing boats, deck boats, pontoon boats, bow riders and party boats. Some boat dealers may also offer bay and offshore boats for larger bodies of water and coastal use.
Places to boat in Oklahoma
Once you acquire the ideal boat, we'll help you find places to boat in Oklahoma. Lakes are listed by quadrant within the state for convenience. The list of major lakes includes Grand Lake of the Cherokees, Kaw Lake, Canton Lake, Fort Supply Reservoir, Lake Hudson, Foss Reservoir, Great Salt Plains Lake, Lake Lloyd Vincent, Hugo Lake, Lake Eufaula, Optima Lake, Fort Gibson Reservoir, Keystone Lake, Lake Ellsworth, Lake Frederick, Robert S Kerr Reservoir, Waurika Lake, Broken Bow Reservoir, Lake Texoma and Tom Steed Reservoir.
Find boats for sale in Oklahoma
Rivers too can be a fun place to go boating and are listed by quadrant also. Some of the major rivers we've identified include Canadian River, Red River, Beaver River, Little River, Black Bear Creek, Bird Creek, Kiamichi River and Wolf Creek.
Boat companies and manufacturers in Oklahoma
Throughout OK you may find manufacturers of boats, trailers or boat accessories including Beach Comber Boats and Blue Wave Boats.
Boat types commonly used on OK waters.
If you are looking for a specific type boat, we may have information for you. Some of the boat types we cover include sailboats, pleasure boats, family boats, pontoon boats, cruisers, fishing boats, bass boats, speedboats, inflatables, jon boats, cuddy cabin boats, canoes, car toppers, ski & wake board boats, deck boats, aluminum boats, electric boats, jet skis, personal watercraft and fish-and-ski combos.
We'll help you find the boat, waterways and resources to make owning or renting a boat in Oklahoma an absolute pleasure.
Boats in Other States