Kentucky Boats
Boat dealers and boats for sale in KY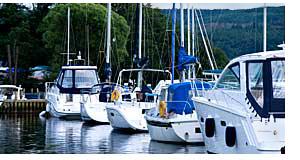 Kentucky, a state known for its abundant waterways and picturesque landscapes, offers a wide selection of boats for sale to cater to the diverse interests of water enthusiasts. Whether you're in the market for a fishing boat, family boat, pontoon boat, powerboat, or aluminum boat, Kentucky's boating industry has a variety of options to choose from.
The state's major lakes, such as Kentucky Lake, Lake Cumberland, and Lake Barkley, provide the perfect backdrop for boat owners to enjoy their watercraft. These lakes offer ample space for various boating activities, from fishing and water sports to leisurely cruising with family and friends.
Fishing boats are a popular choice for anglers looking to explore the abundant fishing opportunities in Kentucky's lakes and rivers. Designed with features to enhance the fishing experience, these boats are equipped with fishing rod holders, live wells, and fish finders to help anglers locate their prey with ease.
For families seeking fun and relaxation on the water, family boats are a top choice. These boats typically feature comfortable seating, ample storage, and amenities to ensure a pleasant boating experience for everyone. They are ideal for enjoying a day of tubing, swimming, or simply taking in the scenic beauty of the surroundings.
Pontoon boats are a beloved option for those looking to entertain large groups on the water. With their spacious decks and comfortable seating arrangements, pontoon boats provide a social and leisurely boating experience for family gatherings and parties.
Powerboats, on the other hand, are designed for those seeking speed and excitement on the water. With powerful engines and sleek designs, powerboats offer an adrenaline-pumping ride for water sports enthusiasts.
Aluminum boats, known for their durability and versatility, are a practical choice for navigating both calm and shallow waters. These boats are favored by anglers and recreational boaters alike for their low maintenance and budget-friendly features.
For those who prefer to experience boating without the commitment of boat ownership, Kentucky also offers boat rental services. Renting a boat allows visitors and locals alike to enjoy the pleasures of boating without the responsibilities of maintenance and storage.
Kentucky's diverse boating scene caters to a wide range of interests and preferences. Whether you're looking to buy a boat for fishing, family outings, water sports, or simply to enjoy the tranquility of the state's stunning lakes, Kentucky's boating industry has the perfect watercraft for you. With its picturesque waterways and a variety of boats to choose from, Kentucky promises a memorable and enjoyable boating experience for all.
With all the boating opportunities in Kentucky, it's no wonder there is so many boat dealers throughout the state offering a wide variety of boats for sale. If you like to sightsee, cruise, fish or water ski, there are dealers with your dream boat for sale. To locate a dealer near you, first select a quadrant of the state. Then find a boat dealer listed by proximity to cities, waterways, campgrounds and attractions in KY.
Locate boats for sale throughout KY
For further information about boat registration in Kentucky, contact the Kentucky Department of Fish and Wildlife Resources - Boat Licenses located at 1 Sportsman's Lane, Frankfort, KY 40601. The phone number is 800 858-1549.
New & Used Boats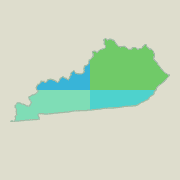 Kentucky Resources
Louisville
B P Speedy Mart 22
4406 Taylor Blvd
Louisville, KY 40215
502 366-5560
J And R Outboard Sales And Services
9201 Blue Lick Rd
Louisville, KY 40229
502 968-7955
Raincoats For Boats
2035 River Rd
Louisville, KY 40206
502 259-9980
Arnolds Boats And Motors Inc
2035 River Rd
Louisville, KY 40206
502 896-8864
Sandollar Yacht Sales Inc
321 Outer Loop
Louisville, KY 40214
502 366-2628
Arnold's Boats and Motors Inc
2041 River Road
Louisville, KY 40206
502 896-8864
Owensboro
Boatman Marine
3900 W Parrish Ave
Owensboro, KY 42301
270 683-0161
Lexington
Lexington Boats LLC
3157 Chatham Dr
Lexington, KY 40503
859 626-7955
Eddyville
Wells Brothers Boat Motor Repair
100 Cecil Rd
Eddyville, KY 42038
270 388-7388
A and Ds Boat RV And Mini Storage
31 Business Row Rd
Eddyville, KY 42038
270 388-0953
Wells Brothers Boat Motor Repair
Friendship Church Road
Eddyville, KY 42038
270 388-7388
Corbin
Nu Legend Boat Co
6633 S Us Highway 25
Corbin, KY 40701
606 523-2593
Off-Road Powersport Center
601 19th Street
Corbin, KY 40701
606 528-9340
Monticello
Sunstar Houseboats Inc
East Highway 90
Monticello, KY 42633
606 348-6648
Somerset
Lookout Marine Sales
6590 S Highway 27
Somerset, KY 42501
606 561-5904
Store A Boat Inc
36 Fairlawn Ave
Somerset, KY 42503
606 561-6540
Reflections Houseboats LLC
1342 Old Mount Vernon Rd
Somerset, KY 42503
606 274-1039
Somerset Houseboats
200 Sumerset Boulevard
Somerset, KY 42501
606 679-9393
Some of the major cities we have listed for your convenience include Morehead, Somerset, Mayfield, Owensboro, Princeton, Berea, Manchester, Fayette, Lexington, Henderson, Bowling Green, Eddyville, Madisonville, Murray, Sturgis, Corbin, Burlington, Middlesborough, Monticello and Louisville.
Kentucky boat dealers are familiar with boating requirements in KY. They can easily assist you in selecting the right boat for your intended use, as well as make suggestions for boating safety and ways to keep operating costs to a minimum.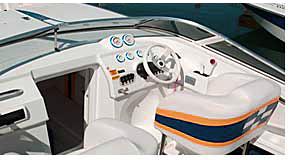 Most of these boat dealers offer new and used boats in many styles and configurations. You can find fishing boats, deck boats, pontoon boats, bow riders and party boats. Some boat dealers may also offer bay and offshore boats for larger bodies of water and coastal use.
Places to boat in Kentucky
Once you acquire the ideal boat, we'll help you find places to boat in Kentucky. Lakes are listed by quadrant within the state for convenience. The list of major lakes includes Herrington Lake, Rough River Lake, Cap Mauzy Lake, Long Pond, Yatesville Lake, Green River Lake, Rough River Lake, State Lake, Dale Hollow Lake, Giant Canada Goose Pond, Taylorsville Lake, Cave Run Lake, Taylorville Lake, Kentucky Lake, Lake Barkley, Laurel River Lake, Nolin River Lake, Barren River Lake, Lake Cumberland and Lake Malone.
Rivers too can be a fun place to go boating and are listed by quadrant also. Some of the major rivers we've identified include Pond River, Tradewater River, Rolling River, Kentucky River, Salt River, Licking River, Cumberland River and Rough River.
Boat companies and manufacturers in Kentucky
Throughout KY you may find manufacturers of boats, trailers or boat accessories including Horizon Yachts and Majestic Yachts.
Boat types commonly used on KY waters.
If you are looking for a specific type boat, we may have information for you. Some of the boat types we cover include sailboats, pleasure boats, family boats, pontoon boats, cruisers, fishing boats, bass boats, speedboats, inflatables, jon boats, cuddy cabin boats, canoes, car toppers, ski & wake board boats, deck boats, aluminum boats, electric boats, jet skis, personal watercraft and fish-and-ski combos.
We'll help you find the boat, waterways and resources to make owning or renting a boat in Kentucky an absolute pleasure.
Boats in Other States