Illinois Boats
Boat dealers and boats for sale in IL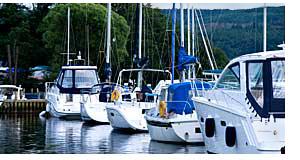 With all the boating opportunities in Illinois, it's no wonder there is so many boat dealers throughout the state offering a wide variety of boats for sale. If you like to sightsee, cruise, fish or water ski, there are dealers with your dream boat for sale. To locate a dealer near you, first select a quadrant of the state. Then find a boat dealer listed by proximity to cities, waterways, campgrounds and attractions in IL.
Locate boats for sale throughout IL
For further information about boat registration in Illinois, contact the Illinois Department of Natural Resources - Boat Licenses located at One Natural Resources Way, Springfield, IL 62702. The phone number is 217 557-0180.
New & Used Boats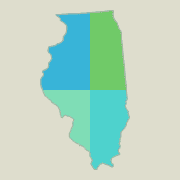 Illinois Resources
Peoria
National Marine Sales Inc
5406 N Galena Rd
Peoria Heights, IL 61616
309 688-5513
Rock Island
Teds Boatarama Inc
102 31st Ave
Rock Island, IL 61201
309 788-1175
Mississippi River Boat Works
101 6th Ave
Rock Island, IL 61201
309 794-0477
Springfield
Overturf Powersports
1633 N Dirksen Pkwy
Springfield, IL 62702
217 544-0126
Boat Dock Ltd Inc
4600 Rising Moon Rd
Springfield, IL 62711
217 793-7300
The Boat Dock
3111 Cockrell Lane
Springfield, IL 62711
217 793-7300
Arlington Heights
Boat US Marine Center
63 West Rand Road
Arlington Heights, IL 60004
847 398-0606
Chicago
Airport Cycle Sales Inc
4520 W 63rd St
Chicago, IL 60629
773 767-7280
Karma Yacht Sales
3637 S Halsted St
Chicago, IL 60609
773 254-0200
Sailboats Inc
1560 N Sandburg Ter, Ste 4318
Chicago, IL 60610
312 861-1757
Parker Sales CO
10048 South Indianapolis Avenue
Chicago, IL 60617
773 731-5925
Darby Yachts Sales
6003 South Archer Avenue
Chicago, IL 60638
773 581-5710
Parker Sales Company Inc
10038 South Ewing Avenue
Chicago, IL 60617
773 768-0359
Alton
American Boat Co
701 West Broadway
Alton, IL 62002
618 462-6622
Belleville
Impala Sales
2502 South Belt West
Belleville, IL 62226
618 233-2022
Belleville Sport Sales
1404 West Boulevard
Belleville, IL 62221
618 234-2063
Weissborn Boat And Lawn Equipment
18 Mascoutah Ave
Belleville, IL 62220
618 233-7447
Granite City
B & L Boat Covers
657 Ashland Avenue
Granite City, IL 62040
618 797-0585
Champaign
Bob Rundus Sailboats
36 E Green St
Champaign, IL 61820
217 359-3000
Marion
Apc Sales Marine Service
300 E Union St
Marion, IL 62959
618 997-2211
Some of the major cities we have listed for your convenience include Joilet, Marion, Carbondale, Rockford, Quincy, Arlington Heights, Charleston, Bloomington, Chicago, Cambridge, Alton, Belleville, Rock Island, Granite City, Springfield, Champaign, Aurora, Decatur, Effingham and Peoria.
Illinois boat dealers are familiar with boating requirements in IL. They can easily assist you in selecting the right boat for your intended use, as well as make suggestions for boating safety and ways to keep operating costs to a minimum.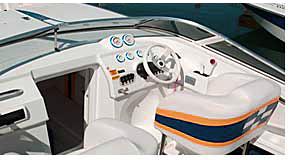 Most of these boat dealers offer new and used boats in many styles and configurations. You can find fishing boats, deck boats, pontoon boats, bow riders and party boats. Some boat dealers may also offer bay and offshore boats for larger bodies of water and coastal use.
Places to boat in Illinois
Once you acquire the ideal boat, we'll help you find places to boat in Illinois. Lakes are listed by quadrant within the state for convenience. The list of major lakes includes Fox Lake, Heidecke Lake, Apple Canyon Lake, Lake Carroll, Lake Michigan, Carlyle Lake, Lake Summerset, Secachwine Lake, Lake Shelbyville, Lake Taylorville, Spring Lake, Channel Lake, Lake Clinton, Crab Orchard Lake, Kinkaid Lake, Rend Lake, Sangchris Lake, Lake Of Egypt, Newton Lake and Lake Springfield.
Rivers too can be a fun place to go boating and are listed by quadrant also. Some of the major rivers we've identified include Big Muddy River, Kaskaskia River, Green River, Wabash River, Mackinaw River, Fox River, Embarras River and Rock River.
Find boats for sale in Illinois
Boat companies and manufacturers in Illinois
Throughout IL you may find manufacturers of boats, trailers or boat accessories including Aeromobile and Bee Craft Boats.
Boat types commonly used on IL waters.
If you are looking for a specific type boat, we may have information for you. Some of the boat types we cover include sailboats, pleasure boats, family boats, pontoon boats, cruisers, fishing boats, bass boats, speedboats, inflatables, jon boats, cuddy cabin boats, canoes, car toppers, ski & wake board boats, deck boats, aluminum boats, electric boats, jet skis, personal watercraft and fish-and-ski combos.
We'll help you find the boat, waterways and resources to make owning or renting a boat in Illinois an absolute pleasure.
Boats in Other States