North Dakota Boats
Boat dealers and boats for sale in ND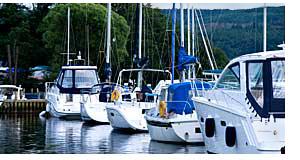 North Dakota, with its beautiful lakes and rivers, offers a wide variety of boats for sale to cater to different boating needs and preferences. For boating enthusiasts or those looking to explore the waterways, a range of boat types are available, each serving unique purposes.
Among the major lakes in North Dakota are Devils Lake, Lake Sakakawea, and Lake Oahe. These vast bodies of water provide ample opportunities for boating, fishing, and recreational activities. Boaters can find joy in cruising along the serene shores or engaging in water sports amidst the picturesque landscapes.
For fishing enthusiasts, fishing boats are a popular choice, designed with features that aid in the pursuit of the perfect catch. Specialized fishing boats, such as bass boats and walleye boats, offer dedicated amenities for targeting specific fish species and optimizing angling experiences.
Family boats are another sought-after category, designed to accommodate larger groups and create memorable moments on the water. Pontoon boats, known for their spacious decks and comfort, are ideal for family outings, social gatherings, or leisurely cruises.
Powerboats, renowned for their speed and performance, are favored by thrill-seekers who enjoy water sports like water skiing and wakeboarding. These high-powered vessels provide an exhilarating experience on the water and are a common sight during the boating season.
Aluminum boats, prized for their durability and versatility, are well-suited for navigating shallow waters and exploring hard-to-reach areas. These boats are an excellent choice for anglers and nature enthusiasts seeking to explore the quieter corners of North Dakota's waterways.
For those who wish to experience boating without the commitment of owning a boat, boat rental services are readily available across the state. These services offer a range of boats to choose from, allowing visitors and locals alike to enjoy the pleasures of boating without the responsibilities of ownership.
North Dakota's diverse boating options, including fishing boats, family boats, pontoon boats, powerboats, and aluminum boats, cater to a wide range of interests and activities on its major lakes and water bodies. Whether it's purchasing a boat for personal use or opting for boat rentals, North Dakota's abundant water resources offer an inviting and rewarding boating experience for all.
With all the boating opportunities in North Dakota, it's no wonder there is so many boat dealers throughout the state offering a wide variety of boats for sale. If you like to sightsee, cruise, fish or water ski, there are dealers with your dream boat for sale. To locate a dealer near you, first select a quadrant of the state. Then find a boat dealer listed by proximity to cities, waterways, campgrounds and attractions in ND.
Locate boats for sale throughout ND
For further information about boat registration in North Dakota, contact the North Dakota Game & Fish - Boat Licenses located at 100 N. Bismarck Expressway, Bismarck, ND 58501. The phone number is 701-328-6335.
New & Used Boats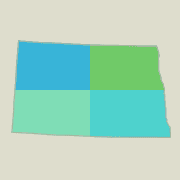 ND Resources
Fargo
Checkmate Performance Power Boats of Fargo
330 40th Street South
Fargo, ND 58103
701 277-9612
Universal Boatmotor Salvage
650 9th Street Northwest
West Fargo, ND 58078
701 282-3997
Some of the major cities we have listed for your convenience include Minnewauken, Wahpeton, Dixon, Watford City, Riverdale, Bisbee, Carrington, Fort Totten, Granville, Garrison, Beach, Bowman, New Town, Medora, Williston, Bismark, Devils Lake, Fargo, Jamestown and Minot.
North Dakota boat dealers are familiar with boating requirements in ND. They can easily assist you in selecting the right boat for your intended use, as well as make suggestions for boating safety and ways to keep operating costs to a minimum.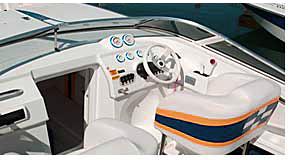 Most of these boat dealers offer new and used boats in many styles and configurations. You can find fishing boats, deck boats, pontoon boats, bow riders and party boats. Some boat dealers may also offer bay and offshore boats for larger bodies of water and coastal use.
Places to boat in North Dakota
Once you acquire the ideal boat, we'll help you find places to boat in North Dakota. Lakes are listed by quadrant within the state for convenience. The list of major lakes includes Dry Lake, Lake Alice, Lake Audubon, Lake Darling, Stump Lake, Bowman-Haley Lake, Lake Metigoshe, Lake Sakakawea, Jamestown Reservoir, Lake Ashtabula, Powers Lake, Devils Lake, Morrison Lake, Cedar Lake, Lake Tschida, Rice Lake, White Lake, Arrowwood Lake, Pipestem Lake and Patterson Lake.
Rivers too can be a fun place to go boating and are listed by quadrant also. Some of the major rivers we've identified include Cedar River, Heart River, Little Muddy River, Wild Rice River, Tongue River, Forest River, Maple River and White Earth River.
Find boats for sale in North Dakota
Boat companies and manufacturers in North Dakota
Throughout ND you may find manufacturers of boats, trailers or boat accessories including Bismarck Canvas Boat Covers and Gibbons Boat Repair.
Boat types commonly used on ND waters.
If you are looking for a specific type boat, we may have information for you. Some of the boat types we cover include sailboats, pleasure boats, family boats, pontoon boats, cruisers, fishing boats, bass boats, speedboats, inflatables, jon boats, cuddy cabin boats, canoes, car toppers, ski & wake board boats, deck boats, aluminum boats, electric boats, jet skis, personal watercraft and fish-and-ski combos.
We'll help you find the boat, waterways and resources to make owning or renting a boat in North Dakota an absolute pleasure.
Boats in Other States