Massachusetts Boats
Boat dealers and boats for sale in MA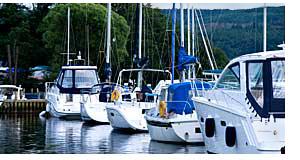 With all the boating opportunities in Massachusetts, it's no wonder there is so many boat dealers throughout the state offering a wide variety of boats for sale. If you like to sightsee, cruise, fish or water ski, there are dealers with your dream boat for sale. To locate a dealer near you, first select a quadrant of the state. Then find a boat dealer listed by proximity to cities, waterways, campgrounds and attractions in MA.
Locate boats for sale throughout MA
For further information about boat registration in Massachusetts, contact the Massachusetts Registration Bureau Main Office - Boat Licenses located at 251 Causeway Street, Suite 101, Boston, MA 02114. The phone number is 617 626-1610.
New & Used Boats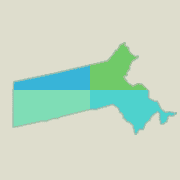 MA Resources
Boston
Boston Boatworks
256 Marginal St, Ste 10
East Boston, MA 02128
617 561-4393
Gilmore Boating Products
123 Lewis Wharf
Boston, MA 02110
617 755-3568
Pittsfield
U-Drive Boat Rental
990 Valentine Road
Pittsfield, MA 01201
413 442-7020
Onota Boat Livery
463 Pecks Road
Pittsfield, MA 01201
413 442-1724
Springfield
Baystate Auto Sales
720 Berkshire Avenue
Springfield, MA 01109
413 739-6624
Fall River
BLM Yacht Sales
1 Ferry Street
Fall River, MA 02721
508 677-4256
Weymouth
Blue Marlin Yacht Sales
536 Broad Street
East Weymouth, MA 02189
781 331-9336
Monahan's Marine Inc - Sales
396 Washington Street
Weymouth, MA 02188
781 335-7701
ABC Accurate Boat Care Inc
69 Norton Street
North Weymouth, MA 02191
781 331-6700
Some of the major cities we have listed for your convenience include Lowell, Weymouth, Webster, North Adams, Worchester, Boston, Brockton, Haverville, Lawrence, Gardner, Pittsfield, Springfield, Montague, Westfield, Orange, Barnstable Town, Cambridge, Fall River, Framington and Greenfield.
Massachusetts boat dealers are familiar with boating requirements in MA. They can easily assist you in selecting the right boat for your intended use, as well as make suggestions for boating safety and ways to keep operating costs to a minimum.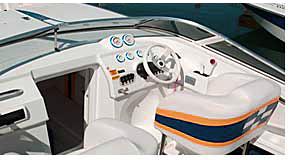 Most of these boat dealers offer new and used boats in many styles and configurations. You can find fishing boats, deck boats, pontoon boats, bow riders and party boats. Some boat dealers may also offer bay and offshore boats for larger bodies of water and coastal use.
Places to boat in Massachusetts
Once you acquire the ideal boat, we'll help you find places to boat in Massachusetts. Lakes are listed by quadrant within the state for convenience. The list of major lakes includes Lake Cochituate, Lake Rohunta, Cheshire Reservoir, Northfield Mountain Reservoir, Wachusett Reservoir, Congamond Lake, Pelham Lake, Quabbin Reservoir, Lake Chaubunagungamaug, Lake Quinsigamond, Sherman Reservoir, Lake Cachicehwick, Naukeag Lake, Hamilton Reservoir, Lake Garfield, South Watuppa Pond, Wachusett Reservoir, Assawompset Pond, Norton Reservoir and Otis Reservoir.
Rivers too can be a fun place to go boating and are listed by quadrant also. Some of the major rivers we've identified include Chicopee River, Housatonic River, Deerfield River, Taunton River, Nashua River, Ipswich River, Cape Cod Canal and Hoosic River.
Find boats for sale in Massachusetts
Boat companies and manufacturers in Massachusetts
Throughout MA you may find manufacturers of boats, trailers or boat accessories including Caillou Boats and Gladding-Hearn Shipbuilding.
Boat types commonly used on MA waters.
If you are looking for a specific type boat, we may have information for you. Some of the boat types we cover include sailboats, pleasure boats, family boats, pontoon boats, cruisers, fishing boats, bass boats, speedboats, inflatables, jon boats, cuddy cabin boats, canoes, car toppers, ski & wake board boats, deck boats, aluminum boats, electric boats, jet skis, personal watercraft and fish-and-ski combos.
We'll help you find the boat, waterways and resources to make owning or renting a boat in Massachusetts an absolute pleasure.
Boats in Other States