Massachusetts Boating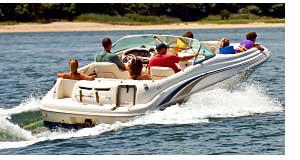 Plenty of fun places to go boating in Massachusetts. Whether it's a family outing or just the guys going fishing or skiing, boating is fun for all. And there is boating in all corners of of the state. Whether you live in the northwest, northeast, southwest or southeast part of the state, chances there are plenty of opportunities to go boating nearby.
Boating in MA
Massachusetts is a boating paradise, get out in the great outdoors and enjoy it every chance you get.
For further information about boating in Massachusetts, contact the Massachusetts Registration Bureau Main Office - Boating Licenses located at 251 Causeway Street, Suite 101, Boston, MA 02114. The phone number is 617 626-1610.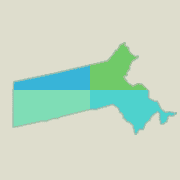 MA Resources
Boston
American International Marine Agency
99 High St, Ste 2800
Boston, MA 02110
617 457-2700
Boston Boatworks
256 Marginal St, Ste 10
East Boston, MA 02128
617 561-4393
Mallard Discount Marine
28 Damrell Street
Boston, MA 02127
617 269-6699
Gilmore Boating Products
123 Lewis Wharf
Boston, MA 02110
617 755-3568
Cambridge
Roaches Sporting Goods
1957 Massachusetts Ave
Cambridge, MA 02140
617 876-5816
Pittsfield
Quirks Marine
990 Valentine Rd, Ste 1
Pittsfield, MA 01201
413 447-7512
U-Drive Boat Rental
990 Valentine Road
Pittsfield, MA 01201
413 442-7020
Onota Boat Livery
463 Pecks Road
Pittsfield, MA 01201
413 442-1724
Action Marine Sports Center
311 Thompson Rd
Webster, MA 01570
508 949-1700
Westfield
Lamberts R V Marine Inc
975 North Rd
Westfield, MA 01085
413 533-6336
Brockton
G R Marine Service
913 Centre St
Brockton, MA 02302
508 587-7215
Weymouth
Classic Marine
69 Norton St
Weymouth, MA 02191
781 335-9510
West Marine Inc
126 Main St
Weymouth, MA 02188
781 331-3204
Monahans Marine Inc
396 Washington St
Weymouth, MA 02188
781 335-2746
Rogers Marine Service
1545 Commercial St
East Weymouth, MA 02189
781 337-6335
Monahan's Marine Inc - Sales
396 Washington Street
Weymouth, MA 02188
781 335-7701
ABC Accurate Boat Care Inc
69 Norton Street
North Weymouth, MA 02191
781 331-6700
This website focuses on all aspects of boating including new and used boats for sale, repairs, accessories, storage and more.
For convenience, resources are listed first by area of the Massachusetts, then by proximity to cities, waterways, parks, campgrounds and other relative attractions in MA. Cities listed in this section include Gardner, Greenfield, Montague, North Adams, Orange, Boston, Cambridge, Haverville, Lawrence, Lowell, Pittsfield, Springfield, Webster, Westfield, Worchester, Barnstable Town, Brockton, Fall River, Framington and Weymouth.
Resources are also identified nearby campgrounds including Clarksburg State Park, Pittsfield State Forest, Savory Mountain State Forest, Erving State Forest, Lake Dennison Recreation Area, Otter River State Forest, Beartown State Forest, Granville State Forest, Tolland State Forest, Bay View Campgrounds, Canoe River Campground and Wells State park.
Rivers & Lakes For Boating in MA
Massachusetts lakes with boating opportunities are listed within quadrants of Massachusetts include Cheshire Reservoir, Northfield Mountain Reservoir, Pelham Lake, Quabbin Reservoir, Sherman Reservoir, Lake Cachicehwick, Lake Cochituate, Lake Rohunta, Naukeag Lake, Wachusett Reservoir, Congamond Lake, Hamilton Reservoir, Lake Garfield, Otis Reservoir, Wachusett Reservoir, Assawompset Pond, Lake Chaubunagungamaug, Lake Quinsigamond, Norton Reservoir and South Watuppa Pond. Many of these lakes offer multiple boat launching facilities at various locations around the lake.
Massachusetts also affords some boating or canoeing on rivers like Deerfield River, Hoosic River, Ipswich River, Nashua River, Chicopee River, Housatonic River, Cape Cod Canal and Taunton River.
MA boating equipment and gear.
Throughout Massachusetts you can find boat dealers, outdoor centers, sporting good stores, bait and tackle stores, RV centers and discount stores offering a wide variety of boating equipment, accessories and supplies.
Go boating in Massachusetts
Gather up the family along with some snacks and refreshing beverages and go enjoy the thrill of fresh air in your face and the sun on your back. When boating you can see parts of Massachusetts accessible only by water. Often you'll see birds and wildlife not normally seen in city areas. Plus, sunrises and sunsets always seem more majestic when you are in the great outdoors.
Boating opportunities in other states.