Enjoy Great Boating on Lakes in Ohio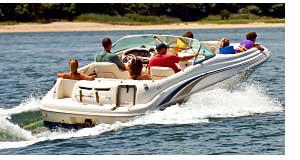 Ohio is home to several popular boating lakes that attract boaters and water enthusiasts from all over the region. Among these lakes, Grand Lake St Marys stands out as one of the largest and most well-known. It offers an expansive surface area perfect for boating, with boat launch ramps available for easy access. Boaters can enjoy a variety of water activities, from leisurely cruises to watersports like tubing and water skiing.
Another popular boating destination in Ohio is Buckeye Lake. This big reservoir boasts over 2,800 acres, making it a favorite spot for boaters and campers alike. With its sandy beaches and crystal-clear waters, Buckeye Lake provides a perfect setting for boating adventures. The lake offers boat launch ramps for easy entry into the water, and visitors can rent boats by the hour or the day from the nice marina located on its shores.
In terms of boat types, Ohio's boating community is diverse, catering to various preferences and interests. Fishing boats are in high demand, as anglers flock to the state's many lakes and rivers to reel in the abundant fish species. These boats are equipped with features such as fish finders, baitwells, and comfortable seating for a day of successful fishing.
For those seeking leisurely outings on the water, pontoon boats are a popular choice. Their spacious and stable design allows for comfortable group gatherings and picnics while cruising the scenic waterways. Families often opt for family boats, which are designed with safety and entertainment in mind, making them ideal for a day of family fun on the lake.
Boat rentals play a crucial role in Ohio's boating scene, allowing both residents and tourists to experience the joy of boating without the need for boat ownership. Rental services offer a range of boats, from fishing boats to pontoons, giving people the freedom to choose the perfect vessel for their water adventure. Whether it's for a peaceful day of fishing or a thrilling water sports excursion, boat rentals provide an accessible and convenient way to enjoy Ohio's beautiful lakes and rivers.
Ohio offers a vibrant boating culture with a variety of popular boating lakes that cater to different interests. From fishing boats to family-friendly pontoons, the state provides a range of boat types for enthusiasts to choose from. Boat rental services make it easy for everyone to access the joys of boating and explore the natural beauty of Ohio's waterways. Whether you're an avid angler or simply seeking a relaxing day on the lake, Ohio's boating scene has something to offer for everyone.
There are plenty of fun places to go boating in Ohio. Whether it's a family outing or just the guys going fishing or skiing, boating is fun for all. And there is boating in all corners of of the state. Whether you live in the northwest, northeast, southwest or southeast part of the state, chances there are plenty of opportunities to go boating nearby.
Boating in OH
For further information about boating in Ohio, contact the Ohio Department of Natural Resources - Boating Licenses located at 2045 Morse Road, Building A, Columbus OH 43229. The phone number is 614 265-6480.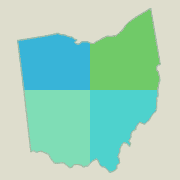 This website focuses on all aspects of boating including new and used boats for sale, boat rentals, financing, repairs, accessories, storage and more.
For convenience, resources are listed first by area of the Ohio, then by proximity to cities, waterways, parks, campgrounds and other relative attractions in OH. Cities listed in this section include Defiance, Findlay, Lima, Toledo, Van Wert, Akron, Canton, Cleveland, Mansfield, Parma, Cincinnati, Columbus, Dayton, Hamilton, Springfield, Athens, Glouster, Lancaster, Nelsonville and Zanesville.
Resources are also identified nearby campgrounds including Independence Dam State Park, Mary Jane Thurston State Park, Maumee Bay State Park, Geneva State Park, Mosquito Lake State Park, Portage Lakes State Park, Caesar Creek State Park, East Fork State Park, Paint Creek State Park, Buckeye Lake State Park, Lake White State Park and Strouds Run State Park.
Rivers & Lakes For Boating in OH
Ohio lakes with boating opportunities are listed within quadrants of Ohio include Browns Recreation Lake, Grand Lake St Marys, Indian Lake, Lake Seneca, Nettle Lake, Alum Creek Lake, Berlin Lake, Clendening Reservoir, Mosquito Lake, Pymatuning Lake, Buck Creek State Park Lake, Caesar Creek State Park Lake, East Fork Lake, Hoover Reservoir, Rocky Fork State Park Lake, Buckeye Lake, Burr Oak Reservoir, Piedmont Reservoir, Salt Fork Lake and Tycoon Lake. Many of these lakes offer multiple boat launching facilities at various locations around the lake.
Ohio also affords some boating or canoeing on rivers like Blanchard River, Sandusky River, Killbuck Creek, Tuscarawas River, Mad River, Paint Creek, Hocking River and Racoon Creek.
Boating in Ohio
Northwest Resources
Findlay
American Powersports
1311 Trenton Avenue
Findlay, OH 45840
419 422-9253
Lima
Dream Marine
3555 East Bluelick Road
Lima, OH 45801
419 221-1010
Toledo
Jet Connection Performance Marine
6128 Merle St
Toledo, OH 43623
419 473-2628
US Marine RSS
553 S Reynolds Rd
Toledo, OH 43615
419 531-0317
Excel Jet Sports LLC
5126 North Summit Street
Toledo, OH 43611
419 726-9999
West Marine
6176 North Summit Street
Toledo, OH 43611
419 727-8989
Bush Marine
5235 North Summit Street
Toledo, OH 43611
419 726-6609
Sigma Marine
531 West Sylvania Avenue
Toledo, OH 43612
419 478-5312
Northeast Resources
Akron
Back Bay Marine
2305 E Waterloo Rd, Frnt
Akron, OH 44312
330 794-1500
Boat Masters Marine Inc
5290 Manchester Rd
Akron, OH 44319
330 882-4568
Chucks Mobile Boat Cover Services
169 Polonia Ave
Akron, OH 44319
330 644-3229
Norton Marine
3758 Manchester Road
Akron, OH 44319
330 644-5020
Simmons Marine
544 Portage Lakes Drive
Akron, OH 44319
330 645-0415
Canton
Timberline Tractor & Marine
6741 Thornbriar St Nw
Canton, OH 44718
330 966-6623
Monsoon Marine
1138 Camden Ave Sw
Canton, OH 44706
330 452-3866
Starboard Marine Repair
6350 Promler St Nw
North Canton, OH 44720
330 497-3300
Jeffrys Marine Service
2746 Perry Dr Nw
Canton, OH 44708
330 478-1473
North Coast Performance Marine
8424 Cleveland Avenue Northwest
North Canton, OH 44720
330 494-3115
Lock 4 Marine
8730 Wales Avenue Northwest
North Canton, OH 44720
330 494-0091
Cleveland
Custom Marine Engine Limited
16201 Saranac Rd
Cleveland, OH 44110
216 531-9919
West Marine Inc
1577 Saint Clair Ave Ne
Cleveland, OH 44114
216 781-6110
American Marine Express Inc
765 E 140Th St, Ste A
Cleveland, OH 44110
216 268-3005
Dry Dock Marine Inc
1771 Merwin Ave
Cleveland, OH 44113
216 861-0107
Grever Mower Marine Sales Service Inc
2030 Broadview Rd
Cleveland, OH 44109
216 741-5141
Sante Marine
2535 Center Street
Cleveland, OH 44113
216 771-7767
Mansfield
Danes Marine
7471 State Route 97
Mansfield, OH 44903
419 884-6277
Kunkels Auto & Marine
3087 Park Avenue West
Mansfield, OH 44906
419 529-4446
Southwest Resources
Cincinnati
Welch Marine
4241 Kellogg Ave
Cincinnati, OH 45226
513 321-9524
Know Wake Marine Inc
11680 Grooms Rd, Ste 1
Cincinnati, OH 45242
614 889-2666
All Craft Marine and RV Center Inc
4505 Kellogg Ave
Cincinnati, OH 45226
513 321-9148
Beechmont Motorsport Honda Yamaha Sea-Doo
646 Mount Moriah Dr
Cincinnati, OH 45245
513 752-0088
Walker Marine Group
4581 Kellogg Avenue
Cincinnati, OH 45226
513 321-6600
Washington Marine LLC
6619 Kellogg Road
Cincinnati, OH 45230
513 232-6000
Columbus
Sizzle Marine
4215 Westerville Rd
Columbus, OH 43224
614 478-4072
Columbus Marine Repair LLC
3658 Brandon St
Columbus, OH 43224
614 475-0220
Boat Top Shop
1010 E Starr Ave
Columbus, OH 43201
614 294-4443
Recreation Engineering Consultants
4281 Cleveland Avenue
Columbus, OH 43224
614 471-4408
Total Marine Performance Inc
6200 Huntley Road Suite C
Columbus, OH 43229
614 545-2628
Skip's Service Center
2338 Scioto Harper Drive
Columbus, OH 43204
614 274-3364
Dayton
Pat Man's Vintage Marine
29 Forest Glen Avenue
Dayton, OH 45405
937 274-1869
Todd's Marine Store
4635 Gateway Circle
Dayton, OH 45440
937 434-0752
Springfield
Marineworks Ltd
42 N Bird Rd
Springfield, OH 45503
937 322-3277
Marine Corps Reserve Toys For Tots
201 N Yellow Springs St
Springfield, OH 45504
937 324-0844
The Boat House
1919 Croft Rd
Springfield, OH 45503
937 325-1755
Forever Sports Canoe Livery
2237 West 1st Street
Springfield, OH 45504
937 325-0115
Southeast Resources
Athens
Athens Sport Cycles
165 Columbus Rd
Athens, OH 45701
740 592-1692
Lancaster
Ask Powersports
2535 Columbus Lancaster R
Lancaster, OH 43130
740 654-3456
Zanesville
Kirkbride Marine
2675 Linden Avenue
Zanesville, OH 43701
740 453-2798
OH boating equipment and gear.
Throughout Ohio you can find boat dealers, outdoor centers, sporting good stores, bait and tackle stores, RV centers and discount stores offering a wide variety of boating equipment, accessories and supplies.
Go boating in Ohio
Gather up the family along with some snacks and refreshing beverages and go enjoy the thrill of fresh air in your face and the sun on your back. When boating you can see parts of Ohio accessible only by water. Often you'll see birds and wildlife not normally seen in city areas. Plus, sunrises and sunsets always seem more majestic when you are in the great outdoors.
Boating opportunities in other states.