Enjoy Great Boating on Lakes in Mississippi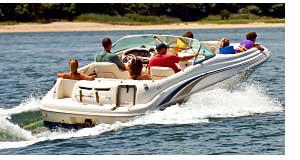 Plenty of fun places to go boating in Mississippi. Whether it's a family outing or just the guys going fishing or skiing, boating is fun for all. And there is boating in all corners of of the state. Whether you live in the northwest, northeast, southwest or southeast part of the state, chances there are plenty of opportunities to go boating nearby.
Boating in MS
For further information about boating in Mississippi, contact the Mississippi Department of Wildlife, Fisheries & Parks - Boating Licenses located at 1505 Eastover Drive, Jackson, MS 39211. The phone number is 601 432-2065.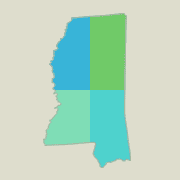 This website focuses on all aspects of boating including new and used boats for sale, boat rentals, financing, repairs, accessories, storage and more.
For convenience, resources are listed first by area of the Mississippi, then by proximity to cities, waterways, parks, campgrounds and other relative attractions in MS. Cities listed in this section include Batesville, Clarksdale, Greenwood, Grenada, Oxford, Columbus, Corinth, New Albany, Tupelo, West Point, Brookhaven, Canton, Jackson, Natchez, Yazoo City, Biloxi, Gulfport, Hattiesburg, Laurel and Meridian.
Resources are also identified nearby campgrounds including George P Kossar State Park, John W Kyle State Park, Wall Doxey State Park, J P Coleman State Park, Tishomingo State Park, Tombigbee State Park, Clark Creek Natural Area, Lake Lincoln State Park, Natchez State Park, Buchaneer State Park, Clarkco State Park and Shepard State Park.
Rivers & Lakes For Boating in MS
Mississippi lakes with boating opportunities are listed within quadrants of Mississippi include Arkabutla Lake, Enid Lake, Grenada Lake, Moon Lake, Sardis Lake, Bay Springs Lake, Bluff Lake, Columbus Lake, Jamie Whitten Lock & Dam, Loakfoma Lake, Eagle Lake, Foster Lake, Lake Caroline, Lake Mary, Ross R Barnett Reservoir, Dalewood Shore Lake, Lake Bogue Homo, Long Creek Reservoir, Okatibbee Lake and Turkey Fork Reservoir. Many of these lakes offer multiple boat launching facilities at various locations around the lake.
Mississippi also affords some boating or canoeing on rivers like Big Sunflower River, Coldwater River, Noxubee River, Yalobusha River, Big Black River, Pearl River, Leaf River and Wolf River.
Boating opportunities in Mississippi
Northwest MS Boating
Northeast MS Boating
Southwest MS Boating
Southeast MS Boating
MS boating equipment and gear.
Throughout Mississippi you can find boat dealers, outdoor centers, sporting good stores, bait and tackle stores, RV centers and discount stores offering a wide variety of boating equipment, accessories and supplies.
Go boating in Mississippi
Gather up the family along with some snacks and refreshing beverages and go enjoy the thrill of fresh air in your face and the sun on your back. When boating you can see parts of Mississippi accessible only by water. Often you'll see birds and wildlife not normally seen in city areas. Plus, sunrises and sunsets always seem more majestic when you are in the great outdoors.
Boating opportunities in other states.