Virginia Boating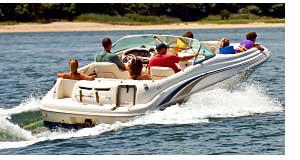 Plenty of fun places to go boating in Virginia. Whether it's a family outing or just the guys going fishing or skiing, boating is fun for all. And there is boating in all corners of of the state. Whether you live in the northwest, northeast, southwest or southeast part of the state, chances there are plenty of opportunities to go boating nearby.
Boating in VA
For further information about boating in Virginia, contact the Virginia Department of Game and Inland Fisheries - Boating Licenses located at 4010 West Broad Street, Richmond, Virginia 23230. The phone number is 804 367-1000.
Virginia Resources
Lynchburg
Practical Sailing Solutions
147 Mill Ridge Road
Lynchburg, VA 24502
434 239-7338
Charlottesville
Virginia Assn Of Marine Industries
630 Country Green Ln
Charlottesville, VA 22902
434 977-3716
Abingdon
Bakers Marine Sales And Service
1099 Cummings St
Abingdon, VA 24211
276 628-8912
Green Spring Sports Center Inc
1099 Cummings Street
Abingdon, VA 24211
276 628-6237
Danville
Hughes Marine Service Inc
3815 U S Highway 29
Danville, VA 24540
434 836-0052
Chesapeake
Marine Systems Corp
711 Falcon Ave, Ste B3
Chesapeake, VA 23324
757 494-9025
AGF Marine Consultants
304 Musket Ct
Chesapeake, VA 23322
757 482-7505
Whitleys Causeway Marine Ltd
119 Tilden Ave, Ste C
Chesapeake, VA 23320
757 549-6400
Cutting Edge Watersports Inc
1115 Battlefield Blvd S
Chesapeake, VA 23322
757 436-0904
J&D Marine Transport- Inc.
703 Norman Way
Chesapeake, VA 23322
757 436-4278
Ski Boats Unlimited
143 Tilden Av
Chesapeake, VA 23320
757 547-2337
Newport News
Pen Marine Inst
5501 Huntington Ave
Newport News, VA 23607
757 245-3877
Monitor National Marine Sanctuary
100 Museum Dr
Newport News, VA 23606
757 599-3122
Sports Inc
1071 J Clyde Morris Blvd
Newport News, VA 23602
757 591-2235
Old Point Marine
520 14th St
Newport News, VA 23607
757 247-0150
Newport Marine Inc
12670 McManus Boulevard
Newport News, VA 23602
757 877-7466
Casey Watercraft - Service
634 J Clyde Morris Boulevard
Newport News, VA 23601
757 595-9760
Petersburg
Mobile Marine Repair
9622 River Rd
Petersburg, VA 23803
804 590-9393
Appomattox Small Boat Harbor
1604 Fine Street
Petersburg, VA 23803
804 733-5770
Richmond
Nautical Marine Inc
10223 Jefferson Davis Hwy
Richmond, VA 23237
804 271-3198
James River Marine
7100 Jefferson Davis Hwy
Richmond, VA 23237
804 743-2100
Adams Durvin Marine
5023 Nine Mile Rd
Richmond, VA 23223
804 236-0815
Blue Ridge Mountain Sports
Lexington Cmns
Richmond, VA 23173
804 965-0494
Southeastern Marine
3819 Williamsburg Rd
Richmond, VA 23231
804 226-0144
Lins Marine Parts & Service
2906 Williamsburg Rd
Richmond, VA 23231
804 226-1947
Virginia Beach
West Marine Inc
2865 Lynnhaven Dr, Ste B4
Virginia Beach, VA 23451
757 496-9996
Norfolk Marine Co
2100 Marina Shores Dr, Ste 131
Virginia Beach, VA 23451
757 481-9455
B And T Marine
5564 Odessa Dr
Virginia Beach, VA 23455
757 464-3197
Blue Marlin Marine
2244 Red Tide Rd
Virginia Beach, VA 23451
757 481-3060
Airtime Watersports Inc
3744 Shore Dr
Virginia Beach, VA 23455
757 499-2628
Island Jet Ski Boat Repair
624 10Th St
Virginia Beach, VA 23451
757 422-1700
This website focuses on all aspects of boating including new and used boats for sale, boat rentals, repairs, accessories, storage and more.
For convenience, resources are listed first by area of the Virginia, then by proximity to cities, waterways, parks, campgrounds and other relative attractions in VA. Cities listed in this section include Buena Vista, Covington, Lexington, Lynchburg, Staunton, Charlottesville, Dale City, M, Front Royal, Manassas, Reston, Abingdon, Blacksburg, Danville, Martinsville, Roanoke, Chesapeake, Newport News, Petersburg, Richmond and Virginia Beach.
Resources are also identified nearby campgrounds including Abingdon Riverside Campground, Douthat State Park, Shenandoah River State Park, Leesylvania State Park, Mason Neck State Park, Sky Meadows State Park, Claytor Lake State Park, Hungry Mother State Park, New River Trail State Park, First Landing State Park, Occoneechee State Park and Staunton River State Park.
Rivers & Lakes For Boating in VA
Virginia lakes with boating opportunities are listed within quadrants of Virginia include Bedford Lake, Elkhorn Lake, Lake Moomaw, Lynchburg Reservoir, Peaks of Otter Lake, Burke Lake, Lake Anna, Lake Manassas, Lunga Reservoir, Occoquan Reservoir, Claytor Lake, Leesville Reservoir, Philpott Lake, Smith Mountain Lake, South Holston Lake, Kerr Lake, Lake Chesdin, Lake Drummond, Lake Gaston and Swift Creek Reservoir. Many of these lakes offer multiple boat launching facilities at various locations around the lake.
Virginia also affords some boating or canoeing on rivers like Jackson River, Maury River, Rivanna River, South Anna River, Clinch River, Powell River, Blackwater River and Nottoway River.
VA boating equipment and gear.
Throughout Virginia you can find boat dealers, outdoor centers, sporting good stores, bait and tackle stores, RV centers and discount stores offering a wide variety of boating equipment, accessories and supplies.
Go boating in Virginia
Gather up the family along with some snacks and refreshing beverages and go enjoy the thrill of fresh air in your face and the sun on your back. When boating you can see parts of Virginia accessible only by water. Often you'll see birds and wildlife not normally seen in city areas. Plus, sunrises and sunsets always seem more majestic when you are in the great outdoors.
Boating opportunities in other states.