Virginia Fishing Boats
Bass boat and aluminum fishing boat dealers in VA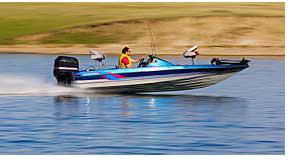 Virginia, with its diverse water bodies, offers excellent opportunities for fishing enthusiasts to explore and enjoy the sport. Whether it's coastal waters, rivers, or inland lakes, Virginia has an abundance of fishing spots to choose from. Numerous types of fishing boats are used by anglers to venture out into these waters, each designed to cater to specific fishing needs and preferences.
Among the major fishing lakes in Virginia, Smith Mountain Lake stands out as one of the most popular destinations. This sprawling lake covers over 20,000 acres and is known for its abundant fish population, including largemouth and smallmouth bass, striped bass, catfish, and crappie. Other notable fishing lakes in the state include Lake Anna, Buggs Island Lake, and Claytor Lake, each offering its own unique fishing experiences.
When it comes to fishing boat types, anglers in Virginia have a variety of choices to suit their fishing styles. Aluminum boats are a common sight on many lakes and rivers due to their lightweight and durability. They are ideal for exploring shallow waters and tight spots where fish tend to congregate. Bass boats, on the other hand, are specifically designed for bass fishing, offering features like livewells, rod storage, and ample deck space for casting.
For those targeting walleye, a walleye boat, with its specialized features such as trolling motors and fish finders, is the preferred choice. These boats are equipped to navigate and fish in deeper waters, where walleye are often found. Additionally, many of the popular fishing lakes in Virginia offer fishing boat rental services, allowing anglers to access the waters even if they don't own their own boats.
Whether fishing on serene lakes or casting lines in the rolling rivers, Virginia's diverse fishing opportunities and the array of fishing boat options make it an angler's paradise. From relaxing days on the water to the thrill of catching trophy fish, Virginia's fishing scene caters to anglers of all skill levels, making it a top destination for fishing enthusiasts from near and far.
Fishing boat dealers are located throughout Virginia with many of the larger dealers nearby major metropolitan areas like Abingdon, Blacksburg, Danville, Martinsville, Roanoke, Chesapeake, Newport News, Petersburg, Richmond, Virginia Beach, Buena Vista, Covington, Lexington, Lynchburg, Staunton, Charlottesville, Dale City, M, Front Royal, Manassas and Reston. Other fishing boat dealers can also be found near lakes and along rivers throughout rural Virginia.
New & Used Bass & Fishing Boat Dealers
Virginia Resources
Abingdon
Bakers Marine Sales And Service
1099 Cummings St
Abingdon, VA 24211
276 628-8912
Chesapeake
Chespeake Yachts Inc
1700 Shipyard Rd
Chesapeake, VA 23323
757 487-9100
Wildcat Propellers
3932 Holland Blvd, Ste 1
Chesapeake, VA 23323
757 485-7839
Atlantic Yacht Basin Inc
2615 Basin Rd
Chesapeake, VA 23322
757 482-2141
Johnson Ship Propeller Corporation
3313 South Military Hwy
Chesapeake, VA 23323
757 487-0721
Ski Boats Unlimited
143 Tilden Av
Chesapeake, VA 23320
757 547-2337
Newport News
Hampton Roads Outboard Motor Repair
200 Old Marina Ln
Newport News, VA 23602
757 877-3122
Davis Boat Works Inc
34 Jefferson Ave
Newport News, VA 23607
757 247-0101
Hampton Roads Outboard Motor Repair
13379 Warwick Blvd
Newport News, VA 23602
757 877-3122
Atlantic Boat Works
523 Edwards Ct.
Newport News, VA 23608
757 875-9705
Petersburg
Appomattox Small Boat Harbor
1604 Fine Street
Petersburg, VA 23803
804 733-5770
Richmond
Bruces Boat Supplies And Service
8045 Jefferson Davis Hwy
Richmond, VA 23237
804 743-8200
Virginia Beach
South Shore Yacht Sales LLC
2100 Marina Shores Dr, Ste 103
Virginia Beach, VA 23451
757 226-8103
Dare Yacht Sales
227 Mediterranean Ave
Virginia Beach, VA 23451
757 248-0267
Marine Engine Sales Inc
5898 Thurston Ave
Virginia Beach, VA 23455
757 460-0117
Fisherman's Wharft Yacht Sales
524 Winston Salem Avenue
Virginia Beach, VA 23451
757 428-9053
Cape Henry Yacht Sales Inc
2100 Marina Shores Drive
Virginia Beach, VA 23451
757 496-5220
Bay Island Yacht Sales
2100 Marina Shores Drive
Virginia Beach, VA 23451
757 412-4777
Most fishing boat dealers offer a variety of new and used boats. Look for a basic jon boat, an aluminum fishing boat, a combination fish and ski boat, a sophisticated bass boat or coastal fishing boats with help from these local dealers.
Fishing boat types for Virginia waters
Fishing boats come in a variety of configurations including family fishing boats, pontoon boats, center console boats, bay boats, skiff boats, aluminum fishing boats, bass boats, inflatables, jon boats, canoes, kayaks, car toppers, electric boats and fish-and-ski models. Find yours at a fishing boat dealer near you.
If you like to fish in VA, many of these fishing boat dealers also carry an excellent selection of fishing tackle. You are apt to find a good selection of rods, reels, line, lures, and an assortment of fishing-related boat accessories. Some also offer live bait.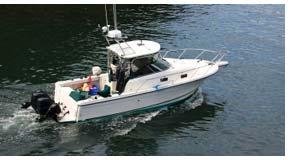 Virginia fishing boat and bass boat dealers are often a resource for information on local fishing events. They are likely to have schedules and contact information for fishing tournament organizations, as well as event results. Staff members at these fishing boat stores often have a keen interest in fishing. As a result, they are quite often aware of local fishing conditions at fisheries in the area. Some also participate in fishing tournaments. Before heading out on your next fishing trip, stop by and get valuable information about how the fish are being caught on the water you plan to fish.
Many of these fishing boat dealers also offer fishing licenses for sale. You can also acquire a fishing licence for Virginia at many of these dealers or by visiting the Virginia fishing licensing website.
Fishing boats in Virginia
Places To Go Fishing In VA
There are many places in Virginia to to go fishing. Some of the larger lakes and rivers include Burke Lake, Jackson River, Maury River, Lake Anna, Lake Manassas, Rivanna River, Lunga Reservoir, Occoquan Reservoir, Bedford Lake, South Anna River, Clinch River, Elkhorn Lake, Lake Moomaw, Lynchburg Reservoir, Peaks of Otter Lake, Kerr Lake, Lake Chesdin, Lake Drummond, Lake Gaston, Swift Creek Reservoir, Claytor Lake, Leesville Reservoir, Powell River, Blackwater River, Philpott Lake, Nottoway River, Smith Mountain Lake and South Holston Lake. Most of these rivers and lakes provide excellent fishing opportunities.
Fishing Boat Companies & Manufacturers in Virginia
Manufacturers of boats and boating products in Virginia include Penn Yan Boats and others. Support these local manufacturers as they help improve the local economy.
Camp in Virginia Near Fishing
Fishing and camping go hand in hand. Many of the fishing waters throughout Virginia also offer camping opportunities. Here are just a few of the many camping facilities located at or nearby fishing waterways. Abingdon Riverside Campground, Douthat State Park, Shenandoah River State Park, Leesylvania State Park, Mason Neck State Park, Sky Meadows State Park, Claytor Lake State Park, Hungry Mother State Park, New River Trail State Park, First Landing State Park, Occoneechee State Park and Staunton River State Park are options to consider when planning your next fishing and camping excursion.
Fishing boats for sale in all states.