California Fishing Boats
Bass boat and aluminum fishing boat dealers in CA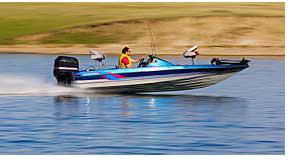 Fishing boat dealers are located throughout California with many of the larger dealers nearby major metropolitan areas like Grover Beach, Merced, Morrow Bay, Prismo Beach, Salinas, Fresno, Los Angeles, Oceanside, San Diego, Santa Barbara, Eureka, Napa, Redding, Sacramento, San Jose, Modesto, Mission Beach, South Lake Tahoe, Stockton, Susanville and Truckee. Other fishing boat dealers can also be found near lakes and along rivers throughout rural California.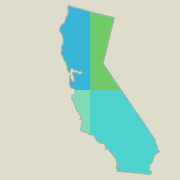 CA Resources
Eureka
Cloudburst Fishing Co
3415 Christie St
Eureka, CA 95503
707 442-7382
Redding
Outboard Center
5280 Caterpillar Road
Redding, CA 96003
530 241-5430
Boat Doctor
7069 Danyeur Road
Redding, CA 96001
530 246-4467
Pacific Boats
4311 Caterpillar Road
Redding, CA 96003
530 241-1846
Sacramento
Hornblower Yachts Inc.
3 Septer
Sacramento, CA 95827
916 446-1185
A Small Fishing Boat
8158 Belvedere Ave
Sacramento, CA 95826
916 737-2628
Sacramento Yacht Sales Inc
2710 Ramp Way
Sacramento, CA 95818
916 441-2727
B & L RV Trailer Parts & Service
11 Quinta Court
Sacramento, CA 95823
916 423-1151
San Jose
San Jose Boat Center
2144 Otoole Ave
San Jose, CA 95131
408 432-9000
Pleasure Boat Specialties
2456 Kruse Dr
San Jose, CA 95131
408 432-0217
Orlandi Trailer Inc
3120 Moorpark Ave
San Jose, CA 95117
408 247-7548
Action Trailer Sales Inc
1346 East Taylor Street
San Jose, CA 95133
408 288-6236
Boat People
1249 South 1st Street
San Jose, CA 95110
408 295-2628
Modesto
Sierra Trailer CO Inc DIV of Moo Welding Products
1305 Granite Lane
Modesto, CA 95351
209 523-1513
Pats Outboard Service
605 North Franklin Street
Modesto, CA 95351
209 579-2531
South Lake Tahoe
Tahoe Keys Yacht Charter
900 Ski Run Boulevard Suite 101
South Lake Tahoe, CA 96150
530 542-2555
Tahoe Powerboat CO
2435 Venice Drive East Suite 160
South Lake Tahoe, CA 96150
530 544-9990
Stockton
Custom Yacht Service
6312 Clarksburg Pl
Stockton, CA 95207
209 477-8201
Western California Yacht Sales
4330 Buckley Cove Way
Stockton, CA 95219
209 473-3144
Trail-Rite Boat Trailers
1551 North Broadway Avenue
Stockton, CA 95205
209 467-7123
Fantasea Boats & RV Sales & Service
6649 Embarcadero Drive Ofc
Stockton, CA 95219
209 473-4646
H & H Boat Sales
Venice Island Fry
Stockton, CA 95202
209 477-0879
Susanville
J L Boat Repair
688-125 Spruce Way
Susanville, CA 96130
530 825-2129
Truckee
Allstar Boat Care
10551 Snowberry Rd
Truckee, CA 96161
530 582-8393
Merced
Hondo Boats
819 W 16th St
Merced, CA 95340
209 384-9284
Malibu Boats West Inc
1 Malibu Ct
Merced, CA 95341
209 383-0499
Malibu Boats West Inc
1 Malibu Court
Merced, CA 95340
209 383-7469
Fresno
B And J Trailer Storage
3113 N 10Th St
Fresno, CA 93703
559 227-2621
Gregor Boat Co
3565 N Hazel Ave
Fresno, CA 93722
559 441-7703
Fresno Boat Works
6926 N Weber Ave
Fresno, CA 93722
559 271-4953
Executive Rv And Boat Storage
4315 N Valentine Ave
Fresno, CA 93722
559 225-2980
Boatacious Fi Optics
4959 E Dakota Ave
Fresno, CA 93727
559 291-2979
V M Custom Boat Trailers
5200 S Peach Ave
Fresno, CA 93725
559 486-0410
Los Angeles
Mexair Insurance Brokers
12421 Venice Boulevard Suite 2
Los Angeles, CA 90066
310 398-5797
Robertson Bill & Sons Inc - Used Car Sales
6550 Santa Monica Boulevard
Los Angeles, CA 90038
323 461-7772
Al's Outboard Motors Service
12813 Venice Boulevard
Los Angeles, CA 90066
310 391-2707
BMW Motorcycles Authorized Sales & Service
6525 Santa Monica Boulevard
Los Angeles, CA 90038
323 466-7191
Rosario Boat Covers
3304 Motor Avenue
Los Angeles, CA 90034
310 821-4207
Oceanside
Breakwater Yachts Ltd
1351 Harbor Dr N, Ste B
Oceanside, CA 92054
760 439-4650
Fiddlers Green Yacht Yard
1521 S Coast Hwy
Oceanside, CA 92054
760 722-7339
Marine Outfitters Westbourne Custom Yacht
215 Via Del Norte
Oceanside, CA 92058
760 721-5200
Yearley Sailboats
1850 Harbor Dr N, Ste B
Oceanside, CA 92054
760 722-4940
San Diego
Waypoint Yacht Sales
1067 Shafter St
San Diego, CA 92106
619 224-4800
Captains Yacht Sales
1050 Rosecrans St, Ste G
San Diego, CA 92106
619 222-4500
American Yacht Ship Sales
889 Armada Ter
San Diego, CA 92106
619 226-2540
Cabrillo Yacht Sales
5060 N Harbor Dr
San Diego, CA 92106
619 523-1745
Crows Nest Yacht Sales
2515 Shelter Island Dr
San Diego, CA 92106
619 222-1122
H S Yacht Sales Service Dept
1880 Harbor Island Dr, Ste B
San Diego, CA 92101
619 291-4852
Santa Barbara
Sailboats International
748 Casiano Dr, Apt B
Santa Barbara, CA 93105
805 569-6460
New & Used Bass & Fishing Boat Dealers
Most fishing boat dealers offer a variety of new and used boats. Look for a basic jon boat, an aluminum fishing boat, a combination fish and ski boat, a sophisticated bass boat or coastal fishing boats with help from these local dealers.
Fishing boats for CA waters
Fishing boats come in a variety of configurations including family fishing boats, pontoon boats, center console boats, bay boats, skiff boats, aluminum fishing boats, bass boats, inflatables, jon boats, canoes, kayaks, car toppers, electric boats and fish-and-ski models. Find yours at a fishing boat dealer near you.
If you like to fish in CA, many of these fishing boat dealers also carry an excellent selection of fishing tackle. You are apt to find a good selection of rods, reels, line, lures, and an assortment of fishing-related boat accessories. Some also offer live bait.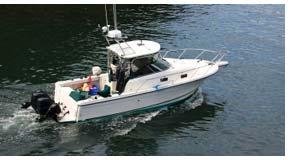 California fishing boat and bass boat dealers are often a resource for information on local fishing events. They are likely to have schedules and contact information for fishing tournament organizations, as well as event results. Staff members at these fishing boat stores often have a keen interest in fishing. As a result, they are quite often aware of local fishing conditions at fisheries in the area. Some also participate in fishing tournaments. Before heading out on your next fishing trip, stop by and get valuable information about how the fish are being caught on the water you plan to fish.
Many of these fishing boat dealers also offer fishing licenses for sale. You can also acquire a fishing licence for California at many of these dealers or by visiting the California fishing licensing website.
Places To Go Fishing In CA
There are many places in California to to go fishing. Some of the larger lakes and rivers include Bullards Bar Reservoir, Eel River, Sacramento River, Folsom Lake, Goose Lake, Mokelumne River, Lake Almanor, Lake Tahoe, Clearlake, Pit River, Salinas River, Lake Berryessa, Lake Oroville, Lake Shasta, Trinity Lake, Lake Cahuilla, Lake Castaic, Lake Elsinore, Salton Sea, San Vicente Reservoir, Lake Cachuma, McPhee Reservoir, San Joaquin River, Kerr River, Nacimiento Lake, Owens River, San Antonio Lake and San Luis Reservoir. Most of these rivers and lakes provide excellent fishing opportunities.
Fishing Boat Companies & Manufacturers in California
Manufacturers of boats and boating products in California include Hobie Cat and others. Support these local manufacturers as they help improve the local economy.
Camp in California Near Fishing
Fishing and camping go hand in hand. Many of the fishing waters throughout California also offer camping opportunities. Here are just a few of the many camping facilities located at or nearby fishing waterways. Anderson Marsh State Historic Park, Little River State Beach, Spring Lake Regional Park, Bidwell-Sacramento River State Park, Lake Oroville State Recreation Area, McArthur-Burney Falls Memorial State Park, Millerton Lake State Recreation Area, San Luis Reservoir State Recreation Area, Turlock Lake State Recreation Area, Castaic Lake RV Park, Emerald Bay State Park and Mono Lake Tufa State Recreation Area are options to consider when planning your next fishing and camping excursion.
Fishing boats for sale in all states.