Hawaii Fishing Boats
Bass boat and aluminum fishing boat dealers in HI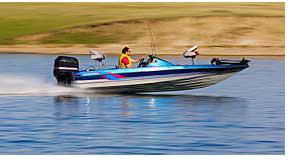 Hawaii, a tropical paradise known for its stunning landscapes and pristine waters, offers fantastic opportunities for fishing enthusiasts to indulge in their favorite pastime. While the state is more renowned for its ocean fishing, there are also freshwater fishing opportunities available in some of its major lakes and reservoirs.
In Hawaii, fishing boats come in various types, each designed to cater to specific fishing needs. Aluminum boats are popular choices for their durability and versatility, allowing anglers to navigate both freshwater and nearshore saltwater fishing grounds. Bass boats, on the other hand, are ideal for pursuing peacock bass, largemouth bass and other freshwater species in the state's lakes and ponds.
While there are no natural lakes in Hawaii, some reservoirs and man-made lakes offer exciting freshwater fishing experiences. For example, Lake Wilson on Oahu and Wahiawa Reservoir on the island of Hawaii provide opportunities for anglers to catch various freshwater species, such as peacock bass and catfish.
For those who don't own their fishing boats, fishing boat rentals are available in certain locations throughout Hawaii. Whether anglers are looking for a day of deep-sea fishing or a peaceful freshwater fishing excursion, rental services provide a convenient and enjoyable way to access the waters and explore Hawaii's bountiful fishing grounds.
Hawaii offers a fishing haven for both locals and visitors alike, where they can enjoy the thrill of reeling in a variety of fish species while surrounded by the natural beauty of the islands and the vast Pacific Ocean.
Fishing boat dealers are located throughout Hawaii with many of the larger dealers nearby major metropolitan areas like Hilo, Honokaa, Kalaoa, Mountain View, Waikoloa Village, Honolulu, Makakilo City, Pearl City, Princeville, Waianae, Island of Kauai, Island of Oahu, Kahului, Maalaea and Pukalani. Other fishing boat dealers can also be found near lakes and along rivers throughout rural Hawaii.
New & Used Bass & Fishing Boat Dealers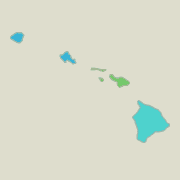 Hawaii Resources
Honolulu
Ala Wai Yacht Brokerage
1778 Ala Moana Blvd, Ste 207
Honolulu, HI 96815
808 943-0559
Island Work Boats
264 Kalihi St, Ste 102
Honolulu, HI 96819
808 851-7477
Brookins Boatworks Ltd
5 Sand Island Access Rd, Unit 117
Honolulu, HI 96819
808 841-2525
Outboard Sales & Service
211 Mokauea Street
Honolulu, HI 96819
808 841-2428
Hilo
Boat House Hawaii
258 Silva St
Hilo, HI 96720
808 935-1334
Most fishing boat dealers offer a variety of new and used boats. Look for a basic jon boat, an aluminum fishing boat, a combination fish and ski boat, a sophisticated bass boat or coastal fishing boats with help from these local dealers.
If you like to fish in HI, many of these fishing boat dealers also carry an excellent selection of fishing tackle. You are apt to find a good selection of rods, reels, line, lures, and an assortment of fishing-related boat accessories. Some also offer live bait.
Fishing boat types for Hawaii waters
Fishing boats come in a variety of configurations including family fishing boats, pontoon boats, center console boats, bay boats, skiff boats, aluminum fishing boats, bass boats, inflatables, jon boats, canoes, kayaks, car toppers, electric boats and fish-and-ski models. Find yours at a fishing boat dealer near you.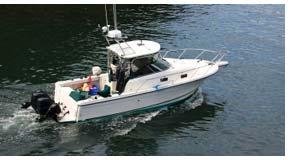 Hawaii fishing boat and bass boat dealers are often a resource for information on local fishing events. They are likely to have schedules and contact information for fishing tournament organizations, as well as event results. Staff members at these fishing boat stores often have a keen interest in fishing. As a result, they are quite often aware of local fishing conditions at fisheries in the area. Some also participate in fishing tournaments. Before heading out on your next fishing trip, stop by and get valuable information about how the fish are being caught on the water you plan to fish.
Many of these fishing boat dealers also offer fishing licenses for sale. You can also acquire a fishing licence for Hawaii at many of these dealers or by visiting the Hawaii fishing licensing website.
Places To Go Fishing In HI
There are many places in Hawaii to to go fishing. Some of the larger lakes and rivers include Crater Reservoir, Olokele River, Wailau River, Kakahai I Fishpond, Kamahu'ehu'e Fishpond, Hanawi Stream, Papaaea Reservoir, Wahikuli Reservoir, Alexander Reservoir, Kahakuloa Stream, Kanaha Ponds, Lake Wilson, Lualaulei Reservoir, Papuaa Reservoir, Hilo Bay, Kuhio Bay, Lokowaka Pond, Nauruan Reservoir No. 4, Puukapu Reservoir, Honolii Stream and Wailuku River. Most of these rivers and lakes provide excellent fishing opportunities.
Fishing Boat Companies & Manufacturers in Hawaii
Manufacturers of boats and boating products in Hawaii include Pacific Custom Boat Building and others. Support these local manufacturers as they help improve the local economy.
Camp in Hawaii Near Fishing
Fishing and camping go hand in hand. Many of the fishing waters throughout Hawaii also offer camping opportunities. Here are just a few of the many camping facilities located at or nearby fishing waterways. Koke'e State Park, Na Pali Coast State Wilderness Park, Wailua River State Park, Pala'au State Park, Polipoli Spring State Recreation Area, Wai'anapanapa State Park, Kalopa State Recreation Area, MacKenzie State Recreation Area and Manuka State Wayside are options to consider when planning your next fishing and camping excursion.
Fishing boats for sale in all states.