Idaho Fishing Boats
Bass boat and aluminum fishing boat dealers in ID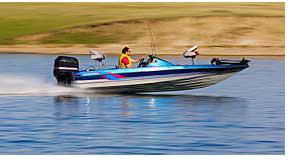 Idaho, known for its abundant natural beauty, is a paradise for fishing enthusiasts. With its numerous lakes, rivers, and streams, the state offers a diverse range of fishing opportunities for anglers of all levels. Fishing boats are a common sight on Idaho's waters, providing a means for enthusiasts to access the best fishing spots and experience the thrill of catching various fish species.
Idaho boasts several major fishing lakes that are highly sought after by anglers. Lake Coeur d'Alene, with its crystal-clear waters, offers excellent fishing for bass, trout, and northern pike. Priest Lake, tucked away in the northern part of the state, is known for its trophy-sized Mackinaw lake trout, making it a favorite destination for serious anglers. Additionally, Dworshak Reservoir, located along the Clearwater River, provides opportunities for catching bass, kokanee salmon, and steelhead.
Various types of fishing boats are popular in Idaho, each designed to cater to specific fishing needs. Aluminum boats, lightweight and durable, are favored for their ease of maneuverability and versatility. They are ideal for exploring shallow waters and navigating through tight spots, making them a favorite choice for anglers targeting smallmouth bass and trout in narrow streams.
For anglers seeking to target largemouth bass or participate in fishing tournaments, bass boats are the go-to choice. These boats are designed for speed and efficiency, equipped with powerful engines to quickly reach prime fishing locations. With features like live wells and ample storage, bass boats provide everything needed for a successful fishing trip.
Walleye fishing enthusiasts often opt for walleye boats, specifically designed to target this species. These boats are equipped with specialized electronics, trolling motors, and fishing platforms to enhance the angler's chances of catching walleye in both shallow and deep waters.
For those who want to experience the joy of fishing without owning a boat, fishing boat rentals are readily available in Idaho. Many marinas and fishing outfitters offer rental options, allowing anglers to enjoy a day on the water without the commitment of boat ownership. Whether it's a peaceful day of fishing on a tranquil lake or a thrilling adventure on a river, fishing boat rentals offer the flexibility to explore Idaho's beautiful fishing destinations.
Idaho's vast and diverse fishing opportunities make it a haven for anglers, and fishing boats play a crucial role in enhancing the fishing experience. With its major fishing lakes, various fishing boat types, and the convenience of fishing boat rentals, Idaho provides a fishing paradise for all who seek to cast their lines and reel in the catch of the day amidst the state's stunning natural landscapes.
Fishing boat dealers are located throughout Idaho with many of the larger dealers nearby major metropolitan areas like Boise, Meridian, Mountain Home, Nampa, Twin Falls, Ashton, Downey, Idaho Falls, Montpelier, Pocatello, Bonners Ferry, Coeur D Alene, Hayden, Lewiston, Sandpoint, Elk City, Gibbonsville, Lowell, North Fork and Powell Junction. Other fishing boat dealers can also be found near lakes and along rivers throughout rural Idaho.
Fishing boat types for Idaho waters
Fishing boats come in a variety of configurations including family fishing boats, pontoon boats, center console boats, bay boats, skiff boats, aluminum fishing boats, bass boats, inflatables, jon boats, canoes, kayaks, car toppers, electric boats and fish-and-ski models. Find yours at a fishing boat dealer near you.
New & Used Bass & Fishing Boat Dealers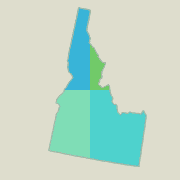 Idaho Resources
Coeur D Alene
Resort Boat Shop
115 S 2nd St
Coeur D Alene, ID 83814
208 666-9021
Yacht Club Sales & Service
Blackwell Island
Coeur D Alene, ID 83814
208 664-8274
Coeur D'Alene Auto & Boat
2775 North Howard Street
Coeur D Alene, ID 83815
208 765-4615
Hayden
Northwest Boat Center Inc
250 W Miles Ave
Hayden, ID 83835
208 762-8777
Tige Precision Ski Boats
250 W Miles Ave
Hayden, ID 83835
208 762-7570
Lewiston
Bentz Boats LLC
155 Southport Ave
Lewiston, ID 83501
208 746-7035
Custom Weld Boats Inc
711 Snake River Ave
Lewiston, ID 83501
208 750-1313
Tricker Trailers
153 Southport Avenue
Lewiston, ID 83501
208 743-3071
Sandpoint
Alpine Boat And Ski Shop
213 Church St
Sandpoint, ID 83864
208 263-5157
Artisan-2 Upholstery Boat Trim
1241 Michigan Street
Sandpoint, ID 83864
208 263-4207
Pend Oreille House Boat Rental
533 South Olive Avenue
Sandpoint, ID 83864
208 263-2675
Boise
Capital Sports Sales Inc
9900 W Fairview Ave
Boise, ID 83704
208 323-1500
Idaho Marine Propeller Repair
4000 W Fairview Ave
Boise, ID 83706
208 342-0639
Idaho Marine Propeller Repair
4000 West Fairview Avenue
Boise, ID 83706
208 342-0639
Quality Sales & Boat Covers
4948 West Chinden Boulevard
Boise, ID 83714
208 377-0775
Nampa
Freedom Boat And Rv Sales
2424 Caldwell Blvd
Nampa, ID 83651
208 461-8512
Weis Outboard
4902 South Powerline Road
Nampa, ID 83686
208 467-3820
Jim's Auto & Boat Upholstery
1605 West Karcher Road
Nampa, ID 83651
208 466-7233
Twin Falls
Century Boat Land
299 Addison Ave W
Twin Falls, ID 83301
208 733-5070
Idaho Falls
Anchor Boat Works
803 E Iona Rd
Idaho Falls, ID 83401
208 522-8097
Boat Shop
2296 E Iona Rd
Idaho Falls, ID 83401
208 523-6680
Hyde Drift Boats
1520 Pancheri Dr
Idaho Falls, ID 83402
208 529-4343
Precision Boats
2199 N Woodruff Ave
Idaho Falls, ID 83401
208 529-0520
Pocatello
Marine Sport Sales
1510 N Arthur Ave
Pocatello, ID 83204
208 232-3195
Most fishing boat dealers offer a variety of new and used boats. Look for a basic jon boat, an aluminum fishing boat, a combination fish and ski boat, a sophisticated bass boat or coastal fishing boats with help from these local dealers.
If you like to fish in ID, many of these fishing boat dealers also carry an excellent selection of fishing tackle. You are apt to find a good selection of rods, reels, line, lures, and an assortment of fishing-related boat accessories. Some also offer live bait.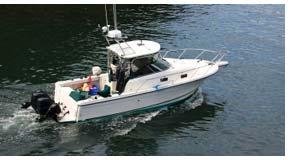 Idaho fishing boat and bass boat dealers are often a resource for information on local fishing events. They are likely to have schedules and contact information for fishing tournament organizations, as well as event results. Staff members at these fishing boat stores often have a keen interest in fishing. As a result, they are quite often aware of local fishing conditions at fisheries in the area. Some also participate in fishing tournaments. Before heading out on your next fishing trip, stop by and get valuable information about how the fish are being caught on the water you plan to fish.
Fishing boats in Idaho
Many of these fishing boat dealers also offer fishing licenses for sale. You can also acquire a fishing licence for Idaho at many of these dealers or by visiting the Idaho fishing licensing website.
Places To Go Fishing In ID
There are many places in Idaho to to go fishing. Some of the larger lakes and rivers include Bigfoot Lake, Clearwater River, St Joe River, Bushy Fork Lake, Cub Lake, Lochsa River, Emerald Lake, Fish Lake, Coeur D Alene Lake, Selway River, Payette River, Dworshak Reservoir, Hayden Lake, Lake Pend Oreille, Priest Lake, American Falls Reservoir, Bear Lake, Blackfoot Reservoir, Lake Walcott, Palisades Reservoir, Arrow Rock Reservoir, Cascade Reservoir, Snake River, Bear River, Lake Cascade, Big Lost River, Lake Lowell and Salmon Falls Creek Reservoir. Most of these rivers and lakes provide excellent fishing opportunities.
Fishing Boat Companies & Manufacturers in Idaho
Manufacturers of boats and boating products in Idaho include Hyde Drift Boats and others. Support these local manufacturers as they help improve the local economy.
Camp in Idaho Near Fishing
Fishing and camping go hand in hand. Many of the fishing waters throughout Idaho also offer camping opportunities. Here are just a few of the many camping facilities located at or nearby fishing waterways. Heyburn State Park, Priest Lake State Park, Round Lake State Park, Wagonhammer Campground, Salmon National Forest Campground, Three Rivers Campground, Lake Cascade State Park, Lucky Peak State Park, Three Island Crossing State Park, Bear Lake State Park, Henrys Lake State Park and Lake Walcott State Park are options to consider when planning your next fishing and camping excursion.
Fishing boats for sale in all states.