Virginia Boat Repair
Boat service, maintenance and repair in VA.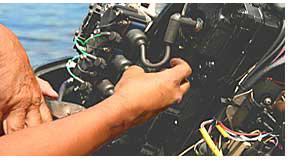 Select the ideal boat repair service to care for your dream boat. Many qualified boat repair specialists are located throughout Virginia. We list VA boat repair centers by their proximity to major cities including Covington, Lynchburg, Charlottesville, Front Royal, Reston, Blacksburg, Martinsville, Chesapeake, Petersburg, Virginia Beach, Buena Vista, Lexington, Staunton, Dale City, M, Manassas, Abingdon, Danville, Roanoke, Newport News and Richmond.
Marinas in Virginia
Marinas often provide boat repair services as well as boat storage and boat launching. These services often vary with the season so it is important to contact marinas directly to define the level of boat repair services offered. Some of the major marinas in Virginia include Bridgewater Marina, Mitchell's Point Marina, Pilot House Marina, Stepps Harbor View Marina, Painter Creek Marina, Tri County Marina, Smithfield Marina and Taylor's Landing Marina.
VA boat repair map
Virginia Resources
Lynchburg
Lynchburg Upholstery
663 Old Plantation Drive
Lynchburg, VA 24502
434 525-0159
Staunton
Richmond Upholstery Co.
708 D. St Unit #2
Staunton, VA 24401
540 887-2120
Abingdon
Bakers Marine Sales And Service
1099 Cummings St
Abingdon, VA 24211
276 628-8912
Danville
Hughes Marine Service Inc
3815 U S Highway 29
Danville, VA 24540
434 836-0052
Roanoke
A & K Custom Upholstery
2140 Winston Ave Sw
Roanoke, VA 24014
540 343-4200
Bilt-Rite Upholstery
302 5th Street Southwest
Roanoke, VA 24016
540 981-1711
Chesapeake
Commonwealth Marine Repair Inc
2601 Trade St, Ste B
Chesapeake, VA 23323
757 558-0483
Ski Boats Unlimited
143 Tilden Av
Chesapeake, VA 23320
757 547-2337
Newport News
Hampton Roads Outboard Motor Repair
200 Old Marina Ln
Newport News, VA 23602
757 877-3122
Davis Boat Works Inc
34 Jefferson Ave
Newport News, VA 23607
757 247-0101
Hampton Roads Outboard Motor Repair
13379 Warwick Blvd
Newport News, VA 23602
757 877-3122
Casey Cycle City - Parts - ATV's - Motorcycles - Power Equipment - Watercraft - Service
634 J Clyde Morris Boulevard
Newport News, VA 23601
757 595-9760
Atlantic Boat Works
523 Edwards Ct.
Newport News, VA 23608
757 875-9705
Petersburg
Mobile Marine Repair
9622 River Rd
Petersburg, VA 23803
804 590-9393
Appomattox Small Boat Harbor
1604 Fine Street
Petersburg, VA 23803
804 733-5770
Richmond
Wells Alternator And Starter Services
3502 Jefferson Davis Hwy
Richmond, VA 23234
804 233-6726
Lins Marine Parts & Service
2906 Williamsburg Rd
Richmond, VA 23231
804 226-1947
Bruces Boat Supplies And Service
8045 Jefferson Davis Hwy
Richmond, VA 23237
804 743-8200
Virginia Beach
Inland Marine Discount Services Inc
2524 Performance Ct
Virginia Beach, VA 23453
757 368-8644
C P Marine And Diesel Services
5900 Thurston Ave, Ste E
Virginia Beach, VA 23455
757 460-6262
Island Jet Ski Boat Repair
624 10Th St
Virginia Beach, VA 23451
757 422-1700
Reliance Hitch Service
5008 Cleveland Street
Virginia Beach, VA 23462
757 497-7709
Accurate Cylinder Head Service Inc
120 Pennsylvania Ave
Virginia Beach, VA 23462
757 816-0440
Deep Blue Marine Sales & Service LLC
3716 Shore Dr
Virginia Beach, VA 23455
757 464-5511
While some repair centers specialize in specific types of boats or motors, most can offer basic services on virtually all types of boats. If you have complex repair or diagnostic requirements, you may need to locate a dealer offering those specific services. Some of these centers specialize only in the brand of boats and motors they offer for sale, while other facilities may offer maintenance and service to a wide variety of popular boat and motor brands. Repair to hulls, trailers and boat interiors are often offered by service providers which are not brand specific.
Cities are listed in the boat dealer and fishing boat dealer listings, by region of the state for your convenience.
Boat repair services in Virginia are performed by a wide range of specialists. Hull and structure repairs are handled by experts in fiberglass, aluminum and other boat materials.
VA Boat Repair
Boat motor repair, service and maintenance is provided by trained mechanical technicians, many of whom are certified by boat motor manufacturers. Some specialize in inboard motors and outdrives while others specialize in outboard motors. Others offer repair services for both.
Repair for all types of boats.
Virginia boat repair services are offered for sailboats, pleasure boats, family boats, yachts, pontoon boats, fishing boats, bass boats, speedboats, inflatables, jon boats, cruisers, cuddy cabin boats, canoes, car toppers, ski & wake board boats, deck boats, aluminum boats, electric boats, jet skis, personal watercraft and fish-and-ski combos. Contact local repair centers regarding specific repair services you may require.
Boat repair in other states.