Michigan Boat Repair
Boat service, maintenance and repair in MI.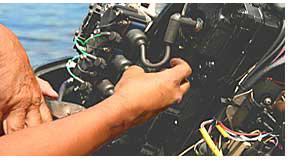 Michigan boasts a thriving boating industry with a wide array of boat repair and maintenance services available to boat owners. From large cities to lakeside towns, there are numerous facilities and expert technicians ready to cater to the needs of boaters. Boat repair shops are equipped to handle various repairs, from minor fixes to major overhauls, ensuring that boats remain in excellent working condition.
Experienced boat mechanics in Michigan possess the skills and knowledge to work on different types of boats, including sailboats, powerboats, fishing boats, and pontoon boats. They are well-versed in diagnosing issues and providing efficient solutions to keep boats running smoothly on the water. Whether it's engine repairs, electrical work, or hull repairs, boat mechanics in Michigan are up to the task.
For boat motor repairs, specialized technicians are available to address any engine-related problems. They can troubleshoot engine issues, perform routine maintenance, and carry out necessary repairs to keep boat engines performing optimally. Their expertise ensures that boaters can rely on their vessels for safe and enjoyable excursions.
Michigan's marinas also play a crucial role in providing boat repair and maintenance services. Many marinas have on-site repair shops with skilled mechanics, making it convenient for boaters to access professional services while docking their boats. Marinas often offer a range of amenities, including fueling stations and pump-out services, making them a one-stop destination for boating needs.
For boaters who prefer the convenience of on-site service, mobile boat repair is a popular option. Mobile service providers travel to the boat's location, whether it's docked at a marina or parked at a lakeside residence, to perform repairs and maintenance. This flexibility is especially beneficial for boat owners who want to minimize downtime and get back on the water quickly.
With a wide selection of repair and maintenance options, boat owners in Michigan can easily find the expertise and services needed to keep their vessels in top-notch condition. These resources ensure that boaters can explore the state's picturesque waterways with confidence and peace of mind.
Select the ideal boat repair service to care for your dream boat. Many qualified boat repair specialists are located throughout Michigan. We list MI boat repair centers by their proximity to major cities including Cadillac, Newberry, Alpena, Lewiston, Rogers City, Grand Rapids, Kentwood, Detroit, Livonia, Waterford, Big Rapids, Marquette, Traverse City, Cheboygan, Prudenville, Battle Creek, Kalamazoo, Muskegon, Lansing and Saginaw.
Marinas in Michigan
Marinas often provide boat repair services as well as boat storage and boat launching. These services often vary with the season so it is important to contact marinas directly to define the level of boat repair services offered. Some of the major marinas in Michigan include Harbor Village Marina, Menominee Marina, B & B Sports Center & Marina, Black River Marina, Deep Harbor Marina, Keenan Marina, Harbor Heights Marina and Port Sanilac Marina.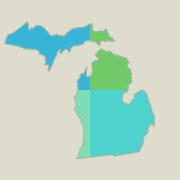 MI Resources
Marquette
Northern Upholstery & Design
325 Foster Creek Drive
Marquette, MI 49855
906 249-4544
Cleary Boat and Motor CO
130 West Baraga Avenue
Marquette, MI 49855
906 226-6312
Bingham Boat Works Limited
Po Box 58
Marquette, MI 49855
906 225-0050
Traverse City
Pro Fiberglass And Collision
3040 Keystone Rd N
Traverse City, MI 49686
231 946-1228
Harbor West Yacht Service Inc
10531 East Carter Road
Traverse City, MI 49684
231 941-1802
Atlantis Custom Boat Canvas
3066 M 37 South
Traverse City, MI 49684
231 943-8988
Boat Transit & Storage Services
13240 South West Bay Shore Drive
Traverse City, MI 49684
231 946-6060
Bayshore Boating & Fishing Outfitters
13240 South West Bay Shore Drive
Traverse City, MI 49684
231 941-5420
Cheboygan
Mullett Lake Upholstery & Boat Top
6922 North Straits Highway
Cheboygan, MI 49721
231 627-9022
Lewiston
Rack Stack & Repair Inc
4610 Airport Road
Lewiston, MI 49756
989 786-3104
Rogers City
Michigan Midwest Marine CO Inc - Sales & Service
6266 M 68
Rogers City, MI 49779
989 734-4767
Battle Creek
Resqrobs Marine Service
452 W Hickory Rd
Battle Creek, MI 49017
269 721-3753
Custer Drive Upholstery
295 Custer Drive
Battle Creek, MI 49017
269 963-6818
Bedford Boat & Bait Shop
22557 Bedford Road North
Battle Creek, MI 49017
269 721-3777
Grand Rapids
Cascade Shoe Service
2385 Hillside Drive Northwest
Grand Rapids, MI 49544
616 363-6919
Durant Custom Upholstery
2037 Division Avenue South
Grand Rapids, MI 49507
616 452-2099
Boater's World
4265 28th Street Southeast
Grand Rapids, MI 49512
616 285-7116
HI Performacne Boats Inc
11220 3rd Avenue Northwest
Grand Rapids, MI 49544
616 453-6383
Kalamazoo
Cooper Boat Repair LLC
8135 Douglas Ave
Kalamazoo, MI 49009
269 382-2525
Gazley Upholstery & Canvas
3746 Lester Road
Kalamazoo, MI 49048
269 381-0207
Muskegon
Sportfisherman Service Center
545 Ottawa St
Muskegon, MI 49442
231 722-1310
Lakeside Canvas & Upholstery Inc
3200 Lakeshore Drive
Muskegon, MI 49441
231 755-2514
Accents Upholstery & Fabric
5009 Whitehall Road
Muskegon, MI 49445
231 329-2117
Boston Motors Sales & Service
4482 Airline Road
Muskegon, MI 49444
231 733-9600
Lighthouse Boat & RV Inc
1204 West Western Avenue
Muskegon, MI 49441
231 722-2200
Detroit
Rapid Repair
3157 Bellevue St
Detroit, MI 48207
313 267-9800
Lens J B M Services
100 Meadowbrook St
Detroit, MI 48214
313 821-2496
Gregory Boat Co
9666 E Jefferson Ave
Detroit, MI 48214
313 823-1900
Johnny's Boat Propeller Service
17307 East Warren Avenue
Detroit, MI 48224
313 885-7446
Lockeman's Hardware & Boats
7630 West Jefferson Avenue
Detroit, MI 48209
313 842-0268
Lansing
Vet's TARP Repair
1242 East Grand River Avenue
Lansing, MI 48906
517 482-1296
Livonia
Fibertec Fiberglass Boat Rpr
13335 Inkster Rd
Livonia, MI 48150
734 458-1873
R & L Tri City Marine Service Inc
13333 Inkster Road
Livonia, MI 48150
734 458-3068
Saginaw
Boaters World Discount Marine Center
3005 Bay Plaza Dr
Saginaw, MI 48604
989 797-3806
Invision Boatworks
5700 Becker Rd
Saginaw, MI 48601
989 754-3341
Haynes Upholstery Shop
121 S Elm St
Saginaw, MI 48602
989 790-3730
Waterford
Cass Lake Marine Repair
3547 Elizabeth Lake Rd
Waterford, MI 48328
248 682-3522
Sunset Boats And Marine Services
4755 Dixie Hwy
Waterford, MI 48329
248 673-4705
Freds Custom Boat Repair
7683 Highland Rd
Waterford, MI 48327
248 666-2220
Club Royale Marina Sales & Service
4300 Cass Elizabeth Road
Waterford, MI 48328
248 681-9100
MI boat repair map
While some repair centers specialize in specific types of boats or motors, most can offer basic services on virtually all types of boats. If you have complex repair or diagnostic requirements, you may need to locate a dealer offering those specific services. Some of these centers specialize only in the brand of boats and motors they offer for sale, while other facilities may offer maintenance and service to a wide variety of popular boat and motor brands. Repair to hulls, trailers and boat interiors are often offered by service providers which are not brand specific.
Cities are listed in the boat dealer and fishing boat dealer listings, by region of the state for your convenience.
Boat repair services in Michigan are performed by a wide range of specialists. Hull and structure repairs are handled by experts in fiberglass, aluminum and other boat materials.
MI Boat Repair
Boat motor repair, service and maintenance is provided by trained mechanical technicians, many of whom are certified by boat motor manufacturers. Some specialize in inboard motors and outdrives while others specialize in outboard motors. Others offer repair services for both.
Service and repair for all types of boats.
Michigan boat repair services are offered for sailboats, pleasure boats, family boats, yachts, pontoon boats, fishing boats, bass boats, speedboats, inflatables, jon boats, cruisers, cuddy cabin boats, canoes, car toppers, ski & wake board boats, deck boats, aluminum boats, electric boats, jet skis, personal watercraft and fish-and-ski combos. Contact local repair centers regarding specific repair services you may require.
Boat repair in other states.