Boat Rentals In Southeast Michigan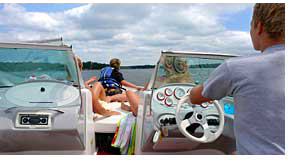 Choice boats for rent in southern and eastern Michigan at rental centers, boat dealers, outdoor markets, and boat rental agent locations. Each offering a unique variety of watercraft for rent. Find jet skis, pontoon boats, fishing boats, family boats, canoes and kayaks. Some rental resources may also offer deck, ski and speed boat rentals.
Southeast MI boat rentals
Listed below find boat rental dealers and other resources offering boats for rent for use on Cass Lake, Lake Columbia, Lake St Clair, Orchard Village Lake, Walled Lake, Cass River, Raisin River and other waterways in Michigan. Rental locations are listed nearby cities and attractions. Cities listed include Livonia, Saginaw, Waterford, Detroit and Lansing. Contact these boat rental services to see if they have the ideal boat for you to rent.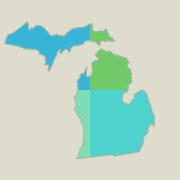 Southeast Resources
Detroit
Gregory Boat Co
9666 E Jefferson Ave
Detroit, MI 48214
313 823-1900
Johnny's Boat Propeller Service
17307 East Warren Avenue
Detroit, MI 48224
313 885-7446
Lockeman's Hardware & Boats
7630 West Jefferson Avenue
Detroit, MI 48209
313 842-0268
Lansing
Livonia
Fibertec Fiberglass Boat Rpr
13335 Inkster Rd
Livonia, MI 48150
734 458-1873
Saginaw
Boaters World Discount Marine Center
3005 Bay Plaza Dr
Saginaw, MI 48604
989 797-3806
Invision Boatworks
5700 Becker Rd
Saginaw, MI 48601
989 754-3341
Waterford
Sunset Boats And Marine Services
4755 Dixie Hwy
Waterford, MI 48329
248 673-4705
Freds Custom Boat Repair
7683 Highland Rd
Waterford, MI 48327
248 666-2220
Anderson Boat Sales
6477 Highland Road
Waterford, MI 48327
248 666-9922
Boaters World
405 North Telegraph Road
Waterford, MI 48328
248 682-4380
Boat&Trailer Depot
3645 Highland Road
Waterford, MI 48328
248 738-1600
Cass Lake
Lake Columbia
Lake St Clair
Orchard Village Lake
Walled Lake
Cass River
Raisin River
Lake Hudson Recreation Area
Metamora-Hadley Recreation Area
Seven Lakes Recreation Area
Southeast MI boat rental
Locate boat rental dealers and other boat rental locations within or nearby cities and attractions in eastern and southern Michigan.
If you are looking for a specific type boat for rent, chances are one of these dealers can assist you. Boats offered for rent typically include canoes, family boats, pontoon boats, fishing boats, inflatables, jon boats, ski boats, aluminum boats, electric boats, jet skis and others. Some boats offered are confined to specific lakes while others are available for travel to other bodies of water.
Southeast MI boating
To enhance your boat renting experience, click here to locate resources for safety equipment, water toys and boating gear in southeast Michigan.
Boat rental safety
Enjoy boating in southeast Michigan with a rental boat that is designed to carry the members of your party. Boating safety classes are available in most areas to get you familiar with safe boating procedures.
Boat rentals at marinas
Some marinas may offer boat rentals for use on the lake where the marina is located. Check with Harbor Heights Marina, Port Sanilac Marina or Swan Yacht Basin Marina for information on local boat rental options and recommendations.
Boat rental types
Pontoon boats are ideal for large groups or when taking small children boating. Most often they have a safety railing and a canvas or metal top to reduce the amount of sun rays absorbed by passengers.
Runabouts are great for families and small groups to go sight seeing and cruising the lakes.
Ski boats and speed boats are well suited for of three to five who enjoy water sports such as water skiing and wave boarding.
Aluminum boat rentals are best suited for parties of one to four planning to travel short to mid-range distances.
Bass boats are designed for two passengers and are ideal for most fresh-water fishing, and some inshore fishing.
Lake boat rental...find a boat to rent and take the family and friends out on the water for a day of making memories. Before boating, become familiar with local boating laws and regulations.
Find boat rentals in other states.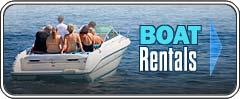 MI Boat Rentals
Northwest MI Boat Rentals
Northeast MI Boat Rentals
Southwest MI Boat Rentals
Southeast MI Boat Rentals
MI Boats & Boating