All About Kayaks & Kayak Canoes
Paddle the Waterways with a Kayak
Kayaks are one or two person vessels that are propelled by paddling. Traditional kayaks were made from wood and seal skin, but technological advances have led to several different types of materials being used, from plastic to fiberglass. You can explore shallow waterways like creeks, streams, and narrow rivers or kayak on a lake. If you really want adventure, try a sea kayak, which is durable enough to paddle on the wilder waters of the ocean.
You sit in the kayak, facing the direction of travel and propel the kayak using a two sided paddle. To travel straight ahead, stroke the paddle evenly on both sides of the kayak in a steady rhythm. When you want to change directions, paddle on one side only until the kayak is traveling where you want to go. A skirt is attached at the top of the boat, so you can protect your legs from the water.
Traditionally, these boats are used for the purpose of fishing and hunting and many people still enjoy these activities from the vantage point of a kayak on the water. Bird watchers also love the stealth of the kayak as you can paddle quietly towards the shore to watch the birds from the water. Kayaks are popular for traveling on lakes, rivers and oceans. Plastic kayaks are particularly strong and will last for many years.
There also kayaks designed for three people, usually sea kayaks. These kinds of boats encourage the team spirit for sports, fun and entertainment. You have a small space near your legs for baggage or small equipment, such as waterproof cameras and a drink bottle, but generally a kayak will not carry much weight. Larger sea kayaks can travel immense distances and do provide slightly more storage space.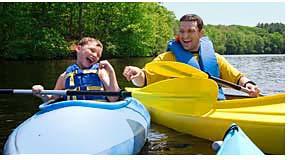 A great idea is to rent kayaks for a day during your vacation. A kayak provides terrific fun, exercise, and an interesting way to explore the area. You will often see different things on the waterway when you travel in a slow moving, quiet kayak, than when you zoom along in a speedboat. So even if you have a boat, try a kayak for a unique perspective of the waterway.
Kayak rentals and kayaks for sale locally.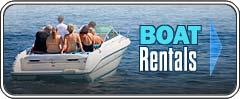 Kayak and kayaking information.
If you want adventure, desire an active way of viewing the countryside and waterways, and appreciate being environmentally friendly, a kayak is potentially the ideal vessel for you. Rent a kayak and take one for a test run. Who knows...you may decide you want to become a kayak owner.
Boats & Boating
Kayaks for sale and kayak rental.