Boating Equipment & Accessories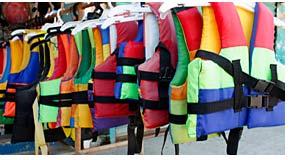 When you own a boat, you need supplies. From a boat hook to catch a mooring rope to an anchor chain, from life jackets to radio equipment, any sort of boat needs various accessories and supplies. Visit a boat equipment retailer and you'll soon realize just how many accessories, gadgets and supplies you'll want for your boat. The wide variety of safety equipment, marine electronics, ropes, cushions, cleaning supplies, lubricants, and more await you for keeping your boat in style, clean, safe and comfortable.
The marine industry is bigger than just the manufacture of boats. Mariners need motors, oars, emergency supplies, navigation equipment, and all of the etceteras that make the boating experience a pleasure. You can purchase all of your boat accessories and equipment from a reputable marine shop or from the boat retailer who sold you the boat.
The range of boating equipment is immense. You can get every sort of accessory for your marine vessel, from ropes, hooks, and fishing equipment, to beautiful wooden carved steering wheels and even marine grade grills and barbecues, so you can enjoy lavish feasts on the boat.
When you are looking for boating supplies, you need to consider what you intend to do with the boat. Sailing boats will need some different accessories than motor boats. Either way, you can purchase all the spare parts you need to ensure your boat keeps running smoothly from a marine equipment and supplies shop.
If you plan to go swimming from the boat, you will need a ladder to get back onto the boat. If you are skiing or wake boarding behind the boat, you need specialized equipment that will attach your ski ropes to the boat, such as a wake boarding bar.
Quick Links
Fishing Boats For Sale
Bass Boats
Ski Boats For Sale
New & Used Jon Boats
New & Used Jet Skis
Canoes
Speed Boats
Inflatable Boats
Sailboats & Sailing
Electric Boats
Map For Lakes & Boating
Boat Shows
Kayaks For Sale
Boat Loans & Rates
Luxury Yachts For Sale
Inboard-Outboard Motors
Deck Boats
Boat Accessories
Boat & Boating Safety
Boat Trailers For Sale
If you are sailing, it is wise to take a spare sail, especially on a lengthy cruise in strange waters. Navigation equipment is essential, whether you have a sail boat or a motor boat. You should also check your local boating laws to see if you need to carry any particular safety equipment and accessories on board your boat. Usually, you will need a life jacket for each person on board, and a way of signaling for help both in and out of the water.
Boat accessories and equipment.
Whatever equipment, supplies, and spare parts you need, you should be able to find all you need to make your boating experience wonderful at a marine accessories shop or your local boat retailer.
Boat dealers and other resources for boating gear are listed in the site by state, regions of the state, and then by city within the state.
Boating accessories and boat dealers locally.

Boats & Boating
Boat equipment, supplies and accessories.