Boat Trailers For Sale
Which Boat Trailer Is Right For You?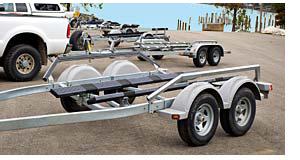 A boat trailer allows you to transport your boat with ease to and from various waterways of your choice. Simply hook the trailer tongue to your vehicle hitch and you are on your way. Boat trailers are commonly constructed of aluminum or galvanized steel. Both are rust resistant; however, to extend the life of your trailer and to prevent decay and or corrosion, be sure to hose off your boat trailer after each use. It's a great idea to perform regular maintenance to wheel bearings, lights, paint, rollers, bunks and general cleaning at least once every three or four trips.
Boat trailers, parts and tires.
Boat trailers, replacement parts, and tires are sold across the US at most boat retailers and various online outlets. If you own a small boat, a boat trailer is the essential accessory to transport your boat to the water.
There are two basic types of boat trailers, which are bunk and roller. Bunk boat trailers have a float on float off configuration, which makes this particular trailer ideal for boaters unloading into deeper waters and is favored by aluminum boat owners. One the other hand, roller boat trailers have a drive on drive off configuration used primarily by boaters loading and unloading in shallow water.
Quick Links
Fishing Boats For Sale
Bass Boats
Ski Boats For Sale
New & Used Jon Boats
New & Used Jet Skis
Canoes
Speed Boats
Inflatable Boats
Sailboats & Sailing
Electric Boats
Map For Lakes & Boating
Boat Shows
Kayaks For Sale
Boat Loans & Rates
Luxury Yachts For Sale
Inboard-Outboard Motors
Deck Boats
Boat Accessories
Boat & Boating Safety
Boat Trailers For Sale
Boat trailers have single, double, or triple axles depending on the size and weight of the boat being hauled. In addition, some boat trailers have breaking systems while others do not depending on the size boat the trailer is designed to haul.
You can select from quite a range of optional features when you purchase a boat trailer, including a toolbox, radial tires, decorative wheels, adjustable keel support rollers, dual light system, and inboard propeller guides.
By law, all boat trailers must have working lights and be registered with your state of residence. Registration fees and laws vary per state, so you should consult your local Department of Motor Vehicles for specifics about your state licensing laws.
Leading boat trailer manufacturers include:
• E-Z Loader Trailers;
• Boat Master;
• Load Master Trailers;
• King Trailers; and
• Tuff Trailers.
Locate boat trailers, boat trailer parts, tires, repair and service at boat dealers across the USA listed by state then by regions within the state and by city.
Boat and boat trailer dealers by state.

Boats & Boating
New and used boat trailer, tires and parts.