Kansas Boats
Boat dealers and boats for sale in KS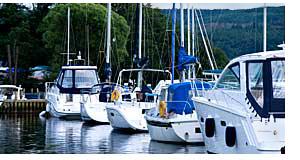 With all the boating opportunities in Kansas, it's no wonder there is so many boat dealers throughout the state offering a wide variety of boats for sale. If you like to sightsee, cruise, fish or water ski, there are dealers with your dream boat for sale. To locate a dealer near you, first select a quadrant of the state. Then find a boat dealer listed by proximity to cities, waterways, campgrounds and attractions in KS.
Locate boats for sale throughout KS
For further information about boat registration in Kansas, contact the Kansas Department of Wildlife and Parks - Boat Licenses located at 512 SE 25th Ave, Pratt, KS 67124. The phone number is 620 672-5911.
New & Used Boats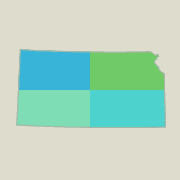 Some of the major cities we have listed for your convenience include Topeka, Wichita, Garden City, Sharon Springs, Syracuse, Lawrence, El Dorado, Olathe, Overland Park, Downs, Dodge City, Elkhart, Russell, Great Bend, WaKeeney, Burlington, Manhattan, Emporia, Hutchinson and Hays.
Kansas boat dealers are familiar with boating requirements in KS. They can easily assist you in selecting the right boat for your intended use, as well as make suggestions for boating safety and ways to keep operating costs to a minimum.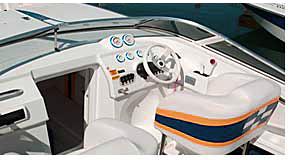 Most of these boat dealers offer new and used boats in many styles and configurations. You can find fishing boats, deck boats, pontoon boats, bow riders and party boats. Some boat dealers may also offer bay and offshore boats for larger bodies of water and coastal use.
Places to boat in Kansas
Once you acquire the ideal boat, we'll help you find places to boat in Kansas. Lakes are listed by quadrant within the state for convenience. The list of major lakes includes Milford Lake, Perry Lake, Kirwin Reservoir, Lovewell Reservoir, Wyandotte County Lake, Cedar Bluff Reservoir, Sportsman Lake, Waconda Lake, Council Grove Lake, Marion Reservoir, Wilson Lake, Atchison Lake, Tuttle Creek Lake, Clark County State Lake, Hillsdale Lake, Pomona Lake, Wolf Creek Reservoir, Clinton Lake, Melvern Lake and Lake Scott.
Rivers too can be a fun place to go boating and are listed by quadrant also. Some of the major rivers we've identified include Cimarron River, Crooked Creek, Beaver Creek, Walnut River, Republican River, Big Blue River, Cottonwood River and Bow Creek.
Find boats for sale in Kansas
Northwest KS Boats For Sale
Northeast KS Boats For Sale
Southwest KS Boats For Sale
Southeast KS Boats For Sale
Boat companies and manufacturers in Kansas
Throughout KS you may find manufacturers of boats, trailers or boat accessories including Cobalt Boats and Legacy Boat Trailers.
Boat types commonly used on KS waters.
If you are looking for a specific type boat, we may have information for you. Some of the boat types we cover include sailboats, pleasure boats, family boats, pontoon boats, cruisers, fishing boats, bass boats, speedboats, inflatables, jon boats, cuddy cabin boats, canoes, car toppers, ski & wake board boats, deck boats, aluminum boats, electric boats, jet skis, personal watercraft and fish-and-ski combos.
We'll help you find the boat, waterways and resources to make owning or renting a boat in Kansas an absolute pleasure.
Boats in Other States