Michigan Boats
Boat dealers and boats for sale in MI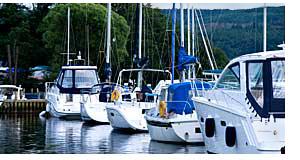 Michigan's extensive waterways and love for outdoor activities have fueled a vibrant boating culture, making it a popular destination for boat enthusiasts. Boats for sale can be found throughout the state, with a wide range of options to cater to different preferences and budgets. Whether it's new or used, there are plenty of opportunities for individuals and families to find their ideal vessel for exploring Michigan's scenic lakes and rivers.
The state is renowned for its major lakes, including the Great Lakes—Lake Michigan, Lake Superior, Lake Huron, and Lake Erie. In addition to the Great Lakes, Michigan boasts numerous inland lakes such as Houghton Lake, Torch Lake, and Burt Lake. These stunning bodies of water offer ample boating opportunities, with picturesque views and a variety of recreational activities to enjoy.
Boat types in Michigan are as diverse as the boating experiences available. Fishing boats are highly popular, designed with features to accommodate the needs of anglers seeking to catch a wide range of fish species, including salmon, trout, walleye, and bass. Family boats, on the other hand, are more spacious and comfortable, perfect for leisurely cruises and family outings on the water.
Pontoon boats are a common sight on Michigan's lakes, cherished for their stability and ability to accommodate larger groups of people. They provide a fantastic platform for enjoying a day on the water with family and friends, engaging in water sports, or simply basking in the sun. Powerboats are another prevalent choice, favored for their speed and adrenaline-pumping rides, ideal for water skiing and other high-speed water activities.
Aluminum boats remain a popular option for their durability and versatility. These rugged vessels are often chosen for fishing and exploring shallow waters, making them well-suited for Michigan's diverse boating environments. For those who prefer to try various boat types without committing to ownership, boat rentals are widely available across the state. Boat rental services offer a convenient way for visitors and locals alike to experience the joys of boating on Michigan's stunning waterways without the long-term commitment. Whether one seeks a fishing adventure, a family outing, or a thrilling ride, Michigan's boat options cater to all and promise unforgettable experiences on the water.
With all the boating opportunities in Michigan, it's no wonder there is so many boat dealers throughout the state offering a wide variety of boats for sale. If you like to sightsee, cruise, fish or water ski, there are dealers with your dream boat for sale. To locate a dealer near you, first select a quadrant of the state. Then find a boat dealer listed by proximity to cities, waterways, campgrounds and attractions in MI.
Locate boats for sale throughout MI
For further information about boat registration in Michigan, contact the Michigan of Department Natural Resources & Environment - Boat Licenses located at 8562 Stoll Rd, East Lansing, Mi 48823. The phone number is 517 335-4828.
New & Used Boats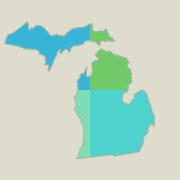 Some of the major cities we have listed for your convenience include Rogers City, Waterford, Kalamazoo, Newberry, Muskegon, Alpena, Lansing, Lewiston, Prudenville, Big Rapids, Battle Creek, Grand Rapids, Marquette, Kentwood, Traverse City, Detroit, Cheboygan, Livonia, Saginaw and Cadillac.
Michigan boat dealers are familiar with boating requirements in MI. They can easily assist you in selecting the right boat for your intended use, as well as make suggestions for boating safety and ways to keep operating costs to a minimum.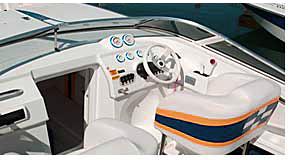 Most of these boat dealers offer new and used boats in many styles and configurations. You can find fishing boats, deck boats, pontoon boats, bow riders and party boats. Some boat dealers may also offer bay and offshore boats for larger bodies of water and coastal use.
Places to boat in Michigan
Once you acquire the ideal boat, we'll help you find places to boat in Michigan. Lakes are listed by quadrant within the state for convenience. The list of major lakes includes Higgins Lake, Houghton Lake, Burt Lake, Crystal Lake, Mullett Lake, Coldwater Lake, Elk Lake, Hamlin Lake, Lake Columbia, Lake St Clair, Torch Lake, Black Lake, Hubbard Lake, Gun Lake, Gull Lake, Walled Lake, Indian Lake, Cass Lake, Orchard Village Lake and Hardy Dam Pond.
Rivers too can be a fun place to go boating and are listed by quadrant also. Some of the major rivers we've identified include Grand River, Joseph River, Ford River, Raisin River, Tittabawassee River, Au Sable River, Cass River and Manistee River.
Find boats for sale in Michigan
Northwest MI Boats For Sale
Northeast MI Boats For Sale
Southwest MI Boats For Sale
Southeast MI Boats For Sale
Boat companies and manufacturers in Michigan
Throughout MI you may find manufacturers of boats, trailers or boat accessories including Four Winns and Lowe Boats.
Boat types commonly used on MI waters.
If you are looking for a specific type boat, we may have information for you. Some of the boat types we cover include sailboats, pleasure boats, family boats, pontoon boats, cruisers, fishing boats, bass boats, speedboats, inflatables, jon boats, cuddy cabin boats, canoes, car toppers, ski & wake board boats, deck boats, aluminum boats, electric boats, jet skis, personal watercraft and fish-and-ski combos.
We'll help you find the boat, waterways and resources to make owning or renting a boat in Michigan an absolute pleasure.
Boats in Other States