Southwest Michigan New & Used Boats
Choice boats for sale in southwest Michigan at local boat dealers and outdoor centers offering a wide variety of boat types. Listed by proximity to major cities and waterways, you can find new and used boats for sale in your section of the state. Find boat dealers and other resources offering pontoon boats, fishing boats, family boats, yachts, sailboats, aluminum boats and others in southern and western Michigan.
Boats for sale in southwest MI
Listed below find boat dealers and other resources offering boats for sale. Each dealer represents one or more boat manufacturers. In addition to new boats, most carry a variety of used boats for sale. Resources are listed within or near cities like Muskegon, Kentwood, Kalamazoo, Grand Rapids and Battle Creek. Contact them to see if they have the right boat for you.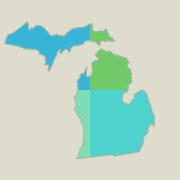 Southwest Resources
Locate boat dealers and other boat sales locations by region, then within or nearby cities in western and southern Michigan.
Battle Creek
Bedford Boat & Bait Shop
22557 Bedford Road North
Battle Creek, MI 49017
269 721-3777
Grand Rapids
Boater's World
4265 28th Street Southeast
Grand Rapids, MI 49512
616 285-7116
HI Performacne Boats Inc
11220 3rd Avenue Northwest
Grand Rapids, MI 49544
616 453-6383
Kalamazoo
Cooper Boat Repair LLC
8135 Douglas Ave
Kalamazoo, MI 49009
269 382-2525
Kentwood
Muskegon
Nauticraft
5980 Grand Haven Rd
Muskegon, MI 49441
231 798-8440
Sail Management Sobstad North Sails
1508 Bayview Drive
Muskegon, MI 49441
231 798-4044
Bluffton Bay Sails
2969 Lakeshore Drive
Muskegon, MI 49441
231 759-2532
Mart Dock
560 Mart Street
Muskegon, MI 49440
231 722-6932
Boston Motors Sales & Service
4482 Airline Road
Muskegon, MI 49444
231 733-9600
Lighthouse Boat & RV Inc
1204 West Western Avenue
Muskegon, MI 49441
231 722-2200
Coldwater Lake
Gun Lake
Gull Lake
Hardy Dam Pond
Indian Lake
Grand River
Joseph River
Bass River Recreation Area
Ionia Resreation Area
Muskegon State Park
Southwest MI boat dealers
If you are looking for a specific type boat for sale, chances are one of these dealers can help. Boats offered include sailboats, pleasure boats, yachts, pontoons, cruisers, cuddy cabin boats, canoes, car toppers, fishing boats, inflatables, jon boats, ski boats, deck boats, aluminum boats, electric boats, jet skis, yachts, luxury watercraft and others.
Boating in southwest Michigan
Click here to acquire a Boat License in Michigan.
New and used boats are offered for sale throughout the state. Whether you want to go deep sea fishing, want to catch bass and crappie, want to speed down the river water skiing, or prefer a family outing on a pontoon boat, there is nothing quite like the feeling of freedom that owning a boat delivers.
Storing Your Boat
If you are looking for boat storage in Southwest Michigan, you may want to contact marinas on the lake where you prefer to go boating. Marinas including Deep Harbor Marina, Keenan Marina and Thompson Marina either offer boat storage or can refer you to a resource for storing your boat.
Lending institutions offering loans in your area can help you handle boat financing issues. They can quote rates and terms for boat loans in Michigan. You might find ways to save by requesting quotes from several loan providers. Often the boat dealer, where you purchase your boat, will offer financing options.
Find boat sales in other states.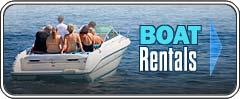 MI boat sales
Northwest Michigan Boat Sales
Northeast Michigan Boat Sales
Southwest Michigan Boat Sales
Southeast Michigan Boat Sales
MI Boats & Boating