Inboard and outboard motors for boats
Motoring Along: Inboard & Outboard Motor Manufacturers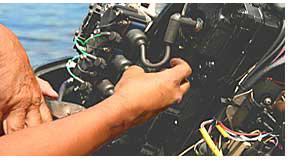 All motorized boats have either an inboard or outboard motor. Inboard refers to a motor that is completely encased within the body of the boat with only the propeller sticking out in the water and an outboard motor is mounted at the rear of the boat on the transom completely on the outside of the boat.
Choosing an engine to power your boat.
Whether you opt for an Evinrude, a Mercury, a Mercrusiser, a Yamaha, or a Volvo Penta, your motor will power your boat and give you many hours of boating pleasure. Following manufacturers recommendations for servoce and maintenance will extend the life of the motor.
There are many top of the line boat motor manufacturers for both inboard and outboard motors, several of which are for sale in used or new condition at your local boat retailer or other boating outlet.
Quick Links
Fishing Boats For Sale
Bass Boats
Ski Boats For Sale
New & Used Jon Boats
New & Used Jet Skis
Canoes
Speed Boats
Inflatable Boats
Sailboats & Sailing
Electric Boats
Map For Lakes & Boating
Boat Shows
Kayaks For Sale
Boat Loans & Rates
Luxury Yachts For Sale
Inboard-Outboard Motors
Deck Boats
Boat Accessories
Boat & Boating Safety
Boat Trailers For Sale
When choosing a boat motor, you should keep in mind your intended use for the boat, which will give you a good idea of how much horsepower and other specifications you will need. Carefully check the specifications of each boat motor model across several manufacturers to get a good idea of what each one has to offer and which would be the best fit for your specific needs. The type of boat motor you choose will determine several boating variables such as speed, weight capacity, power, performance, durability, and reliability, so it pays to shop around and choose the best.
Popular outboard boat motors include Evinrude, Johnson, Mercury, Mariner, Force, and Yamaha models. The top inboard boat motor manufacturers include Mercruiser, Crusader, Volvo Penta, Chrysler, Detroit Diesel, and Perkins.
If you are not sure what type of boat motor would best suit your needs, ask the advice of a marine specialist available where boats are sold. You do need to consider hull weight and the purpose of your boat to decide on how much horsepower you need. A lighter weight boat takes a smaller motor to run at the same speed as a heavier boat. Careful maintenance of your inboard or outboard motor, with regular servicing will prolong the life of your marine motor.
Choose a state to begin your search for inboard or outboard boat motors at boat dealers offering motors, parts, service, supplies and boat motor repair.
Marine dealers offering boat motors.

Boats & Boating
Outboard motors and inboard engines.