Ohio Boat Repair
Boat service, maintenance and repair in OH.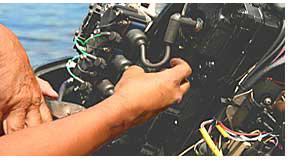 Select the ideal boat repair service to care for your dream boat. Many qualified boat repair specialists are located throughout Ohio. We list OH boat repair centers by their proximity to major cities including Findlay, Toledo, Akron, Cleveland, Parma, Columbus, Hamilton, Athens, Lancaster, Zanesville, Defiance, Lima, Van Wert, Canton, Mansfield, Cincinnati, Dayton, Springfield, Glouster and Nelsonville.
Marinas in Ohio
Marinas often provide boat repair services as well as boat storage and boat launching. These services often vary with the season so it is important to contact marinas directly to define the level of boat repair services offered. Some of the major marinas in Ohio include Anchors Away Marina, Brand's Marina, Charles Mill Marina, Harbor North Marina, Buck Creek State Park Marina, East Shore Marina, Buckeye Lake Marina and Burr Oak Dock 1 Marina.
OH boat repair map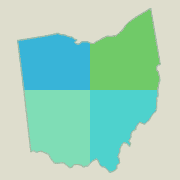 Ohio Resources
Toledo
Sew Your Boat
5226 N Summit St
Toledo, OH 43611
419 726-8626
All-Auto-Boat Repair
4629 N Summit St
Toledo, OH 43611
419 726-1970
Robbie's Rags & Custom Upholstery
1027 Griffin Street
Toledo, OH 43609
419 244-6109
Andy's Upholstery
1737 West Sylvania Avenue
Toledo, OH 43613
419 472-3111
Erie Propeller Service
5322 North Summit Street
Toledo, OH 43611
419 729-9501
Counterman Marine Sales & Service
6161 North Summit Street
Toledo, OH 43611
419 726-4600
Akron
Boat Masters Marine Inc
5290 Manchester Rd
Akron, OH 44319
330 882-4568
Chucks Mobile Boat Cover Services
169 Polonia Ave
Akron, OH 44319
330 644-3229
Rose Upholstery
1254 Brittain Road
Akron, OH 44310
330 923-5929
D & J Upholstery
3577 South Arlington Road
Akron, OH 44312
330 896-4469
J & W Upholstery
667 East Turkeyfoot Lake Road
Akron, OH 44319
330 896-4464
Doug's Upholstery
300 5th Street Southeast
Akron, OH 44301
330 745-2127
Canton
Starboard Marine Repair
6350 Promler St Nw
North Canton, OH 44720
330 497-3300
Jeffrys Marine Service
2746 Perry Dr Nw
Canton, OH 44708
330 478-1473
Jeffry's Marine Service
3920 12th Street Northwest
Canton, OH 44708
330 478-1473
Industrial Tarpaulin Sales & Service
2509 Krisko Cr Southwest
Canton, OH 44706
330 453-3711
Cleveland
North Point Fiberglass
1785 Merwin Ave
Cleveland, OH 44113
216 696-8141
Grever Mower Marine Sales Service Inc
2030 Broadview Rd
Cleveland, OH 44109
216 741-5141
Riverfront Yacht Service
1890 Carter Road
Cleveland, OH 44113
216 861-7393
Cleveland Propeller & Marine Services Inc
5700 Denison Avenue
Cleveland, OH 44102
216 961-5858
Boat US Marine Center
1577 Saint Clair Avenue Northeast
Cleveland, OH 44114
216 781-6110
Mansfield
Ohio Machine & Repair
1275 Park Avenue West
Mansfield, OH 44906
419 522-3080
Doan Upholstery
2953 Park Avenue West
Mansfield, OH 44906
419 529-2227
Cincinnati
Dry Dock Boat Services
5189 Duff Dr
Cincinnati, OH 45246
513 860-9111
Fiberglass Custom Repair Center
128 Wilmer Avenue
Cincinnati, OH 45226
513 321-8809
Documentation Consltnt Services
7990 Eagle Creek Road
Cincinnati, OH 45247
513 741-4537
Technautic Marine Service
7405 Forbes Road
Cincinnati, OH 45233
513 467-9900
Neptune Marine Surveys & Services Inc
6603 Gracely Drive
Cincinnati, OH 45233
513 941-4700
John's Marine Service
9325 Pippin Road
Cincinnati, OH 45231
513 931-2628
Columbus
Columbus Marine Repair LLC
3658 Brandon St
Columbus, OH 43224
614 475-0220
Boat Top Shop
1010 E Starr Ave
Columbus, OH 43201
614 294-4443
Buckeye Unlimited LLC Auto Furniture Upholstery
5424 Byers Circle West
Columbus, OH 43229
614 846-5811
Skip's Service Center
2338 Scioto Harper Drive
Columbus, OH 43204
614 274-3364
S & H Boat City Marina
1225 Frank Road
Columbus, OH 43223
614 351-2058
Dayton
Perfect Touch Upholstery
450 Patterson Road
Dayton, OH 45419
937 293-8303
Sure Stop Brake Muffler Chasie Services
3924 Salem Avenue
Dayton, OH 45406
937 278-8008
Springfield
The Boat House
1919 Croft Rd
Springfield, OH 45503
937 325-1755
Lancaster
Eastside Storage Service Center LLC
1540 E Main St
Lancaster, OH 43130
740 687-6109
Zanesville
Jim's Auto Top & Upholstery
910 West Main Street
Zanesville, OH 43701
740 453-6609
While some repair centers specialize in specific types of boats or motors, most can offer basic services on virtually all types of boats. If you have complex repair or diagnostic requirements, you may need to locate a dealer offering those specific services. Some of these centers specialize only in the brand of boats and motors they offer for sale, while other facilities may offer maintenance and service to a wide variety of popular boat and motor brands. Repair to hulls, trailers and boat interiors are often offered by service providers which are not brand specific.
Cities are listed in the boat dealer and fishing boat dealer listings, by region of the state for your convenience.
Boat repair services in Ohio are performed by a wide range of specialists. Hull and structure repairs are handled by experts in fiberglass, aluminum and other boat materials.
OH Boat Repair
Boat motor repair, service and maintenance is provided by trained mechanical technicians, many of whom are certified by boat motor manufacturers. Some specialize in inboard motors and outdrives while others specialize in outboard motors. Others offer repair services for both.
Repair services for all types of boats.
Ohio boat repair services are offered for sailboats, pleasure boats, family boats, yachts, pontoon boats, fishing boats, bass boats, speedboats, inflatables, jon boats, cruisers, cuddy cabin boats, canoes, car toppers, ski & wake board boats, deck boats, aluminum boats, electric boats, jet skis, personal watercraft and fish-and-ski combos. Contact local repair centers regarding specific repair services you may require.
Boat repair in other states.