Alabama Boating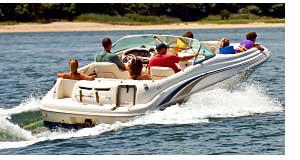 Alabama's boating scene is enriched by its numerous lakes, offering a wide array of water bodies for boaters to explore and enjoy. Some of the prominent lakes in the state include Lake Guntersville, Wheeler Lake, and Smith Lake. These lakes provide boaters with ample opportunities for various water activities, from fishing to water skiing and leisurely cruises.
Boat types popularly seen on Alabama's lakes cater to the diverse interests of boaters. Fishing boats, such as bass boats and jon boats, are prevalent among anglers looking to catch the abundant fish species found in the state's lakes and rivers. Their maneuverability and specialized features make them ideal for navigating through fishing hotspots.
For leisurely outings, pontoons boats are a favorite choice, offering spacious decks for family gatherings and picnics on the water. Pontoons are perfect for socializing and enjoying the scenic beauty of Alabama's lakes while relaxing in comfort.
Ski boats and wakeboard boats are beloved by those seeking thrilling water sports adventures. These boats are designed to tow water skiers and wakeboarders, providing an adrenaline-filled experience for water sports enthusiasts.
Alabama's boat rental services are abundant, offering a convenient and flexible way to enjoy boating. Rental options vary from hourly to daily rentals, making it easy for boaters to choose a vessel that suits their preferences and schedule.
With its picturesque lakes, diverse boat types, and accessible rental services, boating in Alabama is an activity that brings joy and adventure to both residents and visitors alike. Whether it's fishing in the tranquil waters, cruising along the scenic shores, or partaking in water sports excitement, Alabama's boating experiences offer a captivating way to connect with nature and create cherished memories on the water.
Plenty of fun places to go boating in Alabama. Whether it's a family outing or just the guys going fishing or skiing, boating is fun for all. And there is boating in all corners of of the state.
Boating in AL
Alabama is a boating paradise, get out in the great outdoors and enjoy it every chance you get. For further information about boating in Alabama, contact the Alabama Department of Public Safety - Boating Licenses located at 301 South Ripley Street, Montgomery, AL 36104. The phone number is 334 242-4371.
This website focuses on all aspects of boating including new and used boats for sale, boat rentals, repairs, accessories, storage and more.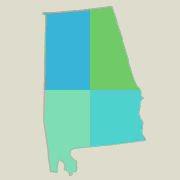 For convenience, resources are listed first by area of the Alabama, then by proximity to cities, waterways, parks, campgrounds and other relative attractions in AL. Cities listed in this section include Athens, Burmingham, Cherokee, Decatur, Northport, Cedar Bluff, Gadsden, Guntersville, Huntsville, Woodville, Camden, Grand Bay, Mobile, Selma, Thomasville, Auburn, Dothan, Greenville, Montgomery and Ozark.
Resources are also identified nearby campgrounds including Bear Creek Lakes, Cherokee RV Park, Wheeler Lake Campgrounds, Ditto Landing, Monte Sano State Park, Swearengins Peak Campground, Chickasawbogue Park, Paul Grist State Park, Roland Cooper State Park, Bluff Creek Park Campground, Pecan Point RV Park and Sherling Lake Park.
Rivers & Lakes For Boating in AL
Alabama lakes with boating opportunities are listed within quadrants of Alabama include Bear Creek Reservoir, Cedar Reservoir, Pickwick Lake, Wheeler Lake, Wilson Lake, Guntersville Lake, Lake Neely Henry, Lake Wedowee, Lake Weiss, Wilson Lake, Aliceville Lake, Bear Bay, Bill Dannelly Reservoir, Coffeeville Lake, Lake Eufaula, Lake Harding, Lake Martin, Lay Lake, Sehoy Lake and Walter F. George Reservoir. Many of these lakes offer multiple boat launching facilities at various locations around the lake.
Alabama also affords some boating or canoeing on rivers like Black Warrior River, Tennessee River, Coosa River, Tallapoosa River, Alabama River, Escatawpa River, Chattahoochee River and Choctawhatchee River.
AL Boats, Services, Equipment & Gear.
Northwest Resources
Athens
D D Marine
23101 Us Highway 72
Athens, AL 35613
256 232-9936
Tidwell Marine
8390 Us Highway 72
Athens, AL 35611
256 729-1970
Boat House
901 S Jefferson St
Athens, AL 35611
256 232-4428
Bay Hill Marine Sales
6049 Bay Village Drive
Athens, AL 35611
256 729-4243
The Boat House
901 North Jefferson Street
Athens, AL 35611
256 232-4428
Decatur
Extreme Marine
3755 Us Highway 31 S
Decatur, AL 35603
256 351-1440
Dry Creek Marine
2412 Beltline Rd Sw
Decatur, AL 35601
256 351-2628
Priceville Marine Center
Highway 67
Decatur, AL 35603
256 350-6844
Allsport Yamaha Sea-Doo Polaris
2602 Beltline Road Southwest
Decatur, AL 35601
256 355-9706
Anderson Boats
6th Avenue
Decatur, AL 35601
256 355-9012
Northport
North River Marine Inc
600 64th Ave
Northport, AL 35476
205 339-9190
L & L Marine Inc
5401 McFarland Boulevard
Northport, AL 35476
205 333-1605
Northeast Resources
Cedar Bluff
H & H Marine
2190 Al Highway 68 East
Cedar Bluff, AL 35959
256 779-6628
Gadsden
Brewers Marine Starters
1760 Val Green Way
Gadsden, AL 35907
256 442-7320
Billy's Boat Repair
6401 Highway 77
Gadsden, AL 35907
256 442-9849
Guntersville
Strickland Marine
5000 Launch St
Guntersville, AL 35976
256 582-1023
Jerrys Boat Repair
5300 Al Highway 79 S
Guntersville, AL 35976
256 505-6929
Lake City Boat Jet Ski Repair
5316 Al Highway 79 S
Guntersville, AL 35976
256 582-3177
Guntersville Boat Mart Inc
3374 Al Highway 69
Guntersville, AL 35976
256 582-2038
D & N Marine Service & Supply
3619 Al Highway 69
Guntersville, AL 35976
256 571-9399
Huntsville
All Pro Marine
2316 Memorial Pkwy Nw
Huntsville, AL 35810
256 535-6556
T H Marine Supplies Inc
200 Finney Dr Sw
Huntsville, AL 35824
256 772-2439
Johns Marine Repair And Supply
1188 Old Gurley Rd Ne
Huntsville, AL 35811
256 852-9400
New Wave Marine Inc
11519 Memorial Parkway Southwest
Huntsville, AL 35803
256 882-9004
Wright Marine
11319 Memorial Parkway Southwest
Huntsville, AL 35803
256 883-1616
Erwin Marine Sales of Huntsville
10005 Memorial Parkway Southwest
Huntsville, AL 35803
256 880-1111
Southeast Resources
Dothan
B And G Marine
2204 S Oates St
Dothan, AL 36301
334 677-6633
Williams Boat Repair
2153 Johnny Murphy Rd
Dothan, AL 36301
334 677-5003
Williams Boat Country
7860 Eddins Rd
Dothan, AL 36301
334 677-3295
Boyd's Marine Inc
2481 Reeves Street
Dothan, AL 36301
334 794-2598
Dothan Powersports
2003 Ross Clark Circle
Dothan, AL 36301
334 793-7834
Williams Boat Country
7702 County Road 203
Dothan, AL 36301
334 677-3295
Montgomery
West Marine Inc
2423 Eastern Blvd
Montgomery, AL 36117
334 274-9013
Genes Marine Of Montgomery
3521 Wetumpka Hwy
Montgomery, AL 36110
334 277-5500
Adams Motorsports
528 North Eastern Boulevard
Montgomery, AL 36117
334 271-5500
The Ski Club Inc
815 Lagoon Commercial Boulevard
Montgomery, AL 36117
334 270-2700
Montgomery Marine
3180 Wetumpka Highway
Montgomery, AL 36110
334 272-0745
Dane's Boat Repair
558 Oliver Road
Montgomery, AL 36117
334 272-6625
Southwest Resources
Mobile
D D Marine Inc
4024 Dauphin Island Pkwy
Mobile, AL 36605
251 476-8916
Grady Marine
3025 Government Blvd
Mobile, AL 36606
251 478-8468
Georges Water Sports
1301 Montlimar Dr
Mobile, AL 36609
251 344-6666
West Marine Inc
3747 Government Blvd, Ste A1
Mobile, AL 36693
251 661-6244
Negus Marine Inc
3957 Demetropolis Rd
Mobile, AL 36693
251 666-5890
Hall's Motorsports
1520 West I65 Service Road South
Mobile, AL 36693
251 666-7000
Selma
Brech Marine And Supply
3049 Us Highway 80 E
Selma, AL 36701
334 875-3484
Taylors Marine Repair
122 County Road 46
Selma, AL 36701
334 874-7473
Thomasville
Mcnider Marine LLC
30160 Highway 43, Ste 1
Thomasville, AL 36784
334 636-0580
Throughout Alabama you can find boat dealers, outdoor centers, sporting good stores, bait and tackle stores, RV centers and discount stores offering a wide variety of boating equipment, accessories and supplies.
Go boating in Alabama
Gather up the family along with some snacks and refreshing beverages and go enjoy the thrill of fresh air in your face and the sun on your back. When boating you can see parts of Alabama accessible only by water. Often you'll see birds and wildlife not normally seen in city areas. Plus, sunrises and sunsets always seem more majestic when you are in the great outdoors.
Boating opportunities in other states.