Enjoy Great Boating on Lakes in Indiana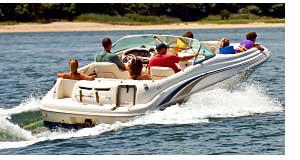 Plenty of fun places to go boating in Indiana. Whether it's a family outing or just the guys going fishing or skiing, boating is fun for all. And there is boating in all corners of of the state. Where ever you live in the state, chances there are plenty of opportunities to go boating nearby.
Boating in IN
Indiana is a boating paradise, get out in the great outdoors and enjoy it every chance you get. For further information about boating in Indiana, contact the Indiana Bureau of Motor Vehicles - Boating Licenses located at 100 N. Senate Ave, Indianapolis, IN 46204. The phone number is 317 233-6000 .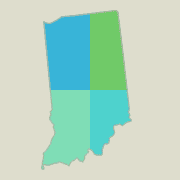 This website focuses on all aspects of boating including new and used boats for sale, boat rentals, insurance, financing, repairs, accessories, storage and more.
For convenience, resources are listed first by area of the Indiana, then by proximity to cities, waterways, parks, campgrounds and other relative attractions in IN. Cities listed in this section include Carmel, Gary, Kokomo, Lafayette, South Bend, Anderson, Decatur, Elkhart, Fort Wayne, Muncie, Bloomington, Evansville, Indianapolis, Paoli, Terre Haute, Brookville, Clarksville, Columbus, Madison and Richmond.
Resources are also identified nearby campgrounds including Indiana Dunes State Park, Tippecanoe River State Park, Turkey Run State Park, Chain O'Lakes State Park, Mounds State Park, Summit Lake State Park, Harmonie State Park, Lincoln State Park, Shakamak State Park, Charlestown State Park, Whitewater State Park and Versailles State Park.
Rivers & Lakes For Boating in IN
Indiana lakes with boating opportunities are listed within quadrants of Indiana include Eagle Creek Reservoir, Lake Freeman, Lake Maxinkuckee, Lake Michigan, Peoria Lake, James Lake, Lake Wawasee, Mississinewa Reservoir, Morse Reservoir, Salamonie Lake, Cagles Mill Lake, Dogwood Lake, Monroe Lake, Patoka Lake, Turtle Creek Reservoir, Bischoff Reservoir, Brookville Lake, Cecil M Harden Lake, Sangchris Lake and Taylorville Lake. Many of these lakes offer multiple boat launching facilities at various locations around the lake.
Indiana also affords some boating or canoeing on rivers like Kankakee River, Sugar Creek, Eel River, Tippecanoe River, Walnut Creek, White River, Big Blue River and Flat Rock River.
IN boating equipment and gear.
Throughout Indiana you can find boat dealers, outdoor centers, sporting good stores, bait and tackle stores, RV centers and discount stores offering a wide variety of boating equipment, accessories and supplies.
Northeast Resources
Anderson
Aqua Marine Of Anderson Inc
1115 Alexandria Pike
Anderson, IN 46012
765 643-9944
Killbuck Valley Sports
3779 North State Road 9
Anderson, IN 46012
765 649-2833
Elkhart
Godfrey Marine Inc
4310 Middlebury St
Elkhart, IN 46516
574 522-8381
E Z Loader Boat Trailer Inc Midwest DIV
125 West Belvedere Road
Elkhart, IN 46514
574 266-0092
Fort Wayne
Sportland Marine
722 Dunn Street
Fort Wayne, IN 46808
260 482-8213
Buell Performance Jet Ski
4825 Jean Drive
Fort Wayne, IN 46825
260 483-2733
Root's Camp'n Ski Haus
6844 N Clinton
Fort Wayne, IN 46825
260 484-2604
Ehlerding Kawasaki Jet Ski Watercraft
5525 USHighway 30 East
Fort Wayne, IN 46803
260 749-9686
Muncie
Fun Country Marine Industries
9801 S Grant St
Muncie, IN 47302
765 287-8614
Northwest Resources
Carmel
Butler Motorsports
925 North Rangeline Road
Carmel, IN 46032
317 575-2126
John Kirk Boats
12345 Old Meridian Street
Carmel, IN 46032
317 844-5475
Kokomo
Kokomo Marine
2000 N Philips St
Kokomo, IN 46901
765 457-2202
Bullseye Marine Inc
127 Creekside Drive
Kokomo, IN 46901
765 868-7210
Lafayette
Raisor Power Sports LLC
3960 State Road 38 E
Lafayette, IN 47905
765 446-2223
Southeast Resources
Brookville
Jerrys Marine Service
14045 Klein Rd
Brookville, IN 47012
765 647-5966
Whitewater River Canoe Rental
Po Box 2
Brookville, IN 47012
765 647-5434
Brookville Area Canoeing Morgans
7040 Whitewater River Ln
Brookville, IN 47012
765 647-4904
Parkside Marine & More Inc
7191 Fox Run Rd
Brookville, IN 47012
765 647-4619
Garr Hill Bait Storage & Marine
8035 Pea Ridge Rd
Brookville, IN 47012
765 647-3178
Columbus
Sports Center
1145 Lanesend Dr
Columbus, IN 47203
812 372-0671
Madison
The Boat Works
335 Clifty Dr
Madison, IN 47250
812 273-5566
Richmond
Richmond Marine Outlet
1229 South 8th Place
Richmond, IN 47374
765 962-6487
Mcnew's Boat Repair
1101 South O Street
Richmond, IN 47374
765 935-1800
Southwest Resources
Bloomington
Outback Marine
4845 S State Road 446
Bloomington, IN 47401
812 837-9128
Marine Center Of Indiana Inc
2235 E Pointe Rd
Bloomington, IN 47401
812 824-8078
Pine Grove Marine Repair
8282 E Fleener Rd
Bloomington, IN 47408
812 339-0860
Bloomington Marine & Auto Trim
555 West That Road
Bloomington, IN 47403
812 824-9393
Marine Center of Indiana Inc
1879 East Smithville Road
Bloomington, IN 47401
812 824-8078
Fairfax Marine Sales & Service Inc
8313 South Fairfax Road
Bloomington, IN 47401
812 824-2266
Evansville
Lynns West Side Marine Inc
4360 Upper Mount Vernon Rd
Evansville, IN 47712
812 491-9876
Charlies Marine
3105 N Saint Joseph Ave
Evansville, IN 47720
812 423-9821
Eastside Marine
2305 S Weinbach Ave
Evansville, IN 47714
812 477-6177
Lloyds Inland Marine
1901 Waterworks Rd
Evansville, IN 47713
812 424-5785
Charlie's Marine
3105 North Saint Joseph Avenue
Evansville, IN 47720
812 423-9821
Sib's Marineland
1730 West Franklin Street
Evansville, IN 47712
812 425-8340
Indianapolis
Indy Marine Auto Body
5151 E 65th St
Indianapolis, IN 46220
317 205-9540
Hughey Automotive Marine
5337 Winthrop Ave
Indianapolis, IN 46220
317 507-7559
United States Marine Recruiting
9928 E Washington St
Indianapolis, IN 46229
317 895-5748
Marine Center Of Indiana Inc
5701 Elmwood Ave, Ste A
Indianapolis, IN 46203
317 781-5535
Indy Cycle And Ski
5025 N Post Rd
Indianapolis, IN 46226
317 899-1600
Marine Tech
4228 Hull St
Indianapolis, IN 46226
317 542-1068
Terre Haute
Jims Marine Inc
3014 N 25th St
Terre Haute, IN 47804
812 466-3000
Poff's Sporting Goods
5021 South USHighway 41
Terre Haute, IN 47802
812 299-4222
Go boating in Indiana
Gather up the family along with some snacks and refreshing beverages and go enjoy the thrill of fresh air in your face and the sun on your back. When boating you can see parts of Indiana accessible only by water. Often you'll see birds and wildlife not normally seen in city areas. Plus, sunrises and sunsets always seem more majestic when you are in the great outdoors.
Boating opportunities in other states.