Kentucky Boating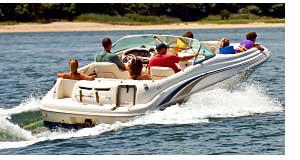 Kentucky, also known as the "Bluegrass State," offers a vibrant boating culture with an array of popular boating lakes that attract enthusiasts from all over. Kentucky Lake and Lake Cumberland are two of the most renowned boating destinations in the state. These expansive lakes provide ample space for boaters to indulge in various water activities, such as fishing, water skiing, tubing, and leisurely cruises.
Among the most favored boat types in Kentucky are pontoon boats, cherished for their versatility and comfort. With their spacious decks and ample seating, pontoon boats are perfect for accommodating family and friends, making them a popular choice for social outings on the water. Whether it's a relaxing day of sunbathing or hosting a picnic on the lake, pontoon boats offer an enjoyable and memorable boating experience.
Families in Kentucky often opt for family boats, designed to cater to the needs of all ages. These boats provide a balance of comfort and performance, making them ideal for a wide range of activities, from fishing and water sports to casual cruises. Families can create lasting memories on these boats, bonding over shared experiences on the water.
In addition to pontoon boats and family boats, Kentucky's boating industry offers various other boat types to cater to different preferences and interests. From sleek powerboats built for speed and exhilaration to fishing boats equipped with specialized features for angling enthusiasts, there's a boat for every boater in Kentucky.
For those who wish to experience boating without the commitment of owning a watercraft, rental boats are a popular choice. Many marinas and boat rental services across the state provide access to rental boats, allowing visitors and residents to enjoy boating without the responsibilities of ownership. Renting a boat provides the opportunity to explore different types of watercraft and discover which suits one's preferences best.
Boating in Kentucky is a beloved pastime for both locals and visitors alike. With its stunning boating lakes, diverse selection of boats, and the option of rental boats, Kentucky offers a fantastic boating experience for everyone. From tranquil cruises on pontoon boats to thrilling water sports on powerboats, Kentucky's boating culture has something for every water enthusiast to enjoy.
Locate plenty of fun places to go boating in Kentucky. Whether it's a family outing or just the guys going fishing or skiing, boating is fun for all. And there is boating in all corners of of the state. Kentucky is a boating paradise, get out in the great outdoors and enjoy it every chance you get.
Boating in KY
For further information about boating in Kentucky, contact the Kentucky Department of Fish and Wildlife Resources - Boating Licenses located at 1 Sportsman's Lane, Frankfort, KY 40601. The phone number is 800 858-1549.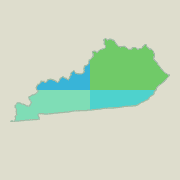 Kentucky Resources
Louisville
B And J Marine Inc
5910 Poplar Level Rd
Louisville, KY 40228
502 969-8511
Just Add Water Marine
13003 Dixie Hwy
Louisville, KY 40272
502 937-4291
Marine Tech
2035 River Rd
Louisville, KY 40206
502 893-4044
R And W Marine
5500 Fern Valley Rd
Louisville, KY 40228
502 964-3111
Barts Marine Services LLC
5506 Camp Ground Rd
Louisville, KY 40216
502 447-7100
Professional Marine Service Inc
4801 Poplar Level Rd
Louisville, KY 40213
502 966-0046
Madisonville
Potts Marine And Storage
125 Hickory Dr
Madisonville, KY 42431
270 821-7848
Owensboro
Boatman Marine
3900 W Parrish Ave
Owensboro, KY 42301
270 683-0161
Lexington
Marine Solutions Inc
250 Gold Rush Rd, Ste 4
Lexington, KY 40503
859 260-1055
Lexington Boats LLC
3157 Chatham Dr
Lexington, KY 40503
859 626-7955
Morehead
Lakeside Marine
134 Ky Highway 801 S
Morehead, KY 40351
606 783-1472
Bowling Green
Bowling Green Marine Inc
5249 Louisville Rd
Bowling Green, KY 42101
270 781-6145
Southern Kentucky Marine
935 Lovers Lane
Bowling Green, KY 42103
270 842-9729
Eddyville
Hoopers Marine Repair
509 Sycamore Ave
Eddyville, KY 42038
270 388-2628
Wells Brothers Boat Motor Repair
100 Cecil Rd
Eddyville, KY 42038
270 388-7388
A and Ds Boat RV And Mini Storage
31 Business Row Rd
Eddyville, KY 42038
270 388-0953
Wells Brothers Boat Motor Repair
Friendship Church Road
Eddyville, KY 42038
270 388-7388
Murray
Lee Marine
3311 State Route 94 E
Murray, KY 42071
270 753-4406
Darnell Marine Inc
5530 State Route 94 E
Murray, KY 42071
270 753-3734
Ryan Marine
3311 State Route 94 E
Murray, KY 42071
270 753-2488
J J Marine
4450 Pottertown Rd
Murray, KY 42071
270 436-2088
Corbin
Nu Legend Boat Co
6633 S Us Highway 25
Corbin, KY 40701
606 523-2593
Farris Marine
8275 Ky 1232
Corbin, KY 40701
606 528-5497
South East Marine Inc
USHighway 25 East
Corbin, KY 40701
606 528-2628
Off-Road Powersport Center
601 19th Street
Corbin, KY 40701
606 528-9340
Monticello
T A C K Marine
703 Old Bethel Rd
Monticello, KY 42633
606 348-5825
Sunstar Houseboats Inc
East Highway 90
Monticello, KY 42633
606 348-6648
Somerset
Lake Cumberland Marine
105 Collins Ave
Somerset, KY 42503
606 677-0939
Lookout Marine Sales
6590 S Highway 27
Somerset, KY 42501
606 561-5904
Store A Boat Inc
36 Fairlawn Ave
Somerset, KY 42503
606 561-6540
Reflections Houseboats LLC
1342 Old Mount Vernon Rd
Somerset, KY 42503
606 274-1039
Somerset Motorsports Inc
5025 South Highway 27
Somerset, KY 42501
606 679-7484
Somerset Houseboats
200 Sumerset Boulevard
Somerset, KY 42501
606 679-9393
This website focuses on all aspects of boating including new and used boats for sale, boat rentals, repairs, accessories, storage and more.
For convenience, resources are listed first by area of the Kentucky, then by proximity to cities, waterways, parks, campgrounds and other relative attractions in KY. Cities listed in this section include Henderson, Louisville, Madisonville, Owensboro, Sturgis, Berea, Burlington, Fayette, Lexington, Morehead, Bowling Green, Eddyville, Mayfield, Murray, Princeton, Corbin, Manchester, Middlesborough, Monticello and Somerset.
Resources are also identified nearby campgrounds including Diamond Lake Campground, Rough River Dam State Park, Taylorsville Lake State Park, Grayson Lake State Park, Jenny Wiley State Resort Park, Kincaid Lake State Park, Kenlake State Park, Lake Malone State Park, Land Between Lakes Camping, Cumberland Point Campground, General Burnside Island State Park and Mountain View Recreational Park.
Rivers & Lakes For Boating in KY
Kentucky lakes with boating opportunities are listed within quadrants of Kentucky include Cap Mauzy Lake, Long Pond, Rough River Lake, State Lake, Taylorsville Lake, Cave Run Lake, Herrington Lake, Rough River Lake, Taylorville Lake, Yatesville Lake, Green River Lake, Kentucky Lake, Lake Barkley, Lake Malone, Nolin River Lake, Barren River Lake, Dale Hollow Lake, Giant Canada Goose Pond, Lake Cumberland and Laurel River Lake. Many of these lakes offer multiple boat launching facilities at various locations around the lake.
Kentucky also affords some boating or canoeing on rivers like Rolling River, Rough River, Licking River, Salt River, Pond River, Tradewater River, Cumberland River and Kentucky River.
KY boating equipment and gear.
Throughout Kentucky you can find boat dealers, outdoor centers, sporting good stores, bait and tackle stores, RV centers and discount stores offering a wide variety of boating equipment, accessories and supplies.
Go boating in Kentucky
Gather up the family along with some snacks and refreshing beverages and go enjoy the thrill of fresh air in your face and the sun on your back. When boating you can see parts of Kentucky accessible only by water. Often you'll see birds and wildlife not normally seen in city areas. Plus, sunrises and sunsets always seem more majestic when you are in the great outdoors.
Boating opportunities in other states.