Utah Boating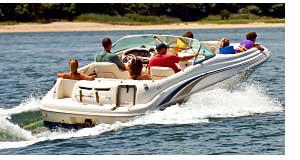 Plenty of fun places to go boating in Utah. Whether it's a family outing or just the guys going fishing or skiing, boating is fun for all. And there is boating in all corners of of the state. Whether you live in the northwest, northeast, southwest or southeast part of the state, chances there are plenty of opportunities to go boating nearby.
Boating in UT
For further information about boating in Utah, contact the Utah Motor Vehicle Division - Boating Licenses located at 210 North 1950 West, Salt Lake City UT 84134. The phone number is 801 297-7780.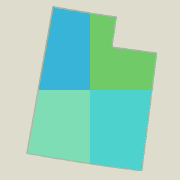 Utah Resources
Layton
Freds Marine
1215 W Hill Field Rd
Layton, UT 84041
801 593-8345
Ogden
Kilts Marine
1182 W 3050 S
Ogden, UT 84401
801 393-8967
Petersen Marine
4455 S 900 W
Ogden, UT 84405
801 621-7532
A D S M Motor Sports
284 West 12th Street
Ogden, UT 84404
801 393-4561
Adventure Motorsports
1639 South 1900 West
Ogden, UT 84401
801 732-1134
Provo
Escape Motorsports
1480 North State Street
Provo, UT 84604
801 374-0602
Sandy
Marine Products Pro Shop
10835 S State St
Sandy, UT 84070
801 553-8332
Ski N See
2125 E 9400 S
Sandy, UT 84093
801 942-1780
Sea-Doo Watercraft
8531 S 700 W, Ste C
Sandy, UT 84070
801 569-2905
Salt Lake Jet Ski
8531 South 700 West
Sandy, UT 84070
801 569-2905
Salt Lake City
Marine Max Of Utah
3638 S State St
Salt Lake City, UT 84115
801 266-9911
High Adventure Power Sports Marine Inc
1846 S 5070 W
Salt Lake City, UT 84104
801 924-9244
R K Marine
3660 S Main St
Salt Lake City, UT 84115
801 262-5748
Hansen Motor And Marine
3347 S West Temple
Salt Lake City, UT 84115
801 466-4731
Sidsports Inc
265 E 3900 S
Salt Lake City, UT 84107
801 261-0300
Park City
Park City Recreational Rentals
6407 Business Park Loop R
Park City, UT 84098
435 655-7564
Vernal
Blue Mountain Marine
2217 N Vernal Ave
Vernal, UT 84078
435 789-5661
Vernal Motor And Marine
511 N 100 W
Vernal, UT 84078
435 789-0750
River Runners Transport
417 East Main Street
Vernal, UT 84078
435 781-4919
River Runners Transport
Po Box 1361
Vernal, UT 84078
435 781-1180
Cedar City
Polaris All Season Sports
151 S Main St
Cedar City, UT 84720
435 865-0011
Delta
Delta Sports Center
299 N Highway 6
Delta, UT 84624
435 864-3432
Fillmore
Dearden Equipment
125 South Main Street
Fillmore, UT 84631
435 743-5761
Saint George
Stephen Wade Powersports
1295 E Red Hills Pkwy
Saint George, UT 84770
435 628-4476
Roger's Performance Marine
1502 East Washington Dam Road
Saint George, UT 84770
435 656-5811
Mc-Atv Powersports
930 West Sunset Boulevard
Saint George, UT 84770
435 986-4136
Painter's Sun Country RV Truck & Boat
1500 Hilton Drive
Saint George, UT 84770
435 673-1500
For convenience, resources are listed first by area of the Utah, then by proximity to cities, waterways, parks, campgrounds and other relative attractions in UT. Cities listed in this section include Layton, Ogden, Provo, Sandy, Salt Lake City, Logan, Park City, Price, Roosevelt, Vernal, Cedar City, Delta, Fillmore, Monroe, Saint George, Bluff, Green River, Halls Crossing, Huntington and Moab.
Resources are also identified nearby campgrounds including Antelope Island State Park, East Canyon State Park, Willard Bay State Park, Deer Creek State Park, Red Fleet State Park, Rockport State Park, Gunlock State Park, Quail Creek State Park, Sand Hollow State Park, Bullfrog Campground, Huntington State Park and Millsite State Park.
Rivers & Lakes For Boating in UT
Utah lakes with boating opportunities are listed within quadrants of Utah include Blue Creek Reservoir, Mona Reservoir, Pineview Reservoir, Strawberry Reservoir, Utah Lake, Bear Lake, Deer Creek Reservoir, Flaming Gorge Reservoir, Jordanelle Reservoir, Pineview Reservoir, Fish Lake, Gunnison Reservoir, Otter Creek Reservoir, Piute Reservoir, Sevier Bridge Reservoir, Huntington Lake, Joes Valley Reservoir, Lake Powell, Mill Meadow Reservoir and Millsite Reservoir. Many of these lakes offer multiple boat launching facilities at various locations around the lake.
Utah also affords some boating or canoeing on rivers like Bear River, Weber River, Green River, Price River, Sevier River, Virgin River, Dirty Devil River and Fremont River.
UT boating equipment and gear.
Throughout Utah you can find boat dealers, outdoor centers, sporting good stores, bait and tackle stores, RV centers and discount stores offering a wide variety of boating equipment, accessories and supplies.
Go boating in Utah
Gather up the family along with some snacks and refreshing beverages and go enjoy the thrill of fresh air in your face and the sun on your back. When boating you can see parts of Utah accessible only by water. Often you'll see birds and wildlife not normally seen in city areas. Plus, sunrises and sunsets always seem more majestic when you are in the great outdoors.
Boating opportunities in other states.