Boat Rentals In Southeast Florida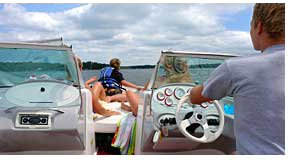 Choice boats for rent in southern and eastern Florida at rental centers, boat dealers, outdoor markets, and boat rental agent locations. Each offering a unique variety of watercraft for rent. Find jet skis, pontoon boats, fishing boats, family boats, canoes and kayaks. Some rental resources may also offer deck, ski and speed boat rentals.
Southeast FL boat rentals
Listed below find boat rental dealers and other resources offering boats for rent for use on Lake Hatchineha, Lake Istokpoga, Lake Kissimmee, Lake Okeechobee, Lake Tohopekaliga, Kissimmee River, Peace River and other waterways in Florida. Rental locations are listed nearby cities and attractions. Cities listed include Sarasota, St Petersburg, Tampa, Miami and Florida Keys. Contact these boat rental services to see if they have the ideal boat for you to rent.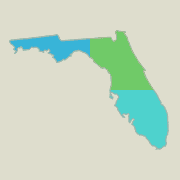 Southeast Resources
Miami
Sea Vee Boats
6900 NW 77th Ct
Miami, FL 33166
305 436-9925
Performance Boats
2050 NE 153rd St
North Miami Beach, FL 33162
305 956-9549
Deep Impact Power Boats Inc
805 NW 159th Dr
Miami, FL 33169
305 627-9394
Key Biscayne Boat Rentals Inc
422 NW North River Dr
Miami, FL 33128
305 361-7368
Windridge Yacht Charters
19755 Turnberry Way
Miami, FL 33180
305 933-2028
Florida Yacht Charters & Sales Inc
1290 5th Street
Miami Beach, FL 33139
305 532-8600
Florida Keys
Sarasota
Jung Charters Yacht Sales
8051 N Tamiami Trl, Ste 56
Sarasota, FL 34243
941 355-1161
Andros Boat Works
1520 Northgate Blvd
Sarasota, FL 34234
941 351-9702
Seal Boats
6025 Palmer Blvd
Sarasota, FL 34232
941 377-6500
Phantom Boats Inc
1661 W University Pkwy, Unit B
Sarasota, FL 34243
941 351-3760
Concept Boats
2741 South Brink Avenue
Sarasota, FL 34239
888 635-8712
Freedom Boat Rental
1538 Stickney Point Rd
Sarasota, FL 34231
941 915-7371
St Petersburg
Tampa
Family Boating Mar Centers Of Fla
7806 Anderson Rd
Tampa, FL 33634
813 884-1395
Canoe Bayou
14521 N Florida Ave
Tampa, FL 33613
813 265-4888
Radical Watersports Rental & Repair
3050 North Rocky Point Drive West
Tampa, FL 33607
813 289-4336
Navigator Aluminum Boat
403 Wense Avenue
Tampa, FL 33602
813 684-9542
Quinn's Boat Sales & Auction
4813 West Tyson Avenue
Tampa, FL 33611
813 805-9310
Boat Doctor
3916 West South Avenue
Tampa, FL 33614
813 872-7644
Lake Hatchineha
Lake Istokpoga
Lake Kissimmee
Lake Okeechobee
Lake Tohopekaliga
Kissimmee River
Peace River
Jonathan Dickinson State Park
St. Lucie Inlet Preserve State Park
Stump Pass Beach State Park
Southeast FL boat rental
Locate boat rental dealers and other boat rental locations within or nearby cities and attractions in eastern and southern Florida.
If you are looking for a specific type boat for rent, chances are one of these dealers can assist you. Boats offered for rent typically include canoes, family boats, pontoon boats, fishing boats, inflatables, jon boats, ski boats, aluminum boats, electric boats, jet skis and others. Some boats offered are confined to specific lakes while others are available for travel to other bodies of water.
Southeast FL boating
To enhance your boat renting experience, click here to locate resources for safety equipment, water toys and boating gear in southeast Florida.
Boat rental safety
Enjoy boating in southeast Florida with a rental boat that is designed to carry the members of your party. Boating safety classes are available in most areas to get you familiar with safe boating procedures.
Boat rentals at marinas
Some marinas may offer boat rentals for use on the lake where the marina is located. Check with Bahia Mar Marina, Gulf Shores Marina or Salty Sam's Marina for information on local boat rental options and recommendations.
Boat rental types
Pontoon boats are ideal for large groups or when taking small children boating. Most often they have a safety railing and a canvas or metal top to reduce the amount of sun rays absorbed by passengers.
Runabouts are great for families and small groups to go sight seeing and cruising the lakes.
Ski boats and speed boats are well suited for of three to five who enjoy water sports such as water skiing and wave boarding.
Aluminum boat rentals are best suited for parties of one to four planning to travel short to mid-range distances.
Bass boats are designed for two passengers and are ideal for most fresh-water fishing, and some inshore fishing.
Lake boat rental...find a boat to rent and take the family and friends out on the water for a day of making memories. Before boating, become familiar with local boating laws and regulations.
Find boat rentals in other states.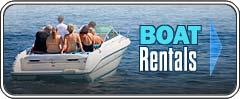 FL Boat Rentals
Northwest FL Boat Rentals
Northeast FL Boat Rentals
Southeast FL Boat Rentals
FL Boats & Boating